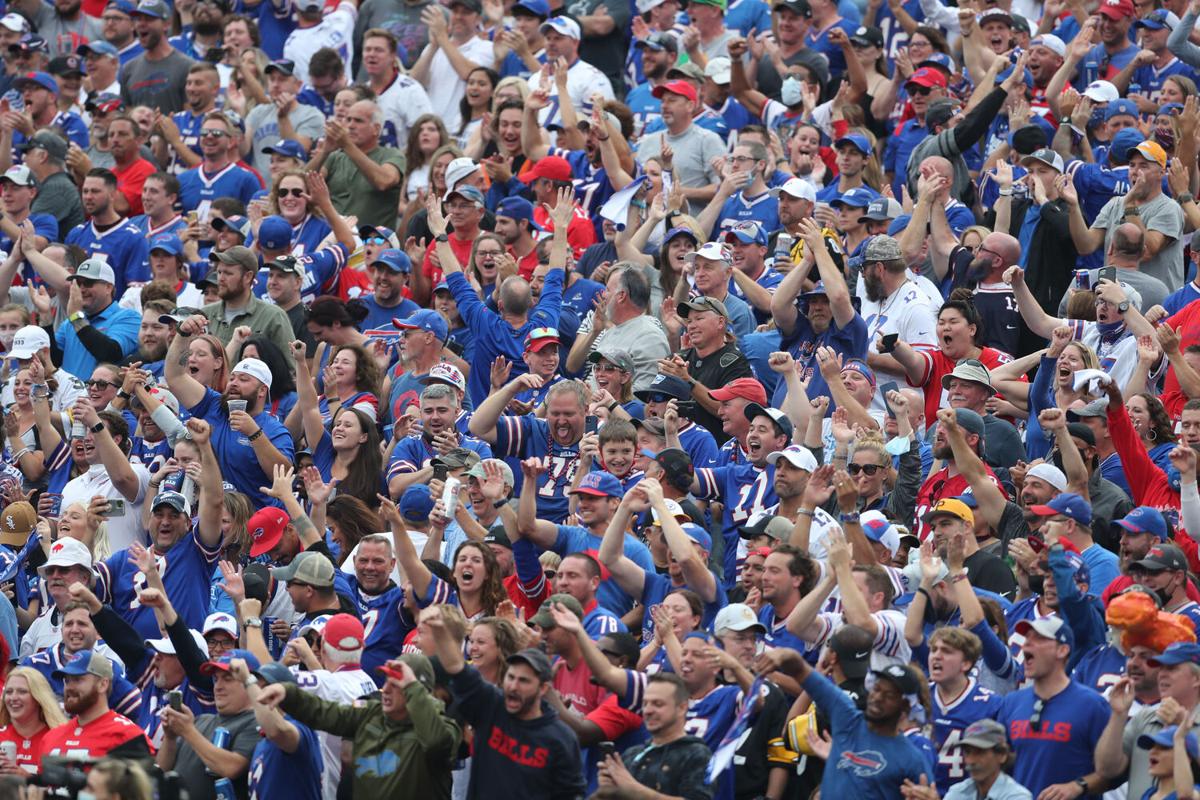 It may have arrived later than sensible people hoped, but the announcement that Covid vaccinations will be required for Bills and Sabres games comes as welcome news. Given the number of unvaccinated people in the region and the tacit, irresponsible encouragement of some Bills players, it was an important change.
Erie County Executive Mark Poloncarz announced the new policy on Wednesday. For next week's home game, fans 12 and older must have at least a first shot. Starting Oct. 31, that group must be fully vaccinated. Children 11 and younger must be masked, though vaccinated fans will no longer be required to wear the coverings.
Later in the fall, the same rules will apply at KeyBank Center, home of the Sabres and, as with Highmark Stadium, not just for hockey or football games. The rule applies to all events in those facilities. And, on Friday, Shea's Performing Arts Center adopted a similar rule for all its theaters.
The need for these rules are evident to anyone paying attention. Despite a requirement for fans to wear masks, pictures from Sunday's home opener against the Pittsburgh Steelers showed fans ignoring the mask mandate by the thousands. Those people invited the new rule. (One season ticket holder, Timothy Radder of Buffalo, said off-duty police officers near him were overheard mocking responsible fans who did wear masks, calling them "morons." Reckless people such as they are still dying from this virus and infecting others. So who are the morons?)
Along with death rates, hospitalizations are also rising in Erie County, Poloncarz said. In other places, avoidable overcrowding by Covid patients has led to lack of treatment for people with other serious conditions. In Texas last month, a decorated Army veteran died of a treatable case of gallstones because no beds were available in Houston. That's a predictable cost of moronic behavior during a pandemic. It will also be an increasing risk as fall arrives and people more frequently gather indoors.
Poloncarz had previously attempted to institute a similar requirement at Highmark Stadium, which is owned by the county, but he backed off after a conflict with then-Gov. Andrew M. Cuomo. It may be only coincidental that he returned to it after Kathy Hochul – a Bills fan – took over as governor, but Hochul as governor has been supportive of mask and vaccine mandates.
Vaccine resistance – grounded in ignorance and selfishness – requires New Yorkers to use all the tools they can to induce responsible behavior. In sport-crazy Buffalo, a vaccination requirement at its big venues can be just the ticket, not only to increase immunizations, but to protect the public health – not to mention the economic interests of the facilities, themselves. No one wants more closures.
Predictably, critics are lighting into Hochul and Poloncarz. One over-the-top commentator yelled that the county executive was a "tyrant" for protecting the wellbeing of county residents. That man needs a history lesson. In fact, the governor and county executive are living up to their roles as public servants. The pandemic is real. It's often lethal. Their response has been thoughtful and proportionate.
The rule couldn't have been put in place without the support of Terry and Kim Pegula, who own both teams. They deserve the public's thanks for their decision and its careful implementation.
Pro-rated refunds were made available to season ticket holders who do not want to attend games because of the new rule, though requests were due by Friday. Single-game tickets can be transferred, sold or donated. Ron Raccuia, executive vice president of Pegula Sports and Entertainment, said he believes the team's early entry policy and logistical planning will prevent delays at the gates. If problems arise, the team can fine-tune the protocols.
We know it can be done because other stadiums and sporting events are making it work. The Pegula organization studied them. Among them are the U.S. Open and the Las Vegas Raiders, the first NFL team to require full vaccination of fans entering the stadium.
It's unfortunate that neither the county nor the Pegulas can compel players to be vaccinated. But that's not a reason to criticize them for doing what they can given an environment in which the unvaccinated are risking not only the community's health, but the development of new and even more virulent strains of Covid-19.
What's your opinion? Send it to us at lettertoeditor@buffnews.com. Letters should be a maximum of 300 words and must convey an opinion. The column does not print poetry, announcements of community events or thank-you letters. A writer or household may appear only once every 30 days. All letters are subject to fact-checking and editing.