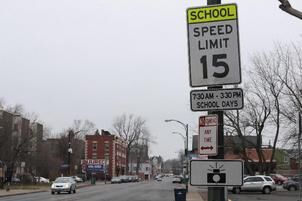 Buffalo Mayor Byron W. Brown should listen to the Common Council and pause the school zone safety program. It's a mess.
The effort, itself, is generally worthy. City data shows some motorists drive dangerously fast through school zones. So at 16 locations in the city, cameras were set up to snap photos of speeding motorists' license plates, generating $50 tickets to drivers traveling 26 mph or more.
It sounds efficient. It's not.
Motorists are getting tickets for school zones without schools, and during hours in which the speed cameras are not supposed to be operating. Tickets have arrived so late that late fees were already due by the time they arrived – and then recipients were threatened with losing their car registration. When some of the putative offenders tried to address the problem, they claim to have gotten nothing but crickets. Or, worse, they were redirected to the wrong call center.
The hours during which the program is enforced is still confusing to many drivers. Some angry drivers are calling the program the city's money grab.
The Brown administration is trying to resolve the problems. It has agreed to reimburse drivers whose tickets arrived several weeks late. Despite accusations by some, city officials said no tickets were issued on Thanksgiving, or on Saturdays or Sundays. On all issues, Brown has promised to hold the vendor accountable.
But it's not enough. Until motorists and the general public can have confidence in the schools zone safety program, it should be put on pause. How that happens is up to the Brown administration. But it can't continue with a program that doesn't work.
Brown, in his refusal to pause the program, cited safety issues. Before the program was put in place, people were complaining about drivers speeding through their neighborhoods, buzzing past school children and not looking back. Police should pull these drivers over and issue tickets ranging into the $1,000 level, along with points on driver's licenses. This enforcement could take place while the school speed zone program is being fixed.
It should be noted that a number of residents who live near schools back the program. City Hall has received any number of supportive letters from union leaders and emergency personnel.
But the mayor has dug in his heels, citing safety and concern about children's lives. It's the right place to begin. The Common Council is also concerned about children's lives. So, too, should motorists. No one should be racing through neighborhoods, past schools or anywhere except on a track designed for such purpose.
Living in the real world, motorists speed. They drive ATVs and minibikes on local roads, too. All are illegal and dangerous. The administration is trying to put an end to speeding in school zones but the rollout of this program has been badly bungled.
Pause the program and fix the flaws. It will make the roads safe, and just.
What's your opinion? Send it to us at lettertoeditor@buffnews.com. Letters should be a maximum of 300 words and must convey an opinion. The column does not print poetry, announcements of community events or thank-you letters. A writer or household may appear only once every 30 days. All letters are subject to fact-checking and editing.