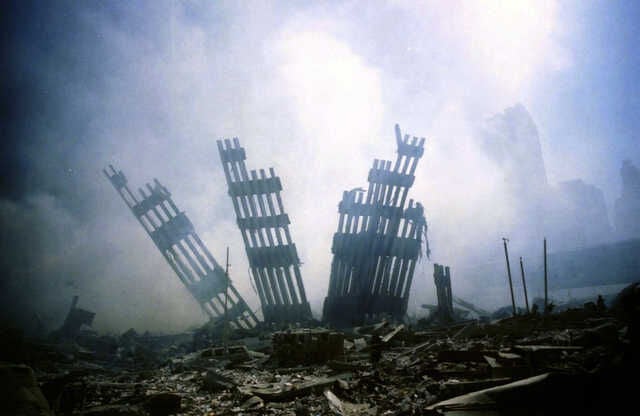 The official casualty count from the Sept. 11 attacks in 2001 was 2,753 people dead in the World Trade Center's Twin Towers, 184 at the Pentagon and 40 aboard United  Airlines Flight 93, which brave passengers caused to crash in Pennsylvania. The figures, horrific as they are, underestimate the toll.
Twenty years after that tragic day, we know that millions of lives were changed by the events and its aftermath. Those old enough will never forget the raw images of planes hitting the twin towers, and the death and destruction that ravaged New York City.
Acts of heroism that followed the tragedy showed America at its best. The term "first responders" became a permanent part of our vocabulary. More than 400 firefighters, police officers, medical workers and others perished trying to help others in the World Trade Center. Thousands of other responders – including police and firefighters from Western New York – went to Manhattan to help at ground zero.
A new spirit of patriotism followed the attacks. Approval ratings were high for President George W. Bush and New York Mayor Rudolph Giuliani. However, many of the policies pursued by the U.S. government in response to the attacks have diminished our standing in the world and left the country more divided than ever.
The aftershocks start with the toll on thousands of friends and family members left grieving the dead, which included six natives or residents of Western New York. There are other ripples spreading ever outward.
Hundreds of first responders suffered illnesses or injuries after their work at the crash sites. Millions have been killed – soldiers and civilians, citizens of the U.S. and elsewhere – in the wars fought by the U.S. as retribution for the 9/11 attacks. Hundreds of soldiers from Western New York served in Afghanistan or Iraq. Those lucky enough to come back often bear physical or psychological scars.
The "War on Terror" no doubt helped the U.S. avert some attacks, but it cost our country trillions of dollars and thousands of lives. In the name of vengeance, the country compromised its principles by torturing terror suspects during interrogation, imprisoning others indefinitely without charging them with any crime, and expanding the domestic surveillance of Americans.
Shortly after the attacks, carried out by Muslim extremists connected to al-Qaida, President George W. Bush visited a mosque in Washington, sending a message that any U.S. war against al-Qaida was not an attack on Islam itself. Bush frequently spoke of Islam as "a peaceful religion that respects others."
Many Americans, however, turned their anger about 9/11 into hostility toward all Muslims. Never mind that deadly domestic terrorists such as Pendleton native Timothy McVeigh, a white man, also attacked our homeland. McVeigh in 1995 set off a truck bomb at the Alfred P. Murrah Federal Building in Oklahoma City, killing 168 people and wounding 800 others. He was put to death in a federal prison exactly three months before the 9/11 attacks.
Many Americans, however, found it easier to direct their suspicions and hostility toward Muslims. That fed the wave of anti-immigrant sentiment that helped propel Donald Trump to the White House, where he rewarded his base with a series of executive orders that became known as the "Muslim ban." Most were overturned after court challenges.
The U.S. war in Iraq, based on the false belief that the country harbored weapons of mass destruction, contributed to destabilizing the Middle East, setting off waves of migration that have changed several European countries.
The hijackers who commandeered planes into the twin towers and Pentagon left a lasting impact on security precautions in our country. New measures at airports, border crossings and government buildings have become permanent – and largely successful. There have been no airliner hijackings in the U.S. since 2001.
Edward Snowden, a former National Security Agency contract worker, in 2013 revealed mass surveillance of citizens by the U.S. government, which continues in various forms today.
The challenge for government is striking an appropriate balance between searching out threats and intruding on residents' right to privacy, a right that's increasingly chipped away by smartphones and social media platforms. The FBI used surveillance and other intelligence work to gather evidence against the men who became known as the Lackawanna Six, a group of Yemeni-American men who served prison time for conspiring with al-Qaida.
"Never forget" is the catchphrase most often associated with 9/11. It's true, and while it must include the lesson that in the grip of crisis, it's possible to be taken in unwise and unhelpful directions, it's also important that we continue to honor the suffering, the bravery and heroism of that awful day.
Six known natives or residents of Western New York who died in the Sept. 11, 2001, attacks:
• Sean P. Rooney, 50, a Canisius High School graduate who worked for a financial firm, Aon, in the World Trade Center.
• Leonard M. Castrianno, 30, a Williamsville East High graduate who worked for Cantor Fitzgerald in the World Trade Center.
• Margaret Walier Seeliger, 34, a graduate of Frontier Central High School and insurance executive who died in the south tower.
• Melissa Vincent, 29, alumna of Notre Dame High School, Batavia, who worked for Alliance Consulting in the north tower.
• Amy R. King, 29, a Southwestern Central School graduate and flight attendant from Celeron, Chautauqua County.
• Renee A. May, 39, a Lackawanna native and a flight attendant.
What's your opinion? Send it to us at lettertoeditor@buffnews.com. Letters should be a maximum of 300 words and must convey an opinion. The column does not print poetry, announcements of community events or thank you letters. A writer or household may appear only once every 30 days. All letters are subject to fact-checking and editing.