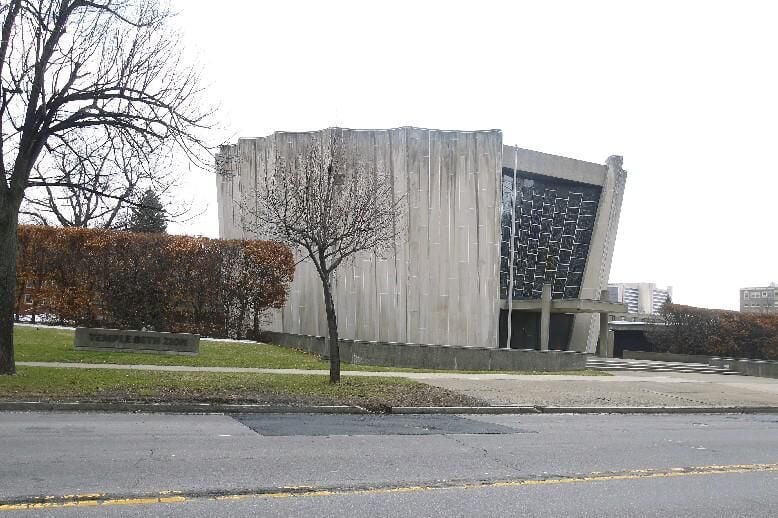 Rabbi Jonathan Freirich of Temple Beth Zion is accused of no crimes, but his behavior toward the congregation's cantor, Penny Myers, as well as some concerning interactions with young girls were enough to earn him a censure from the Central Conference of American Rabbis.
Nevertheless, the Conference and the temple apparently did not feel that Freirich's censure was worth publicizing to the members of Temple Beth Zion. While the rabbi's behavior cannot be compared to actual crimes committed by some Catholic priests in what are now well-documented cases of abuse, the desire to cover up his misbehavior rather than confront it with the synagogue's congregation resembles the cover-up culture that has become all too familiar in the Catholic Church scandals.
Myers, a respected and well-known figure in Buffalo, filed a complaint with the Conference in December. A three-member investigation team documented instances in which Freirich made sexually suggestive remarks about, or to, Myers. For example, he referred to her as the "beautiful blond cantor" in remarks to the congregation in February 2016, and after Myers returned from an anniversary trip with her husband, the rabbi referred to "Fifty Shades of Cantor." A recurring pattern caused Myers to file a complaint and the CCAR to issue a censure. In business, conduct like that can get you fired.
The rabbi's unethical behavior caused Temple Beth Zion to end his contract six months early, at the end of this year. The Conference, in its report after the investigation, said it found Freirich's answers to its questions to be evasive, contradictory, overly defensive and seeming to shift blame toward others.
One troubling aspect of the story is the fact that the temple's members might still be unaware of their rabbi's censure were it not for inquiries made to temple leadership by Buffalo News reporter Jonathan Epstein. Temple Board President David Goldberg sent an email to synagogue members on Sunday, after Goldberg was contacted by The News.
Goldberg's email stated that the temple had deferred to the Conference's rules on confidentiality, which "allowed a vacuum to exist in which some have chosen to fill with baseless allegations to the detriment of all."
The Conference decided in late March on the censure, but "without publication," meaning they would keep it quiet, and advised Temple Beth Zion to do the same. Temple members were told that the rabbi's contract was being terminated early, but without further details.
Keeping personnel matters confidential is not uncommon, but the congregation of Temple Beth Zion surely would benefit from knowing that its spiritual leader earned a censure for misconduct.
Goldberg, in a private email to 16 people that was shared with The News, referred to hiding "our dirty little secrets," concluding that the temple "may not be in a position to continue with the charade. ... "
In addition to Freirich's behavior toward Myers, a temple family filed a complaint that he was collecting cellphone numbers of candidates for bat mizvah – the initiation ceremony for young Jewish girls – and inviting some of them to off-site appointments. It made the family of one bat mitzvah candidate uncomfortable enough to file a complaint that the Conference investigated, which contributed to the censure. That kind of attempt to socialize with children is strictly forbidden for school teachers, and should not occur in a religious setting, either. Surely we have learned that by now.
Freirich responded to a News inquiry with a statement of apology, but not a full admission of remorse. He said his comments, "or the context in which I said them, were inappropriate, even if they were also misunderstood," Freirich said. "I take responsibility for my spoken words and want to assure everyone these are not what define me, as my wife, Ginny, understands."
Freirich's mention of "the context in which I said them," and "responsibility for my spoken words" are a skillful evasion, an attempt to blame his conduct on careless language rather than inappropriate conduct.
Freirich's punishment is to lose his post at Temple Beth Zion. We hope the temple – along with churches, Scouts, clubs, businesses and everyone else – will learn the lesson here. Deal with matters like this quickly, cleanly and straightforwardly. The secret won't keep.
What's your opinion? Send it to us at lettertoeditor@buffnews.com. Letters should be a maximum of 300 words and must convey an opinion. The column does not print poetry, announcements of community events or thank you letters. A writer or household may appear only once every 30 days. All letters are subject to fact-checking and editing.