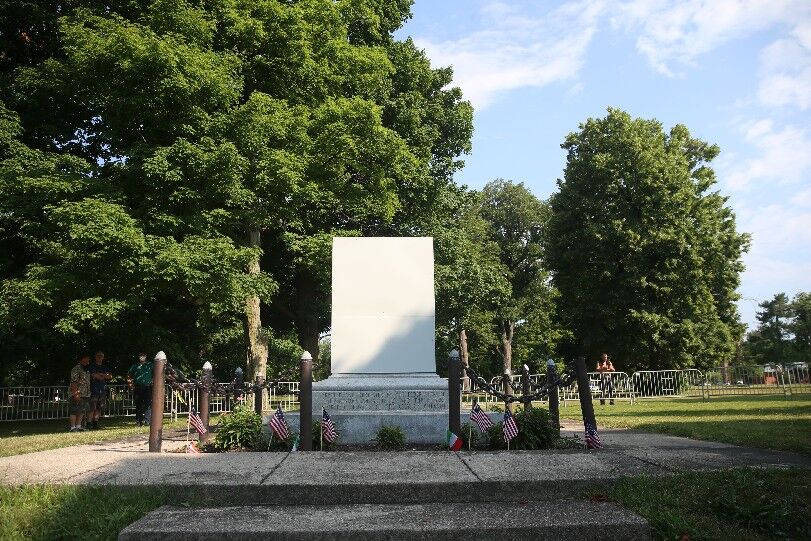 Attorney Joseph Sedita has struck upon a good idea in these tumultuous times where statues of once heralded figures in history are being removed, if not by committee then by protest.
Sedita recently started a petition drive to rename Columbus Park on the city's West Side the Buffalo Medal of Honor Park and construct a statue of Marine Sgt. John Basilone, who fought in World War II. It would replace the Columbus statue that was suddenly and unexpectedly removed earlier this summer.
Remember the Columbus statue? Or, the Columbus statue controversy? It is still roiling since the Federation of Italian American Societies of Western New York suggested that the Christopher Columbus statue be removed from Columbus Park on Buffalo's West Side, to eventually be replaced with one that honors Italian immigrants.
Since the statue was removed in July, critics of the Federation's actions have spoken, written and seethed. But the group acted proactively to avert disaster similar to those in Baltimore and Richmond, where those Columbus  statues were torn down and thrown into watery graves, in the latter case first set ablaze.
It's not just Buffalo. Statues have been falling across the country, amid the reckoning of this country's difficult past. Civil War statues are among those attracting the most attention.
The South is a virtual who's who of Confederate generals whose statues have adorned public spaces since anyone can remember. Some of those statues have been forcibly removed. Others have been taken down by enlightened governments, attuned to the Black Lives Matter protest ignited following the death of George Floyd at the hands of a Minneapolis police officer.
In a move not long ago thought remarkable, Mississippi decided to retire its state flag celebrating the Confederacy.
Things are changing, though not always in a sensible way. We have no perfect people, and even those with notable flaws may deserve that nation's gratitude. Among them are George Washington, Thomas Jefferson and Ulysses S. Grant.
Here, as Sedita explained it, the new name would have a more "unifying theme," and other statues representing members of the community could also be placed in the park. It would be relatable while opening opportunities for the entire community. As he said, "There's lots of room for a lot of statues in Columbus Park."
As for Sgt. John "Manila John" Basilone, Sedita cited his birth in Buffalo in 1916 into an Italian American family. He was awarded the Medal of Honor, the nation's top military honor, in 1942 for his bravery during the Battle of Guadalcanal in World War II.
On Oct. 24, 1942, during the battle for the island's airstrip, which the Marines would later rename Henderson Field, Basilone's unit was attacked by more than 3,000 Japanese soldiers. He commanded two sections of machine gunners that fought for two days until only himself and two other Marines were left standing.
Basilone is not the only possible Western New Yorker to honor with a prominent statue in that park, but he is surely a worthy one. For certain, it should be a statue of an Italian American. Other new statues could represent area residents of any background whose contributions made a difference.
In the end, our history is shared. We should celebrate that.
What's your opinion? Send it to us at lettertoeditor@buffnews.com. Letters should be a maximum of 300 words and must convey an opinion. The column does not print poetry, announcements of community events or thank you letters. A writer or household may appear only once every 30 days. All letters are subject to fact-checking and editing.