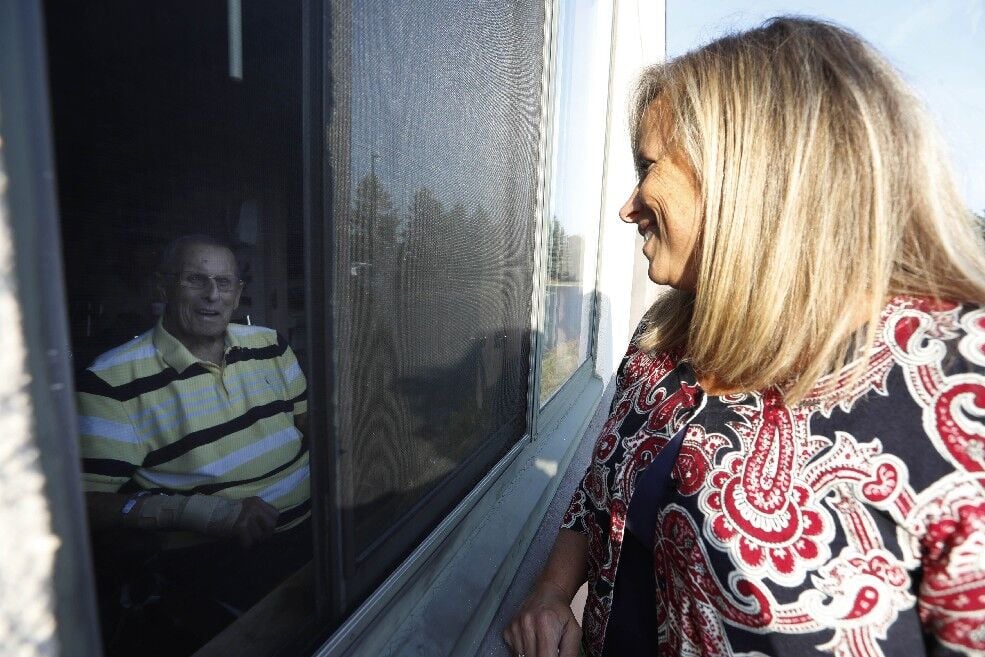 "Failure to thrive" is how doctors describe deterioration in the physical or mental health of elderly people. It also represents what has been happening to many older residents of long-term care facilities who have been largely blocked from having visits from family members due to Covid-19 restrictions.
At the height of the Covid crisis in New York State, officials outlawed visits by outsiders to nursing homes. The rules have eased since then but the bar remains set fairly high for when visitors may enter a facility. There was good reason for the initial restrictions, of course. According to the Kaiser Family Foundation, long-term care facilities make up 8% of all Covid cases nationwide, but more than 40% of all Covid deaths.
The isolation of older people in care facilities carries deadly costs of its own, including higher rates of depression, anxiety, cardiovascular disease, stroke and the progression of dementia.
State Sen. Rachel May, D-Syracuse, has introduced a bill that would allow a family member or close friend to be designated an essential caregiver, and let them bypass some of the restrictions on visitations. The idea is to create sort of a NEXUS pass to allow easier entry for personal care and compassionate care of residents in nursing homes and residential health care facilities.
At least five other states, including New Jersey, have created this type of essential caregiver designation. It's a sensible and much-needed solution to the toll that isolation takes on facility residents and on their families.
Sen. Patrick Gallivan, R-Elma, is a co-sponsor of the bill, which also has a companion version in the Assembly. It has not advanced out of committee in either chamber.
Video calls and closed-window visits resemble what prison inmates are allowed. Those are all that many nursing home visitors were allowed for many months. The state last month set a requirement that nursing homes must be free of Covid-19 infections for 14 days (down from 28 days) before allowing in-person visits. The state also requires that visitors provide proof they have been tested and are virus-free within seven days of a visit. A Buffalo News story last week detailed how the testing requirement, for every visit, is difficult for many individuals to meet.
May's bill would require the state Health Department to develop rules and guidelines to allow personal care and compassionate care visits. The department would need to work out the testing protocols – and likely get federal help to fund extra testing – for the designated visitors.
Personal care includes feeding, bathing, dressing, communication with staff and other activities that family members routinely provided to long-term care residents. Anyone who has ever had a family member living in such a facility knows the importance of overseeing and contributing to the care of their loved ones, particularly in nursing homes that during the coronavirus pandemic have struggled with shortages of staff, testing supplies and personal protective equipment. Being shut out from providing this service places a great mental strain on family members.
Compassionate care visits would be allowed not just for end-of-life situations, but after a noticeable decline in a person's physical, mental or emotional well-being, including weight loss, signs of depression, etc.
Just as workers in nursing homes and other health care facilities are designated as essential, May's bill would do the same for designated visitors, whose presence is essential to their relatives' well-being. The bill combines compassion with common sense, a reason for its bipartisan support.
Gov. Andrew M. Cuomo could also make a program like this happen by issuing an executive order. That would bring faster relief than waiting for the Legislature to convene in January.
Whatever it takes to bring New York an essential caregiver program, we need one. The seniors living in care facilities, as well as their families, deserve a break, consistent with their own safety and that of their caregivers and fellow residents.
What's your opinion? Send it to us at lettertoeditor@buffnews.com. Letters should be a maximum of 300 words and must convey an opinion. The column does not print poetry, announcements of community events or thank you letters. A writer or household may appear only once every 30 days. All letters are subject to fact-checking and editing.