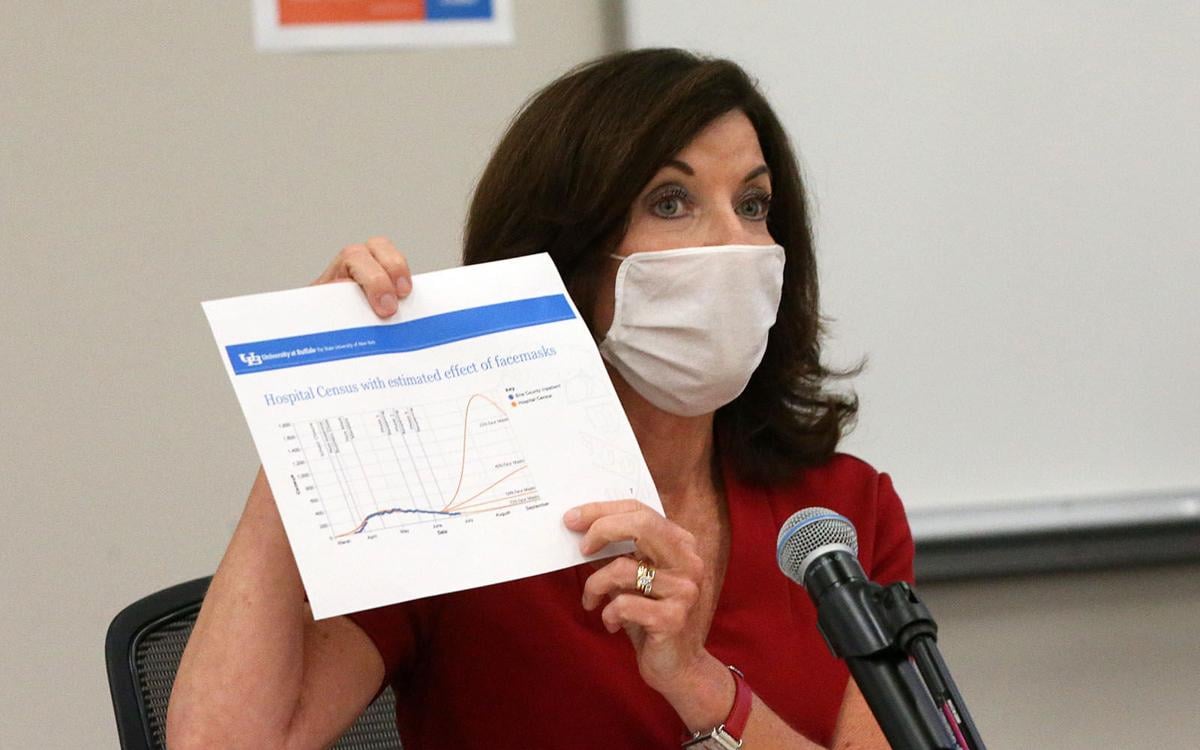 Christian Central Academy is in a world of trouble, but the solution to its problem is both easy and obvious, if only the school's supporters would embrace it: Put masks on your kids.
Fearing parents will pull their children out of the school rather than have them do what millions of other students are doing around New York, the Academy has sued the state over its mask mandate. It's the wrong approach. Changing parents' minds is the only sensible alternative.
The school deserves both credit and sympathy. Relying on a pledge by former Gov. Andrew M. Cuomo that schools would be able to implement their own masking policies for the new school year, it reassured parents that they could choose whether to have their children wear the face coverings this school year.
In a $200,000 effort to keep students safe, the school hired five additional teachers to reduce class sizes and create more social distance, and installed air purification systems in each classroom. Under the circumstances, it was the right thing do.
But circumstances changed.
First of all, the Delta variant of the novel coronavirus appeared. More infectious than previous incarnations, it has swept through unvaccinated populations and even cause rare but occasional breakthrough infections in inoculated people. Many youths remain unvaccinated and children under 12 aren't even able to get the shots yet. The risk level today is different than it was a few months ago.
And Cuomo is gone. His successor, Gov. Kathy Hochul, has different ideas and, given what we know about the Delta variant, better ones. Before she was even sworn in, Hochul announced that she would implement a mask requirement in the state's schools. That's become even more necessary, with the Mu variant, potentially more dangerous, showing up in New York.
With her mandate, Hochul took a stand not only for the health of the state's children, but for the ability of schools to provide a full year of in-person education. It was an essential requirement, at least as the school year begins. Allowing exceptions would quickly undo the benefits as other schools would also try to opt out, putting children and others at risk of infection.
That's not a theoretical problem. Around the country, the number of children admitted to hospitals with Covid-19 has risen to its highest level so far. And while states with the lowest vaccination rates are paying the highest price, those are also the states where mask-wearing has been politicized, with some governors even attempting to ban schools from requiring masks. Schools, to their credit, are ignoring those orders in droves.
But, in its lawsuit, the private Williamsville school says it fears losing students because of the mandate. Dozens of parents enrolled their children based on the parent-choice masking policy, it says, and leaders worry that many of them will now pull their children out. Where those children might go – home schooling? a different state that isn't much concerned about its children? – is unknown.
New Yorkers are lucky to live in a state whose leaders are trying to follow the science rather than seeking political advantage. It's unfortunate that Christian Central Academy has been caught in the switches, but the solution to this problem can't be putting children at elevated risk when the alternative has been successfully implemented around the state with little problem.
In Shelby County, Ky., a 15-year-old boy tested positive for Covid-19, two days before he could return to the school he loved. Justin Cline spent nearly a month in the hospital. Last week, he died. He had other health issues, including a compromised immune system, but that's the point. Some children are at higher risk. It's lower if everyone wears masks.
Vaccinations work. Masks work. Together, they offer the best chance of keeping people safe, especially children who, today, are at a much higher risk of Covid infection.
Parents, do your part. Tell the school your kids can wear masks. Everyone will be better off for it.
What's your opinion? Send it to us at lettertoeditor@buffnews.com. Letters should be a maximum of 300 words and must convey an opinion. The column does not print poetry, announcements of community events or thank you letters. A writer or household may appear only once every 30 days. All letters are subject to fact-checking and editing.