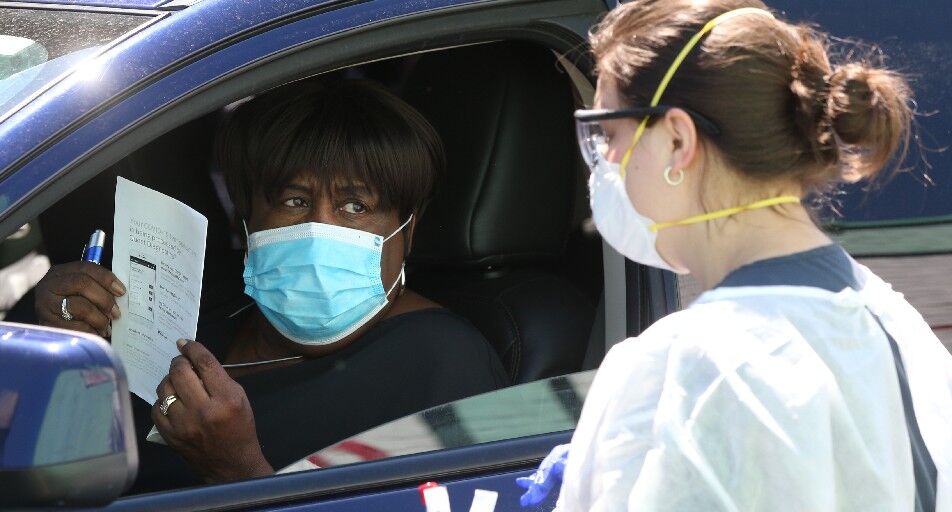 The president and CEO of Catholic Health, Mark A. Sullivan, pinpointed a primary reason for the current shortage in Covid-19 testing supplies: The lack of coordination from the federal government.
"You risk having everyone fending for themselves with ordering supplies, getting supplies," Sullivan told The News. "So that's the challenge: that we're up against the 50 states."
Shortages – specifically in the materials used to process tests – have forced Catholic Health and Kaleida Health to cut back on testing. It takes Quest Labs longer to process test results than it did a month ago.
Blame for the supply chain interruptions and imbalances do not lie solely with the Trump administration, but its slow and often haphazard response to the coronavirus pandemic has not helped. Whether out of concern for his re-election chances or a disdain for big government solutions to problems, President Trump allowed the federal government to take a back seat to governors in addressing the public health crisis.
In the spring, Maryland Gov. Larry Hogan publicized the fact that he negotiated the purchase of 500,000 coronavirus tests from South Korea. New York's Gov. Andrew M. Cuomo praised Hogan's action, while making a subtle dig at Trump.
"It's not what states are normally responsible for. … He really thought outside the box and was creative," Cuomo said of Hogan.
Circumstances like a global pandemic are when we need big government to step in, rather than relying exclusively on free-market competition to solve our problems.
Michael P. Hughes, chief of staff at Kaleida Health, told The News that Kaleida is "competing statewide, nationally and internationally every day when it comes to testing supplies."
Erie County's Health Department and Erie County Medical Center are both fortunate to have sufficient stockpiles of testing equipment. But the shortages at Kaleida, Catholic Health and elsewhere are affecting other health care providers. Contact tracing and quarantining cannot be fully effective if it takes two weeks to get results from a Covid-19 test.
Rising infection rates in other states such as Texas have made the competition for testing materials more intense, with many of those states facing restrictions like New York had in May. In San Antonio, for example, authorities are limiting tests only to people showing coronavirus symptoms.
The Trump administration reportedly is trying to strip billions of dollars for testing and contact tracing from the next coronavirus relief bill. Trump said over the weekend that the U.S. has "the best testing in the world," but the facts on the ground tell a different story.
There are Republicans as well as Democrats in Congress fighting to keep the testing funds for states in the bill. Common sense does not always win the day in Washington, but this is a case where lives depend on it.
What's your opinion? Send it to us at lettertoeditor@buffnews.com. Letters should be a maximum of 300 words and must convey an opinion. The column does not print poetry, announcements of community events or thank you letters. A writer or household may appear only once every 30 days. All letters are subject to fact-checking and editing.