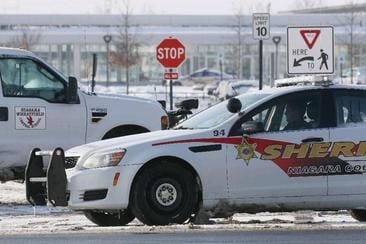 If we're going to rethink policing – as we should – let's think about all of it. That means including the wellbeing of officers and importance of the work they do.
Acting Niagara County Sheriff Michael J. Filicetti spoke last week at one of five news conferences around the state, calling for new laws to protect police officers. Not all of the sheriffs' recommendations should necessarily be adopted, but at a time when the country is rethinking the nature of policing, their concerns merit a place in the conversation.
Filicetti said police officers need more legal protections to do their jobs better. He ticked off several possible laws such as increasing penalties for assaulting, harassing or disobeying officers.
The proposals include making any crime against police officers because of their official status a hate crime. It seems a dubious connection, but some elevated penalties may be in order. They also include making resisting arrest a felony requiring bail, instead of the misdemeanor it currently is. That's going backwards, though the level of resistance could be worth considering as a factor. The sheriffs would also make May 15, Peace Officer Memorial Day, a state holiday.
Strengthening protections for law enforcement is a good idea as long as they respect citizens' constitutional rights, protect the public from bad cops and deter spurious accusations. Those are especially troublesome for low-income people who may unnecessarily end up in jail, losing their jobs and unleashing a cascade of economic consequences that may batter them and their families for years.
Some long overdue reforms in policing have taken place or been proposed since the death of George Floyd at the hands of a Minneapolis police officer. Filicetti, to his credit, was among several Niagara County leaders who knelt during protests over Floyd's death. He said that officers are not opposed to reforms or policing their own. That's good.
The entire subject of reform is fraught with misunderstanding. "Defunding" the police, for example, is a lazy and pointlessly provocative phrase that actually refers redirecting resources. Wouldn't it be better for everyone if police weren't called upon to deal with mental health calls?
Some police complaints are surely worthy, such as making a felony of stalking an officer. But the push to make a felony of "doxing" an officer by posting personal information online raises First Amendment issues. And there's another way to look at it: Police should live in the communities they serve and let people know they are there.
Floyd's death and legitimate frustrations over violent arrests have made clear that certain policing practices must change. But it isn't just politicians and activists who should have a seat at the table. The cops putting their lives on the line and maintaining order must be included, as well.
What's your opinion? Send it to us at lettertoeditor@buffnews.com. Letters should be a maximum of 300 words and must convey an opinion. The column does not print poetry, announcements of community events or thank you letters. A writer or household may appear only once every 30 days. All letters are subject to fact-checking and editing.
Catch the latest in Opinion
Get opinion pieces, letters and editorials sent directly to your inbox weekly!