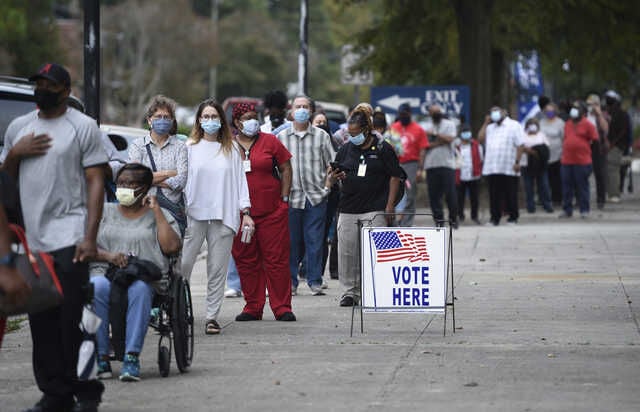 Why do so many Republicans pick up the habit from the conservative media ecosystem of saying "the Democrat Party"? It's as though just the idea of something being "democratic" grates on their ears. Anyone watching the red-state assault on voting rights would be forgiven for coming to that conclusion.
The Brennan Center for Justice, a nonpartisan think tank that analyzes election rules, calculates that as of early March, Republican state lawmakers had filed 253 bills to restrict voting access in 43 states. The laws are shaped to be both anti-democratic and anti-Democratic.
Politicians from both parties employ various tactics to tilt the playing field in their favor, but making it more difficult for Americans to exercise their franchise – particularly people of color – is an affront to one of the pillars of our democratic republic. It can't be tolerated or excused.
It's also evidence of a party that is out of gas. Republicans backing these measures are acknowledging that they can't compete on the strength of their ideas. They are declaring that to win, they need to rig the game. It's not a strategy for the future.
A Democratic-sponsored federal bill – H.R. 1, also known as the For the People Act – would counteract many of the state and local statutes that are intended to dampen voter turnout. The bill, passed by the House of Representatives and under consideration in the Senate, is not perfect, but some version of it is sorely needed to prevent the country from turning back the clock on voting rights.
The Jim Crow laws enacted in some states after the Civil War were explicit in their intent to legalize racial segregation, restricting Black people's access to voting, education and employment. The Civil Rights Act of 1964 and Voting Rights Act of 1965 were supposed to relegate the racist statutes of that time to a dark corner of history.
In 2021, efforts to suppress Black votes are more subtle, but just as malevolent.
In Georgia, where Black voters helped Democrats win two Senate runoff elections in January, as well as eking out a win in the state for Joe Biden over President Trump in November, the state's Republican-controlled General Assembly just over a week ago passed a new law clearly intended to make it harder to vote, particularly in certain communities.
The lawmakers did not need to copy Jim Crow wording such as "Negroes are not eligible to vote," but their intentions were plain to see. The legislation requires more rigid voter identification requirements for casting absentee ballots, limits drop boxes for mail ballots and gives state election officials the power to overrule local bodies in interpreting election results.
In the Georgia law's most petty and ridiculous stipulation, it will be a crime to offer food or water to anyone waiting in line to vote. The longest voting queues in the state are in heavily populated districts in which African Americans tend to outnumber whites. It's a law made to be resisted.
This assault on humanity and common sense is now the law in a state that contains the city of Kennesaw, near Atlanta. Kennesaw has had a statute on the books since 1982 requiring that each head of a household must "maintain a firearm." Packing a gun is encouraged in that city but there will presumably be pat downs for anyone suspected of going near a voter with a concealed bottle of Poland Spring.
A potentially transformational part of H.R. 1 would expressly prohibit gerrymandering, the drawing of congressional districts for maximum partisan advantage. It's a dark art practiced by both parties and, as of now, the only available remedy is court challenges that may take years and many dollars to resolve.
Under the bill, all states would be required to form independent citizen commissions to draw congressional districts. The 15-member panels would comprise five Democrats, five Republicans and five Independents or members of smaller parties.
Would that guarantee perfectly balanced districts and ensure that we all live happily ever after? Of course not. For one thing, voters tend to do more self-sorting than in the past, living near others with like-minded political views. However, maps drawn by independent commissions would mark a vast improvement.
The current system, in which politicians choose their voters before voters ever get to choose their politicians, results in many districts that are completely safe for one political party or the other. For those seats, the actual election becomes less important than the primaries, which attract a greater share of the most zealous voters. This drowns out the voices of moderate voters and drives our politics further toward the extremes.
In "The Second Coming," a 1919 work by the great Irish poet William Butler Yeats, he wrote some prescient verses:
"Things fall apart; the centre cannot hold;
Mere anarchy is loosed upon the world … "
Yeats could not have foreseen the storming of the U.S. Capitol on Jan. 6, 2021, but his words hold true. Things fell apart in our country that day after years of fringe figures having their voices amplified by the 45th president, who told some of them to "stand back and stand by."
Anyone who cares about democracy and the right to vote cannot afford to stand back and watch our country take a step back in history. H.R. 1 may merit some adjustment, as most big legislation does, but it's on the right side of history – and democracy.
What's your opinion? Send it to us at lettertoeditor@buffnews.com. Letters should be a maximum of 300 words and must convey an opinion. The column does not print poetry, announcements of community events or thank you letters. A writer or household may appear only once every 30 days. All letters are subject to fact-checking and editing.