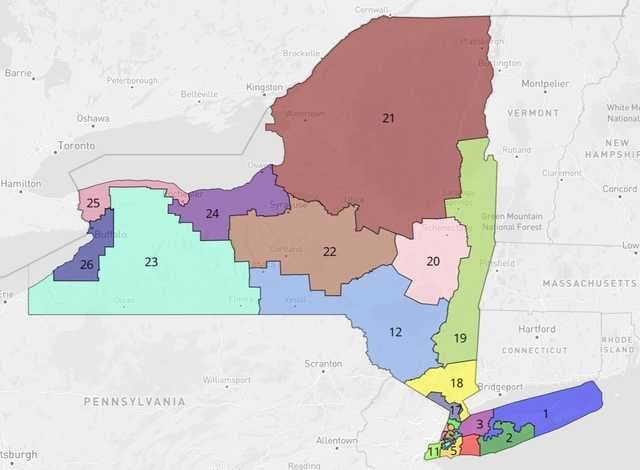 A 2014 amendment to the New York State Constitution created an Independent Redistricting Commission that was supposed to rein in the partisan gerrymandering that takes place when district lines are redrawn each 10 years.
Early returns are not promising.
The commission this month released its first proposed maps for State Senate, Assembly and congressional districts. However, each party released its own maps, rather than working together. It's a deadlock that was practically guaranteed by the design of the commission, with an equal number of members chosen by Democrats and Republicans.
It turns out that calling a panel independent does not make it so. How does New York break free from the grip of gerrymandering? There's no perfect solution, but a bill introduced this month by Democrats in the U.S. Senate, the Freedom to Vote Act, would go a long way toward curbing the nakedly partisan map-drawing that takes place across the nation.
The Democrats' previous voting rights bill, the For the People Act, stalled in the Senate after passage by the House. Sen. Joe Manchin, D-W.Va., helped craft the new legislation, which includes other provisions meant to make it easier for Americans to cast ballots.
The bill would create a formula to help judges determine whether a redistricting map is biased enough to be thrown out. Any map that comes under legal challenge would be analyzed using an algorithm in which maps are rated on an "efficiency gap" and a "partisan bias gap," which are measured by percentage. Any rating above 7% gets automatically blocked by the courts.
A Harvard Law School professor, Nick Stephanopoulus, told The Hill newspaper that the bill's anti-gerrymandering formulas are "really, really clear, to the point of being mechanical."
The bill also creates a specialty court – district court in Washington, D.C. – to handle redistricting cases, creating consistency in how the cases are adjudicated.
When politicians acknowledge gerrymandering at all, they often point to the other side, saying "they started it." However, it represents a true both-sides phenomenon. Partisans of all political stripes will try to redraw districts in their favor. It's been called a way for legislators to choose their voters rather than the other way around.
When Gov. Kathy Hochul took office in August, she freely admitted that as a leader of the state Democratic Party, she would do her best to see that Democrats extend their majority in the House through redistricting. Hochul, of course, was serving in Congress when the lines in New York's 26th District were redrawn after the 2010 census, creating a more Republican-friendly district whose voters chose Chris Collins over Hochul in 2012.
It was even worse after the 2000 census, when the infamous "earmuff" plan combined parts of Erie, Niagara, Orleans and Monroe counties into a single, ungainly district represented by the late Louise Slaughter of the Rochester area.
New York's Independent Redistricting Commission will hold public hearings on its map proposals, including one at 4 p.m. on Oct. 20 at the Burchfield Penney Art Center in Buffalo. The panel will issue final recommendations to the Legislature by early 2022. Leaders of the Legislature must either approve the recommended district lines or draw their own. It's a game that's rigged in favor of Democrats, who hold supermajorities in both the Assembly and Senate, as well as the governorship. Legal challenges could once again force a court to draw the final maps. The more things change …
The shaping of congressional districts is a high-stakes endeavor. Through reapportionment, the state next year loses one of its 27 seats. Dave Wasserman of the Cook Political Report told News Washington Bureau Chief Jerry Zremski that a Democratic gerrymander of the state's House districts could reduce the number of Republican seats from eight to three. That would give Democrats in the delegation a 23-3 advantage, which helps the party as it tries to hold its majority in the House in the 2022 midterm elections.
Gerrymandered districts that insulate candidates from competition turn primaries into the real election, increasing the clout of extremists in each party. Politicians can more easily ignore political minorities in favor of party bosses and big donors.
The Freedom to Vote Act offers a chance for real change. It's time to fix the system rather than living with one in which, for one party or another, the fix is in.
What's your opinion? Send it to us at lettertoeditor@buffnews.com. Letters should be a maximum of 300 words and must convey an opinion. The column does not print poetry, announcements of community events or thank you letters. A writer or household may appear only once every 30 days. All letters are subject to fact-checking and editing.