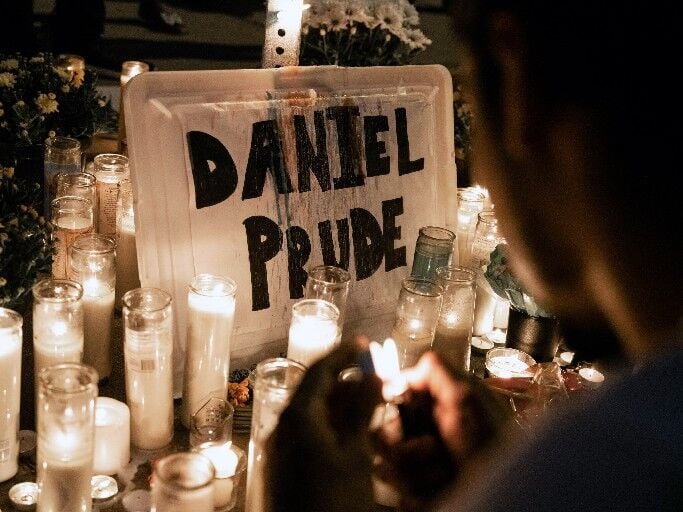 "Defund the police" is a terrible and misleading slogan but behind it is a serious problem: For decades, police officers have unhappily become the front line dealing with mental health problems and addiction. If more money were spent hiring professionals trained for that specialized work, less could likely be spent on police – and police officers would have a much improved job.
The death of Daniel Prude in Rochester is a tragic case in point. Protesters are holding nightly demonstrations there in response to a graphic video of Prude, a 41-year-old Black man who was experiencing a psychotic episode. Prude went into cardiac arrest after a struggle in which police officers placed a "spit hood" over his head. He died a week after the March 23 confrontation. The county medical examiner ruled his death a homicide caused by complications of asphyxiation. The Rochester police, however, had labeled it as death by drug overdose after PCP was found in his bloodstream.
The average police officer is not trained to be a drug addiction specialist or mental health counselor. Putting more funding into those services would relieve some of the pressure put on police to handle many of society's most troubled individuals.
A recent USA Today article highlighted a crisis intervention team in Eugene, Ore., which replaces police intervention in many cases of people who are in crisis. A mental health therapist, an EMT and others can defuse a situation with expertise that police officers don't possess.
If someone is robbing a liquor store call the police; when a person is holed up inside his house threatening to kill himself, calling a crisis intervention team would be more humane and effective.
The Washington Post maintains a Fatal Force database that shows Americans with mental illnesses constitute nearly a quarter of those killed by police officers. And, The Post reports, since the 1970s, 115 police officers have been killed by individuals with serious mental illnesses.
Before George Floyd was killed while in police custody in Minneapolis, Floyd had been pleading with officers to understand that he had mental health issues, mentioning claustrophobia, anxiety and the fact he'd been shot before by police. The white officer holding down Floyd, Derek Chauvin, seemingly paid no attention and Floyd died.
India Cummings was battling mental health problems while serving time in the Erie County Holding Center. Cummings, who was 27, died on Feb. 21, 2016, after spending 17 days at the Holding Center. The state's Commission of Correction called Cummings' treatment at the center "so grossly incompetent and inadequate so as to shock the conscience" and said her death should be ruled a homicide due to medical neglect.
According to the U.S. Health and Human Services Department, people with serious mental illness account for just 3% to 5% of violent acts. At the same time, they are 10 times more likely than the general population to be victims of violent crime.
The coronavirus pandemic has exacerbated mental health challenges for many. Isolation and loneliness, fears of getting sick, joblessness and food insecurity have all taken a toll. Asking police officers to do the job of mental health professionals is completely unreasonable.
Members of law enforcement and their unions may bristle at some of the necessary policing reforms proposed to rein in police brutality, which affects people of color out of proportion to their share of the population. Few officers would advocate for their department's funding to be cut, but many would welcome the beefing up of nonpolice services to address mental health crises.
Tim Black is operations coordinator for Cahoots, the crisis intervention team in Eugene, Ore. Black summed up the purpose of his organization in an interview with MarketWatch.
"In those situations where there's not a criminal issue, there's not an emergent threat to the safety of an individual or a neighborhood, why do we need the police to be the ones responding?" Black said. "Why can't it be folks from that community who are coming with unconditional positive regard and empathy, instead of force?"
Police provide essential services. Without them, citizens would start taking their security into their own hands, leading to anarchy and endemic violence. Certainly, police – including the officers in Rochester – need to be accountable for their actions, but the episode underscores the hard truth that this is a time to streamline and simplify their mission.
What's your opinion? Send it to us at lettertoeditor@buffnews.com. Letters should be a maximum of 300 words and must convey an opinion. The column does not print poetry, announcements of community events or thank-you letters. A writer or household may appear only once every 30 days. All letters are subject to fact-checking and editing.