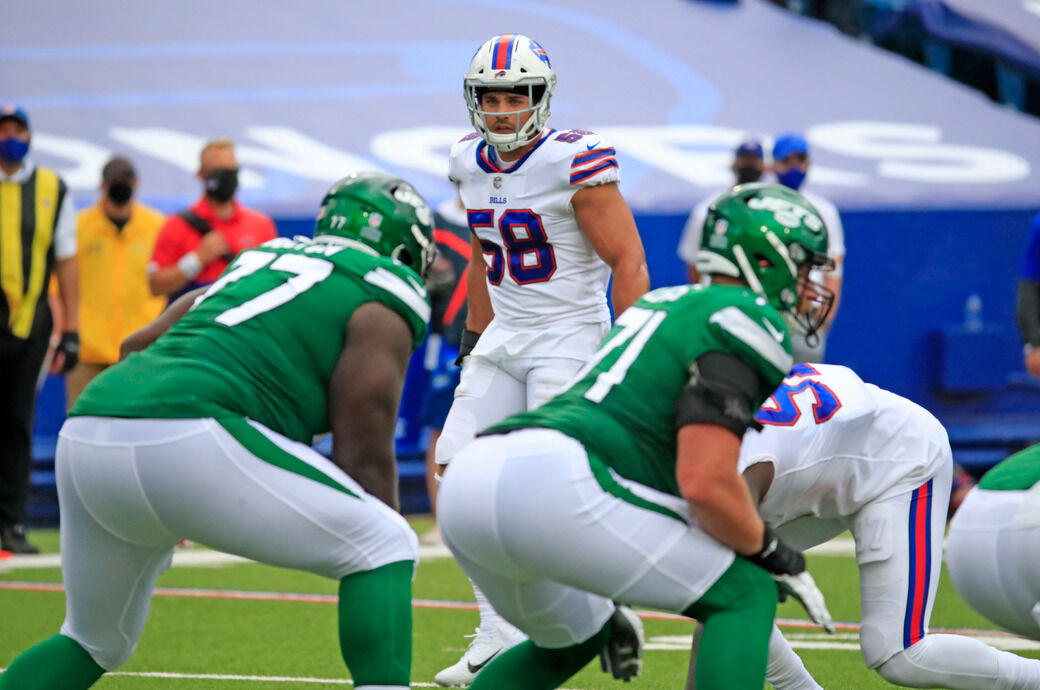 The Buffalo Bills and the NFL are strict when it comes to enforcing the rules for admission to Highmark Stadium. Fans are prohibited from bringing in any bag larger than a clutch purse. Cameras must have lenses shorter than 6 inches. Thermoses or laptop computers? Forget about it.
"Our goal is to have a 100% full house for the Bills and the Sabres, starting in the fall," Erie County Executive Mark Poloncarz said Tuesday.
Starting in the fall, spectators likely will have another requirement for admission, mandated by Erie County Executive Mark Poloncarz: proof that they have been vaccinated against Covid-19. The same goes for Sabres games at KeyBank Center. Will that infringe upon citizens' life, liberty and the pursuit of happiness? Only if liberty is defined as the freedom to do whatever you want, at any time, with no regard for others.
There's an old legal saying that applies here: "Your right to swing your arms ends just where the other man's nose begins."
The coronavirus pandemic may be the biggest public health crisis America ever has faced. The Centers for Disease Control and Prevention says the virus is 10 times more deadly than seasonal influenza. It is also more contagious.
"Also, Covid-19 has been observed to have more superspreading events than flu," a CDC advisory says. "This means the virus that causes Covid-19 can quickly and easily spread to a lot of people and result in continuous spreading among people as time progresses."
The News reported this week that Erie and Niagara counties are leading all of New York State in average daily cases per 100,000 people. The danger is real and getting more people vaccinated is our region's best hope. We can't afford to have a superspreader event among 70,000 people in Orchard Park.
Josh Allen sounds as if he's willing to be patient about receiving a long-term contract extension from the Bills.
Bills quarterback Josh Allen caused a stir this month when he said on a podcast he wasn't sure about getting vaccinated, but he would study it because he's "a big statistics and logical guy." He has likely gotten a good education on the topic since then; there are plenty of statistics showing the safety and efficacy of the Pfizer, Moderna and Johnson & Johnson vaccines.
Trials of the Pfizer shot showed it had efficacy of 95% at preventing symptomatic Covid-19 infection. The Moderna vaccine was 94.1% effective and the J&J vaccine, which has a different structure, is said to be 72% effective in U.S. trials against moderate to severe Covid-19 infections, and 85% effective against severe disease.
New York and other states paused in administering the J&J shots due to blood clots experienced by a few women who received the shots. Those cases were incredibly rare, with odds estimated at one in a million. They deserve investigation but should not ultimately stand in the way of use of the vaccine.
Rachel Bush, a model who is married to Bills safety Jordan Poyer, took to Twitter to blast the new regulation for Bills games. Bush said she has had Covid-19 and wants nothing to do with the vaccine.
Covid "was bad," she wrote. "But not bad enough to turn myself into a lab rat for an experimental vaccine."
Bush has 1.4 million followers on Instagram, which qualifies her as an influencer. It's not clear who influences her thinking on epidemiology, but we're sticking with Dr. Anthony Fauci and the CDC as our go-to sources.
The Erie County executive said anyone wishing to attend a Bills or Sabres game would need to be fully vaccinated. But the governor begged to differ.
Gov. Andrew M. Cuomo on Wednesday weighed in with reservations about Poloncarz's authority to enact the sports venue plan without the state's blessing. We hope he will endorse it.
Reacting to Poloncarz's plan, the Bills released a neutral statement saying the team "will continue to cooperate and comply with all New York State and local government regulations regarding our sporting events."
Terry and Kim Pegula, owners of the Bills and Sabres, could help the cause by speaking up in favor of the Poloncarz plan. That could encourage more Western New Yorkers to get their shots, which moves the whole community closer to herd immunity and gets the Pegulas' teams closer to playing before full houses.
A report in Thursday's News identified an uptick in cases among school students, a concerning trend. When the state extends vaccine eligibility to younger teens and pre-teens, adults need to encourage them to get inoculated.
If our region wants to avoid new lockdown mandates – a threat that the state of Michigan is facing as coronavirus cases surge there – we need to quicken the pace of shots administered. Many vaccine appointments are available in Erie County but are going unclaimed. So long as vaccine demand lags behind the supply, we are postponing our region's ability to fully reopen.
Some skeptics say it is their constitutional right to refuse a shot. They are correct, but their attitude privileges selfishness over responsibility to the community.
When did shared sacrifice go out of style? The idea that freedom isn't free was what motivated Bills offensive lineman Bob Kalsu to enlist in the Army in the late 1960s. Kalsu was killed in action, fighting in Vietnam, in 1970. His name adorns the Bills Wall of Fame at the stadium.
All we are being asked to do in Erie County is roll up our sleeves and take a small jab, helping us toward herd immunity. It's not too much to ask.
What's your opinion? Send it to us at lettertoeditor@buffnews.com. Letters should be a maximum of 300 words and must convey an opinion. The column does not print poetry, announcements of community events or thank you letters. A writer or household may appear only once every 30 days. All letters are subject to fact-checking and editing.