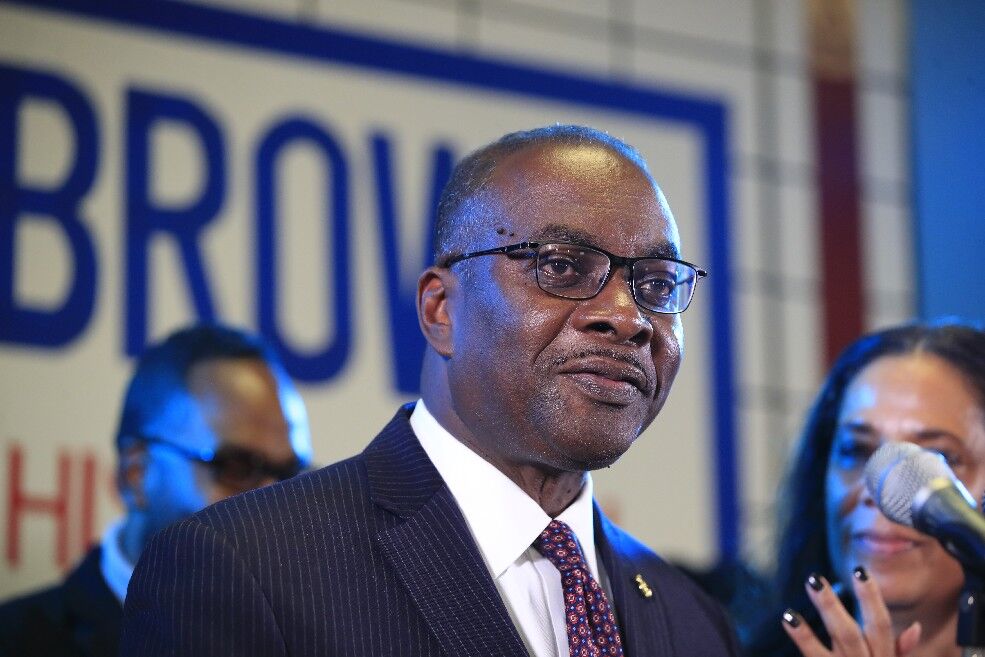 Progressives demand that Buffalo Mayor Byron W. Brown resign or be removed from the Democratic National Committee because he ran a successful write-in campaign that defeated India B. Walton, who won the Democratic primary.
Based on the margin of Democratic voters versus Republicans in Buffalo, Walton may have considered herself the presumptive mayor after winning the primary, but that came with no guarantee. The team leading a football game after three quarters hasn't won yet.
Progressive advocates act as if Brown committed treason by running as an independent. The chairman of Our Revolution, a national progressive group that supported Walton, told Politico that Brown's "stunt" in the Nov. 2 election was a "disgrace."
The left-leaning New Republic magazine declared Walton lost because of a "Democratic plot to stop a socialist." And Walton herself said during a virtual meeting with Our Revolution that Brown and his supporters "actively colluded with the GOP" to defeat her.
There's a difference between collusion and cooperation. The Brown campaign did accept donations and other help from national groups and local individuals – whether Republicans or moderate Democrats – who opposed putting a democratic socialist in charge of the city.
The Walton campaign also accepted outside help, from progressive groups in New York City and elsewhere. The Working Families Party, Our Revolution and MoveOn were among the sources of support boosting her advertising buys, phone banks and campaign ground game.
It's a curious turn of events to be lectured on Democratic Party unity by an organization, Our Revolution, whose father figure is Sen. Bernie Sanders, the Independent from Vermont who was slow to try to unify the party after his 2016 loss to Democratic presidential nominee Hillary Clinton.
The progressives' call for ideological purity in their party in some ways mirrors Republicans' treatment of Rep. Liz Cheney, R-Wyo. House Republicans in May voted to oust Cheney as conference chair because she has made truthful statements that were critical of former President Donald Trump.
Cheney, whose conservative bona fides have been well-established in her political career, was punished for speaking out against the former president and for her vote to impeach him for his obvious role in the Jan. 6 riot at the Capitol. This month, the Wyoming Republican Party passed a resolution saying it would no longer recognize Cheney as a member of the GOP.
Tensions and tempers have flared among Democrats after Election Day. In New York State, a group of progressives introduced a no-confidence resolution in state Democratic Chairman Jay Jacobs. The resolution failed in a 144-25 vote.
Jacobs defended his choice to keep his political distance from Walton in the Buffalo race.
"Democrats have to move to the center if they are to win elections," he said. "And I favor winning elections over ideological purity." It's a lessons both Republicans and Democrats would do well to remember.
Democrats are steeling themselves for a tough national fight in 2022, when midterm elections could swing the majority of both houses of Congress. President Biden's approval rating – calculated at 42.7% on Monday by FiveThirtyEight – provides little encouragement, though Biden's major pieces of legislation enjoy deep support. There's a split in the party between those who, like Jacobs, want to court moderates versus progressives who want to lean into to their platform priorities.
We believe that the big-tent approach, with a stake planted firmly in the center, represents the best choice for either major party. That's the best way to keep the country unified.
Former President Barack Obama warned us about progressives being overly rigid in their policy demands.
"You have to recognize that the way we've structured democracy requires you to take into account people who don't agree with you," he said, "and that by definition means you're not going to get 100 percent of what you want."
What's your opinion? Send it to us at lettertoeditor@buffnews.com. Letters should be a maximum of 300 words and must convey an opinion. The column does not print poetry, announcements of community events or thank you letters. A writer or household may appear only once every 30 days. All letters are subject to fact-checking and editing.