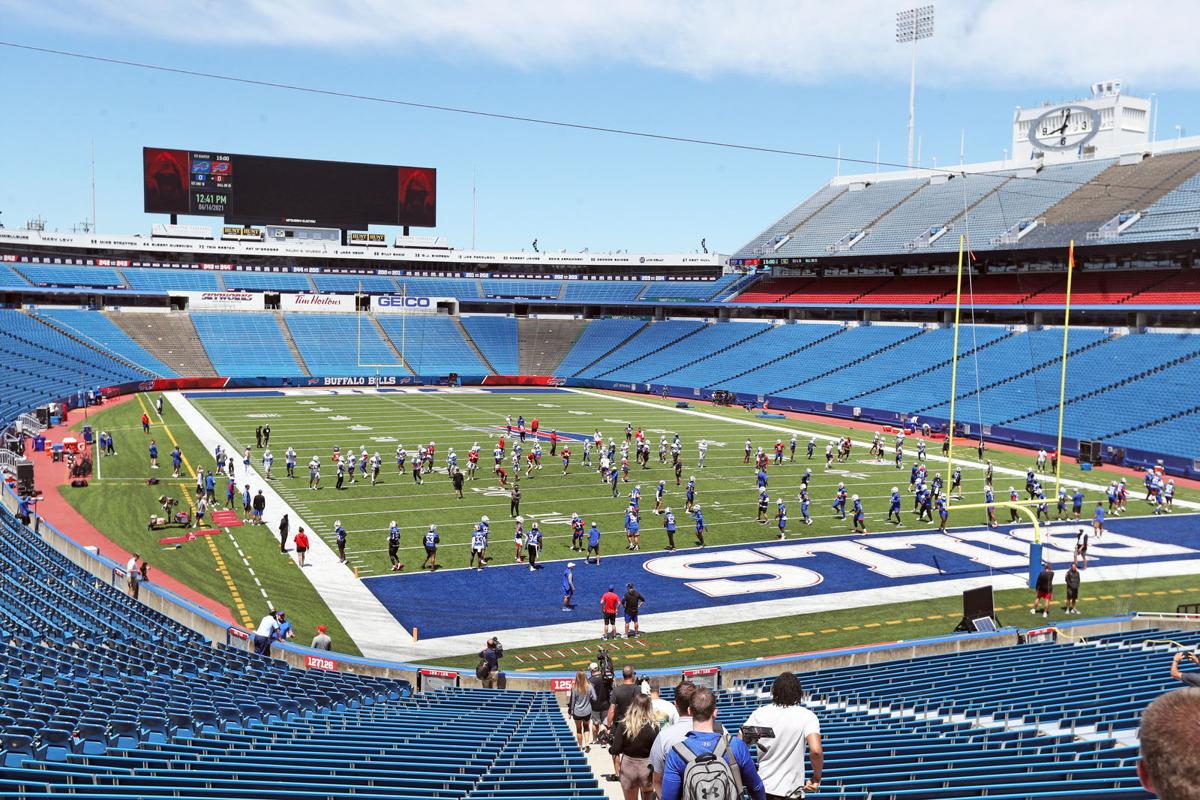 Erie County Executive Mark Poloncarz was right: With nearly three months before the home opener, there is time for many more Western New Yorkers to be vaccinated before the first kickoff at Highmark Stadium.
But here's the thing: His now-dropped insistence that all fans attending be inoculated could have driven those numbers and helped save lives. But on Sunday, Poloncarz announced that he was backing off that requirement. Vaccination will not be required for any event at the county-owned stadium. Maybe it will work out, anyway, but it's too bad.
It's becoming easy to forget, but people are still being hospitalized and still dying from Covid-19 and the victims are largely those who haven't been vaccinated. Immunizations are what has allowed New York State to reopen and for most of us to breathe easier.
But not everyone is vaccinated and those who are on the fence or just procrastinating need all the incentive they can absorb. This could have been an effective strategy.
The federal government has said that companies are free to set vaccination rules for their businesses. It's true that Terry and Kim Pegula own the Bills and that the NFL, as of last month, was still developing protocols for fans. But Erie County owns the stadium, where unvaccinated fans will pose a risk to each other and to those with compromised immune systems.
Like the rest of the country, Erie County is making progress on vaccinating residents, though the pace has slowed significantly. And while New York State relaxed pandemic restrictions upon hitting the threshold of 70% of adults with at least one shot, Erie County is not that far along. Here, about 58% of residents have had at least one shot and about 51% are fully vaccinated. In some parts of the county, rates are higher than that, but in others, they are notably lower.
Thus, were the Bills to have hosted a game on Sunday, almost half of the fans attending would have posed a threat to themselves and to others who could spread the virus further. Poloncarz's approach could have improved the odds.
Nevertheless, the county and the Bills can still help. Bills-themed vaccination clinics around the county could draw unimmunized fans. A great spot for one would be in the parking lot at Highmark Stadium.
That could begin now and, if useful, continue even on game days. Newly inoculated fans would not be protected immediately after a shot, but it would count as a win, anyway. Drawings for free tickets could also be an irresistible lure, as free lottery tickets have proved to be.
There is another critical reason not to allow vaccination efforts to flag: the risk of another autumn wave of infections. As Dr. Paul Offit recently said on CNN, "Unless we vaccinate a significant percentage of the population before winter hits, you're going to see more spread and the creation of more variants, which will only make this task more difficult." Offit is a member of the FDA Vaccines Advisory Committee.
As if on cue, Erie County announced over the weekend that the highly infectious and virulent  Delta variant of the novel coronavirus has been found here. That puts the unvaccinated and others with compromised protection at a higher risk.
We know all of this by now. The only way fully out of this trial is through vaccinations or illness, and there is no right to risk infecting other people or, for that matter, to attend a football game.
Poloncarz should have stuck to his guns.
What's your opinion? Send it to us at lettertoeditor@buffnews.com. Letters should be a maximum of 300 words and must convey an opinion. The column does not print poetry, announcements of community events or thank-you letters. A writer or household may appear only once every 30 days. All letters are subject to fact-checking and editing.