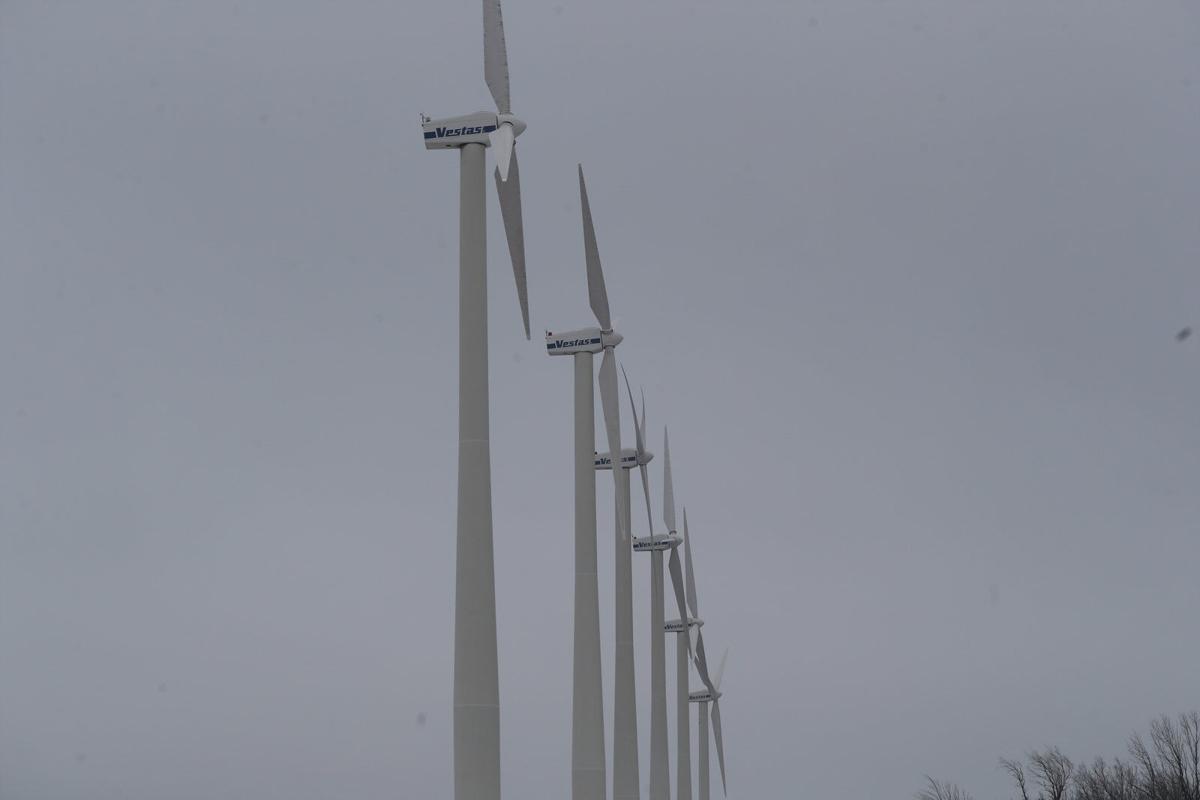 The plan to investigate placing wind turbines in Western New York's two Great Lakes is sure to arouse opposition, but the examination ie essential. The dangers from climate change mean every alternative must be explored.
That doesn't mean it is a foregone collusion that New York should place turbines in Lake Erie and Lake Ontario. But with similar efforts planned in the ocean off Long Island and successful installations around the globe, it would be economically and environmentally irresponsible not to examine the possibility.
That's what the New York Energy Research and Development Authority has been ordered to study, with a report to be completed by early next year. The question is whether wind power on the lakes should be part of New York's green energy portfolio. It is a sensible question.
As residents may have noticed on Friday, this is a windy region – windier, by some estimates, than the famously Windy City of Chicago. Much of that has to do with the open lakes to our west and north and some, no doubt, is linked to our unique location: the only sizeable American region on the eastern end of a large body of fresh water. Given that, it would be reckless not to look into the possibilities of harnessing that wind power.
The need at this point should be obvious. Evidence has clearly shown that the burning of fossil fuels is a significant driver of climate change. Western New York may be shielded from the worst effects of that change, although climate change has driven recent years' flooding along the south shore of Lake Ontario. We need to do our part.
Even worse hit are regions in the South, West and along the nation's coasts.
In the South, the main tornado season used to be in April and May but the region has been raked by the extreme storms twice this month, already. Hurricanes are more common: Louisiana last year was pummeled by five named storms; three of them hurricanes.
In the West, wildfires are becoming routine. Fires in 2020 killed dozens of people in Oregon, Washington and California, destroying hundreds of structures and causing air pollution that threatened the health of millions. Long-term damage to ecosystems and species is feared.
We know that seas are rising as ice sheets melt and ocean temperatures warm. That threatens the existence of coastal cities including New York and Miami.
Some of this damage may be permanent and much of it is at this point unavoidable. The need now is to guard against destruction as best as possible and make plans for a cleaner, wiser energy future.
Those plans will necessarily include several strategies. In the private sector, General Motors – a major employer in Buffalo – has set a goal of manufacturing mainly electric vehicles by 2035.
In the public sector, the main focus is on cleaner energy production, including solar and wind power to reduce the amount of electricity produced by coal and natural gas.
But, just as no one wants a power plant in his back yard, few people are eager to see a solar array across the street or a wind farm, not just across the street, but far out in the ocean. Indeed, the spectacularly wealthy residents of the Hamptons are trying the block the Long Island projects, even though the proposed turbines are miles offshore.
Apparently, even the thought of turbines is revolting, so NYSERDA is wise to include in its evaluation the issue of "viewsheds" – how large numbers of offshore wind turbines might affect the view from the lakeshore as well as the effect on homeowners there.
But change is coming. It has to, as matters of good environmental stewardship, public safety and, at least in New York, state law. Albany has mandated goals that include producing a zero-emission electricity sector by 2040 and, within that, 70% renewable energy generation by 2030 – nine years from now.
We have wind here in Western New York – plenty of it. The state is wise to investigate the possibility of placing turbines in our two lakes. We need clean, renewable power and there will always be objections. Their concerns of those affected need to be heard, but the goal cannot be forsaken.
What's your opinion? Send it to us at lettertoeditor@buffnews.com. Letters should be a maximum of 300 words and must convey an opinion. The column does not print poetry, announcements of community events or thank you letters. A writer or household may appear only once every 30 days. All letters are subject to fact-checking and editing.