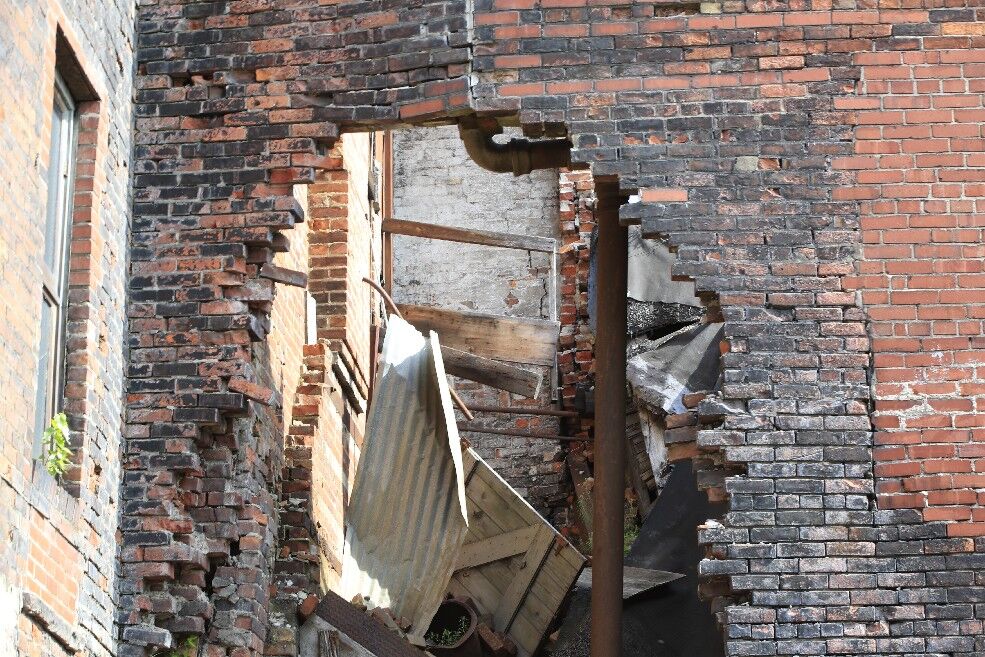 The Cobblestone Historic Preservation District earned that designation for its importance as a small slice of the Buffalo waterfront's mercantile and industrial past. Anyone owning property there needs to respect that.
Darryl Carr has owned several buildings in the district for more than 10 years and is at odds with the City of Buffalo over his refusal to stop the deterioration of some that have been close to collapsing for years. Numerous cases have been brought against Carr in Housing Court, forcing him to make repairs. But Carr is refusing to comply with the Brown administration's request that he put $100,000 in escrow to hire a contractor to stabilize his buildings at 110-114 South Park Ave.
As The News recently reported, a hearing on the matter was scheduled for April, but postponed during the Covid pause.
It's up to Housing Court Judge Patrick Carney to issue an emergency stabilization order to make Carr comply. We urge him to do so.
The owner maintains the crumbling walls are deteriorated beyond repair and do not fit into his plan for a 55-story building on the site.
For the record, that would be 17 stories higher than Douglas Jemal's Seneca One building, which towers over downtown. Carr calls his plan Unity Tower at Cobblestone Place; it would include condominiums, hotel suites, retail and dining establishments, and an addition to Carr's Cobblestone Bar & Grill. It would be an odd addition to the Cobblestone district, a part of the city that deserves to be protected.
Carr, who is a self-employed environmental scientist, says he would power the Unity Tower with wind-driven turbines, geothermal and solar energy.
It remains to be seen whether Carr has the wherewithal to make his tower a reality. He says he has put his life savings into it. He would need a height variance from the Zoning Board and approvals from the Preservation and Planning boards.
Carr told The News he did not plan to comply with the city's request to put $100,000 into an escrow account to hire a contractor to stabilize the building. He said, "when the smoke clears we are going to go ahead with the project."
The various regulatory boards will decide whether Carr's plans are feasible. In the meantime, he could build goodwill by honoring the city's request to set aside funds. No would-be developer can be allowed to pick and choose the rules he wishes to follow.
What's your opinion? Send it to us at lettertoeditor@buffnews.com. Letters should be a maximum of 300 words and must convey an opinion. The column does not print poetry, announcements of community events or thank you letters. A writer or household may appear only once every 30 days. All letters are subject to fact-checking and editing.