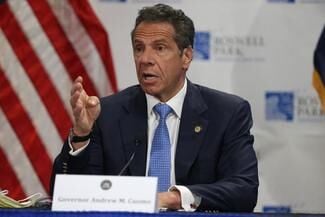 A bill intended to ensure workplace safety passed both houses of the state Legislature and is sitting on the desk of Gov. Andrew M. Cuomo. The intent of the "NY Hero Act" is laudable, but it contains some burdens on businesses that would hamper their ability to make a post-pandemic comeback.
Whether Cuomo vetoes the bill or negotiates changes with lawmakers, some amendments are in order.
In enacted, the measure would require the state Labor Department to issue minimum workplace health and safety standards, including required access to protective equipment, time for hand washing and social distancing. Whether those are required by state mandate rather than common sense after the pandemic is contained is debatable, but they are practices widely followed at this point.
The more onerous parts of the bill would:
• Open up employers to more lawsuits under a "private right of action" provision that allows employees to sue for noncompliance with Covid-19 safety protocols.
• Require any business with 10 or more employees to form a joint labor-management workplace safety committee. Members would be able to raise health and safety concerns that the employer must respond to, and would be permitted to attend training without loss of pay.
Many of the state's labor unions are pushing for Cuomo to sign the Hero Act. The safety committee provision would in essence establish a form of collective bargaining between employer and employees, even in businesses where no union representation exists.
Safety for workers is a high priority that's already embedded in protections from the state Labor Department and the U.S. Occupational Safety and Health Administration. The Hero Act, whose reach extends far beyond front-line health care heroes, is trying to make permanent safety provisions that the state established during the coronavirus pandemic.
Just as it's appropriate for Gov. Andrew M. Cuomo's emergency powers to have an expiration date, regulations on social distancing, face coverings and hand hygiene do not have to be permanently set in state law.
Business groups have proposed an alternative to the provision making lawsuits easier, asking for a 90-day "cure" to settle disputed issues before a suit moves forward. That's a way to get safety problems resolved without unnecessary litigation. Albany might also consider whether pending threats to public health should trigger certain responses by businesses. Surely, we have learned the value of readiness.
Businesses have a hard time finding enough people to fill jobs these days. If they don't maintain safe environments, both employees and customers will vote with their feet and go elsewhere. Government regulations that go too far will do more harm than good.
What's your opinion? Send it to us at lettertoeditor@buffnews.com. Letters should be a maximum of 300 words and must convey an opinion. The column does not print poetry, announcements of community events or thank-you letters. A writer or household may appear only once every 30 days. All letters are subject to fact-checking and editing.