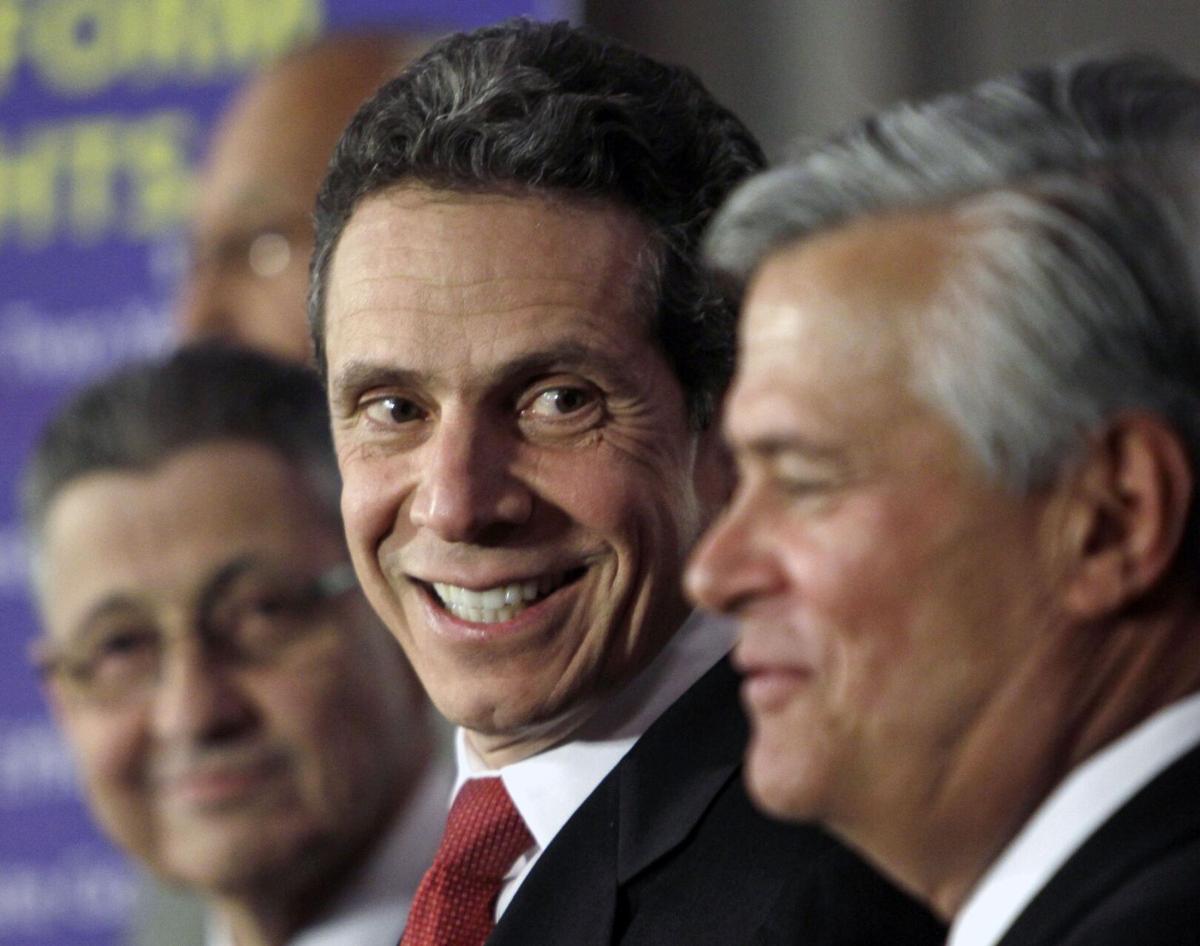 Remember three men in a room? That was the shorthand for how Albany crafted a state budget. Each year, the governor and the head of each legislative chamber would negotiate a new spending plan as rank-and-file legislators waited for their voting instructions. It wasn't just three men, either – it was three white men.
When the three high-ranking elected officials next meet to hammer out a state budget it will be one white woman, one Black woman and one Black man. That's change.
Indeed, the transformation began after former Assembly Speaker Sheldon Silver was arrested and succeeded by Carl Heastie, who is Black. It accelerated two years ago after Republicans lost control of the Senate and Andrea Stewart-Cousins, a Black woman, rose to the post of majority leader.
Now, with Lt. Gov. Kathy Hochul about to take over as governor, the change will be complete, and accomplished in just six years. The question now is how – if, at all – that will affect politics in a state government that is known as – take your pick – the nation's most corrupt or one of the nation's most corrupt.
Let's start with this: If Albany's culture does change, it will be by virtue of the ethics and good sense of its elected leaders, not because of anyone's race of gender. What is their commitment to openness and honesty? What is the tolerance for those who are neither transparent nor honest?
It's hard not to be at least a little optimistic, given what Western New Yorkers know about Hochul and her approach to government and politics. And, what is more, Heastie isn't Shelly Silver nor is Stewart-Cousins Dean Skelos, a disgraced predecessor.
Indeed, "disgraced" is a word that applies to too many people in New York State government. It's a legacy of Tammany Hall, the corrupt Democratic machine that once ruled New York City and reached its tentacles deep into Albany.
In today's New York, that can translate both to traditional government corruption or to a sense of entitlement that foments personal misconduct. Some officeholders may come to Albany already infused with hubris, but swimming in those waters seems to encourage the belief that rules don't apply.
Gov. Andrew M. Cuomo is, of course, Exhibit A. On Tuesday, he announced his resignation in the face of credible allegations of sexual harassment and an Assembly that was appropriately bent on impeaching him.
But he is the second in just three governors to be shown the door over sexual improprieties. Eliot Spitzer abruptly quit after he was found to be patronizing prostitutes – arranging for one encounter while touring Niagara Falls.
Former Comptroller Alan Hevesi – who liked to say it's easier to ask forgiveness than permission – went to prison for public corruption involving the misuse of his office. Silver, once an all-powerful Assembly Speaker, went to prison for using his office for personal gain.
All were Democrats, but Republicans knew how to play the dirty game, too. Skelos went to prison for pressuring businesses to give his son about $300,000 for no-show or low-show jobs. His predecessor, Joseph Bruno, had an initial conviction thrown out for legal reasons that didn't absolve him of the conduct alleged. He was acquitted on other charges.
Many other legislators, some in leadership positions, have also been convicted of crimes. Among them is Malcolm Smith, a Senate Democrat who was majority leader in early 2009. He was sent to prison after conviction on charges that included bribery and extortion.
New Yorkers have longed for a new day in state government. Cuomo promised it when he took office in 2011, saying he would "bring back integrity" to Albany. But while his failure was personal, corruption continued to flourish, as documented in the bid-rigging scandal that afflicted his "Buffalo Billion" economic development program.
New York has surely been served by honest leaders, but they are working in a political environment long drenched in corruption and entitlement.
New Yorkers can be hopeful about the combined leadership of Hochul, Heastie and Stewart-Cousins but they still swim in those waters. Their goal should be to clean the tank.
What's your opinion? Send it to us at lettertoeditor@buffnews.com. Letters should be a maximum of 300 words and must convey an opinion. The column does not print poetry, announcements of community events or thank-you letters. A writer or household may appear only once every 30 days. All letters are subject to fact-checking and editing.