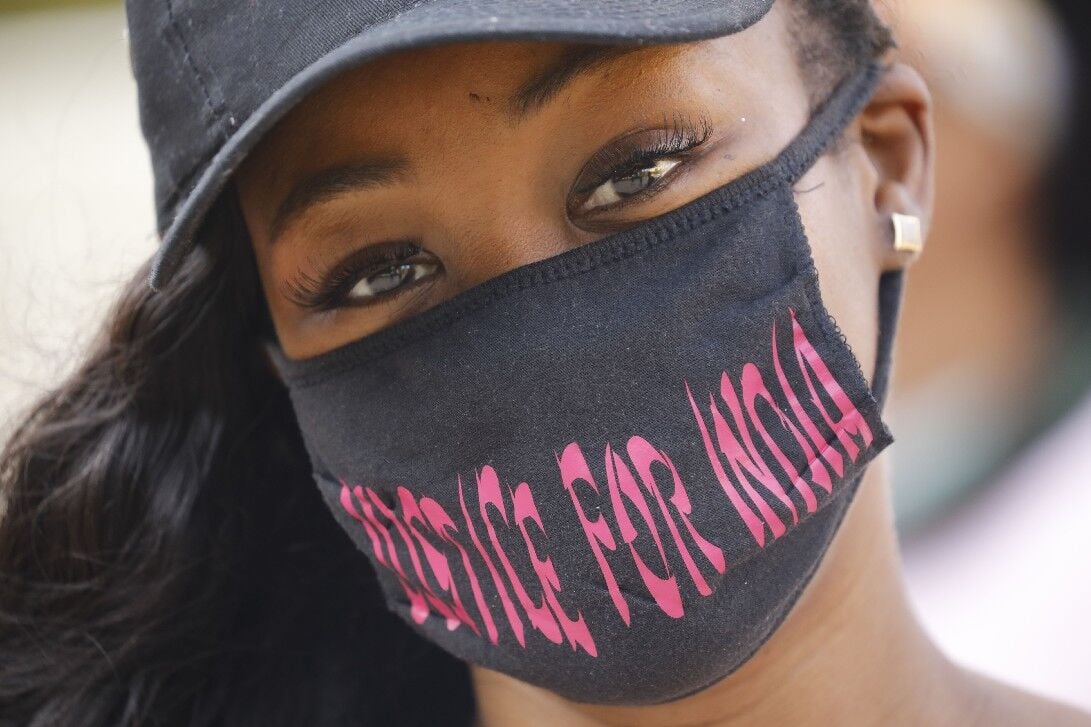 We have no reason to dispute the conclusion of Attorney General Letitia James that no criminal charges are appropriate in the jailhouse death of India Cummings four years ago, though "terrible tragedy" falls short of describing the official indifference that led to her death.
But the lack of criminal charges does not mean the matter is settled. Given the facts of this poor woman's death, it is incumbent upon the Erie County Sheriff's Office, the county executive and the county Legislature to take steps to ensure nothing like it happens again.
Cummings, 27, died after 16 days in the Erie County Holding Center, where state officials found her care to be shameful. The New York Commission of Correction, which oversees the state's jails, described it as "so grossly incompetent and inadequate as to shock the conscience." Indeed, it described the death as "homicide due to medical neglect" and urged a criminal investigation.
Cummings was mentally disturbed, talking gibberish to herself and lying in a puddle of her own urine, the Commission reported. She was high when she was arrested. Any fair-minded person can acknowledge that supervising an inmate with her issues would be challenging. That doesn't justify or excuse incompetence or indifference. Instead, it emphasizes the need for training and for sufficient empathy to take pity on a suffering, out-of-control human being.
That didn't happen in the Holding Center, a jail with a history of suicides and managerial dysfunction. A 2018 report by the Commission of Correction cited the Holding Center and the Erie County Correctional Facility as among the five worst jails in New York State. That came years after a spate of inmate suicides that prompted federal intervention. Plainly, the administration of Sheriff Timothy B. Howard wasn't moved.
In response to Cummings' death and the commission's criticism, the Erie County Legislature passed measures intended to ward off future tragedies. Among them were a medically professional system for safely detoxing inmates who abuse drugs and a requirement for deputies, including jail personnel, to wear body cameras.
The Legislature funded both programs, said its chairwoman, April Baskin. However, she said she can't assess the effectiveness of either measure – or even if they have been implemented – for lack of information from the Sheriff's Office. It's hardly surprising. Under Howard's leadership, the jail has bridled at oversight of its many failures.
Baskin also wants the Legislature to approve a measure requiring the Sheriff's Office to provide it with a duplicate of the report it is required to send the Commission of Correction upon any jail death. It's a sensible requirement that the Legislature, which funds the jail with public tax dollars, should approve.
The measure was proposed earlier this year, after the Legislature's Democratic majority leader, Timothy Meyers, protested that information about jail deaths came to lawmakers not from the Sheriff's Office, but through stories in this newspaper.
Administrators within the Sheriff's Office have insisted to Baskin that legislators don't understand the nature of the "bad people" in their jails. We doubt that's true. More likely is that jail personnel are ill equipped and insufficiently trained to deal with the range of inmates the facilities may contain at any one time.
Bad people, however one might define that concept, are surely among them, but so are people who are mentally ill or addicted to drugs. Throw in those who are charged with a crime but not convicted – that is, people presumed to be innocent – and the range of behaviors and challenges quickly multiply.
This isn't a fictional Mayberry, where the town drunk happily checks himself into jail after a few too many, but neither is it the wild west, where jailers can mete out their own version of justice out of public view. Jail personnel have difficult jobs, but that's why training and the influence of medical professionals is crucial. It's also why not everyone is suited to the work. An ability to empathize and to differentiate between a bad actor and a suffering soul is essential.
Baskin said she accepts the attorney general's conclusion that no charges can be filed, but Cummings' mother, Twana Wyatt of Rochester, is devastated. For her sake and that of jailers, other inmates and the community, the Sheriff's Office need to take public steps to be sure no such tragedy occurs again in its jails.
What's your opinion? Send it to us at lettertoeditor@buffnews.com. Letters should be a maximum of 300 words and must convey an opinion. The column does not print poetry, announcements of community events or thank-you letters. A writer or household may appear only once every 30 days. All letters are subject to fact-checking and editing.