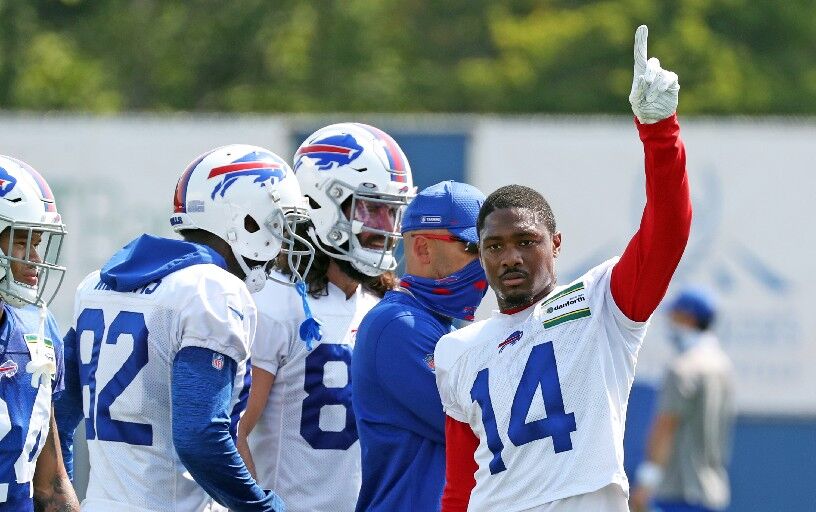 Football players describe the start of the NFL season as when the live bullets start flying. The health risks caused by Covid-19 could give that expression a cruel new twist this year, but the fact is that playing tackle football is always a risk.
Five months ago, it sounded absurd to think the NFL would be able to play an entire 16-game season. Football players perspire heavily, breathe into each other's faces on every play and throw their bodies at each other while blocking and tackling. Those are the elements of a "What NOT to do" manual for Covid-19 prevention.
Now, with the Buffalo Bills opening their season on Sunday against the New York Jets, it seems reasonable to think that teams can play their regular-season games and then a postseason that this year expands from 12 to 14 playoff teams.
The hopefulness is born of experiences of the other major pro sports. The NHL, NBA and WNBA, which sequestered their teams and personnel inside "bubble" locations, successfully played shortened regular seasons. The NHL and NBA are now well into the playoffs, with the WNBA's postseason wrapping up Sunday.
Major League Baseball teams, meanwhile, are flying across the country, staying in hotels and playing in empty stadiums. The sport did have early infection flare-ups – nearly 40 games were postponed due to Covid-19, including three Toronto Blue Jays games scheduled for Sahlen Field in Buffalo the first weekend of August. Over the past two weeks, however, baseball has had fewer than five positives out of more than 26,000 tests.
The NHL has had remarkable success in keeping its players Covid-free, with not a single positive test for the illness in the league's first six weeks of playing in its two bubble cities, Toronto and Edmonton. Hockey does not have the same amount of player contact and collisions as football, but it's more of a contact sport than basketball or baseball. In basketball, though, sweat is flying everywhere.
Every sport is different and playing NFL games carries risks, of course. The league has more than 60 pages of protocols for dealing with Covid-19. Players will be tested daily, except on game days. Teams will have socially distanced meetings and referees will wear face masks. The Bills and San Francisco 49ers, due to local laws, are both requiring players to wear masks whenever they are not in action on the field.
The NFL left it up to teams whether they permit fans in the stands at games. Six teams will open the season with a limited number of fans allowed. The Bills, like the majority of clubs, will have no fans in the stadium for their first two home games.
While it's hard to picture a Bills Sunday in Orchard Park with no marathon tailgate parties or jersey-wearing fans streaming through the turnstiles, the Bills are smart to let other teams experiment with admitting fans and then learn from them. They'll get a close look in Week Two of the season, when the Bills play the Miami Dolphins in Hard Rock Stadium. The Dolphins will allow 13,000 fans that day, about 20% of capacity.
Playing professional football entails risk, during a pandemic or in normal times. The violent collisions of large bodies can produce broken bones, injured spinal cords, degenerative brain trauma and other potentially life-shortening afflictions. Some players retire early to preserve their health.
Players were given the choice of opting out of this season for concerns about Covid-19. The 66 players who opted out included two Bills, cornerback E.J. Gaines and defensive tackle Star Lotulelei. There are no NFL overlords forcing players to take the field against their will.
The return of pro sports has been a morale booster in the summer of 2020. The NHL and NBA have had entertaining playoff games and what Buffalo baseball fan hasn't enjoyed seeing the Blue Jays play at Sahlen Field, even if only on their TV screens?
In January 1942, one month after the attacks on Pearl Harbor, the commissioner of baseball wasn't sure his sport should proceed as the country was heading into war. Commissioner Kenesaw M. Landis asked President Franklin Roosevelt for guidance. FDR replied with what became known as the Green Light Letter, writing, "I honestly feel that it would be best for the country to keep baseball going." He said it would be a good source of relaxation for American workers.
The coronavirus is not a war, but it's a struggle and we can all use some relaxation and boosts to morale. If the NFL can keep the majority of its players and coaches healthy, the season will feel like a victory for fans.
What's your opinion? Send it to us at lettertoeditor@buffnews.com. Letters should be a maximum of 300 words and must convey an opinion. The column does not print poetry, announcements of community events or thank you letters. A writer or household may appear only once every 30 days. All letters are subject to fact-checking and editing.
Concerned about COVID-19?
Sign up now to get the most recent coronavirus headlines and other important local and national news sent to your email inbox daily.