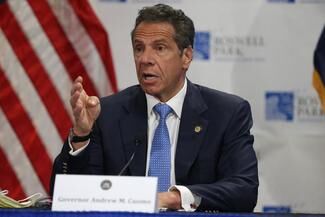 It's not the finish line. Not yet. As variants of the novel coronavirus develop and as the pace of vaccinations runs into resistance, areas of turbulence remains. But with New York announcing a "major reopening" this month, it's definitely a corner turned.
The date is May 19 – just two weeks away – and it goes beyond New York. The joint action includes the neighboring states of New Jersey and Connecticut. With that, a significant and notably cautious part of the country is signaling that conditions are improving.
That's not a surprise. The Covid-19 vaccines are remarkably effective, rendering the virus far less dangerous to those who have taken the jab. While some small risk of infection remains possible for those who have been inoculated, the risk of hospitalization or death is nearly nonexistent.
Still, New York is wisely continuing to be careful in plotting its return to some version of normal. That's necessary. People still are becoming ill. As the crisis in India attests, new variants are arising and producing immense suffering. Some people are incautious or, worse, indifferent to the threat their actions may pose to others.
Like everything else in this pandemic, decisions on reopening demand close evaluation and an understanding that the wrong ones can produce a cascade of unintended consequences. Unvaccinated people can become infected or transmit the virus to other unvaccinated individuals or to people with compromised immune systems, in whom vaccinations are far less effective.
So, it is wise that in loosening restrictions, New York will, for now, maintain the requirement for 6-foot social distancing, based on guidance from the Centers for Disease Control and Prevention. All capacity limits must incorporate that rule, Gov. Andrew M. Cuomo said on Monday, though it will be lifted for events where those attending provide proof of a full vaccination or a recent negative Covid-19 test.
Further evidence of the state's cautious approach can be found in the gradual pace of other changes. For example, capacity at large-scale indoor venues will rise from 10% on May 19, but only to 30%. That will help at sports arenas and other facilities, but it stops short of flinging open the gates. That step-by-step approach allows the state to monitor for repercussions while allowing more time for unvaccinated New Yorkers to get their shots.
The new rules take a similar tack on outdoor social gatherings, where capacity will rise to 500 from 200 on May 10. Limits on indoor social gatherings will rise to 250 from 100 on May 19. And so it goes.
The strategy has the undeclared virtue of encouraging more New Yorkers to be vaccinated. The pace, here and around the country, has slowed as those who are fearful or unaccountably opposed to doing their part begin to dominate the waiting lists. They need to be encouraged. Without them, the country may never achieve herd immunity.
It also will help to foster broader support of the oddly controversial program of vaccine passports, which document inoculation and which will hasten the return to normalcy by allowing more people to access spaces that would otherwise remain out of reach. One of those spaces, we hope, will eventually include Canada.
In the meantime, masks remain essential fashion accessories in many indoor settings, as do hand-washing and social distancing. We're close to the finish line, but we're not there yet.
What's your opinion? Send it to us at lettertoeditor@buffnews.com. Letters should be a maximum of 300 words and must convey an opinion. The column does not print poetry, announcements of community events or thank you letters. A writer or household may appear only once every 30 days. All letters are subject to fact-checking and editing.