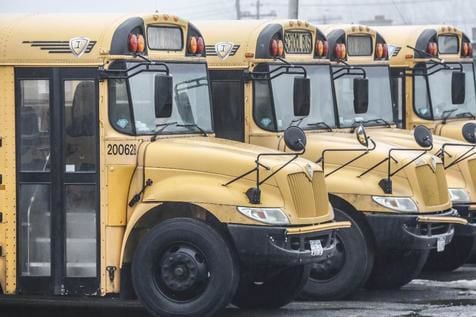 The shortage of school bus drivers heading into a new school year could turn into a minor speed bump for some districts, a substantial obstacle for others.
The greatest test figures to be for the Buffalo Public Schools, Western New York's largest district, which transports more than 28,000 children to school each day. Superintendent Kriner Cash announced this month that a shortage of drivers working for the bus company First Student meant Buffalo would cut its number of daily routes by 24%, forcing longer bus rides to and from school for many students.
That will put added strain on the reopening of school, which takes place amid a new stage of the coronavirus pandemic, but it also presents an opportunity. Costs for student transportation have been rising for at least 30 years. This year's necessary decline in the number of bus routes forces the district to do more with less, a constraint that could lead to creativity. There are varied reasons why many students ride buses or get NFTA passes to reach school. However, this academic year gives the district and its busing partner – First Student – a chance to look for new efficiencies or economies of scale that could save the district significant dollars that might be put to other uses.
One approach would be bringing more students back into neighborhood schools, an idea that's been discussed in Buffalo for more than 20 years.
U.S. District Judge John T. Curtin's 1976 desegregation order resulted in more busing to achieve racial balance as well as the creation of the city's magnet schools, which were once admired as models for the nation. After Curtin lifted the order in 1995, there was a drift back toward sorting by race. A Buffalo News study in 2014 found the schools were just as segregated then as in the 1970s.
The city's magnet schools remain, along with a complicated application system that gives students and their families a wide range of possibilities for where they attend school.
Back in 2001, school district officials announced they were studying a return to neighborhood schools, which would allow many more students to walk instead of ride. The superintendent in 2008, James A. Williams, made a similar pronouncement, citing rising transportation costs. He had support from the board.
"It's important to me that children spend less time on buses and more time at home and in the classroom," Lou Petrucci, now the School Board president, said in 2008.
In 2014, Samuel Radford III, then head of the District Parent Coordinating Council, was among community leaders promoting a return to neighborhood schools, saying it would boost student attendance and bring parents a stronger sense of connection to the schools.
It's still an idea worth exploring in 2021. Anchoring children closer to home can produce a greater sense of community and engagement between neighbors and classmates, as well as cutting down on district transportation costs.
According to figures provided by the district, its total transportation budget for 2021-22 is $66.8 million, which is 6.9% of the total general fund budget of $972.5 million. The transportation costs include $46.8 million paid to First Student and $9.7 million to the Niagara Frontier Transportation Authority for passes for high school students. State aid funds 87% of the district transportation budget.
Elementary and middle school students who live more than .7 miles walking distance from school are eligible for First Student bus rides. High school students must live more than 1.5 miles from home to get a Metro bus and rail pass from the district. The district says 4,848 students are ineligible for busing.
Not every family lives within easy walking distance of a school, of course. Some students and parents want more access to buses, not less. They cite not wanting their children walking through neighborhoods where they feel unsafe, or concerns about walking in bad weather. Those issues should be addressed, but must be balanced against the need to tap the brakes on an ever-increasing transit budget.
Whittling down the budget won't be easy. There are many fixed costs, including a $244.3 million contract with First Student that runs four more years.
Cash, in a recent meeting with The News' editorial board, said the district has worked in partnership with First Student to map out route consolidations for this year. As Cash said, there will be more than a few bumps along the way as the school year begins.
If a return to neighborhood schools remains out of reach in the next few years, it will serve the district well if it can turns lessons learned this year into ways to responsibly cut transit costs in the future.
What's your opinion? Send it to us at lettertoeditor@buffnews.com. Letters should be a maximum of 300 words and must convey an opinion. The column does not print poetry, announcements of community events or thank you letters. A writer or household may appear only once every 30 days. All letters are subject to fact-checking and editing.