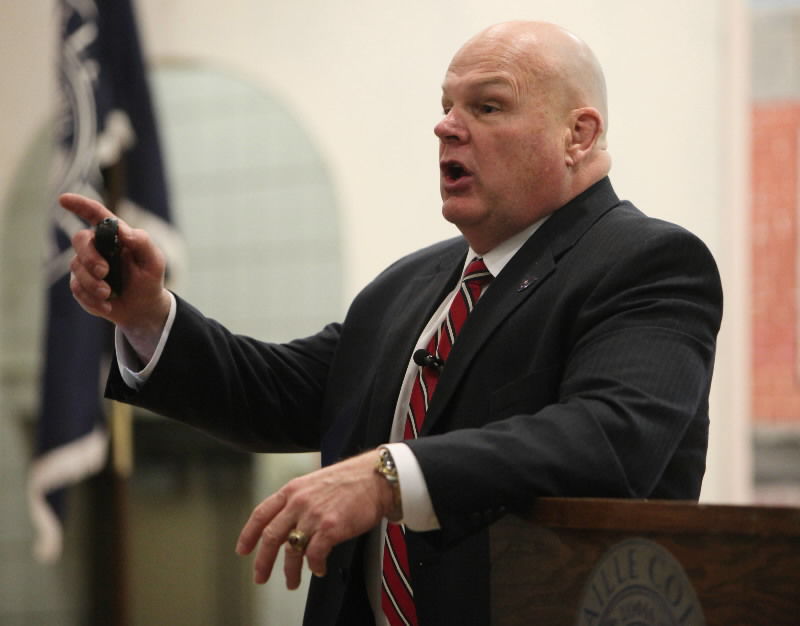 We're not sure what is happening at the NFTA Police Department. Worse yet, we're not sure the NFTA knows what's going on there, either. It's time for a shakeup, and we don't just mean finding a new chief, though that would be a start.
As a report from the state Inspector General's Office shows, police in the Niagara Frontier Transportation Authority not only lost some $3,000 in seized cash, but there is reason to believe Chief George Gast and an NFTA police detective purposely misled federal agents who came to retrieve $1,105 of that money.
Gast acknowledged the incompetence, admitting that the agency's safe for storing seized money – a safe he controlled – was "a mess" and had been that way since his appointment in 2010. Evidently, his own superiors in the NFTA didn't know how bad things were over the past 11 years, or they knew and didn't care.
While the inspector general's report found no evidence of "corruption, fraud, criminal activity, conflicts of interest or abuse" it observed – correctly – that any mishandling of money, "no matter how infrequent or insignificant, is unacceptable." At a minimum, such mismanagement opens the door to corruption and suggests that problems in the department may go beyond mishandling of cash.
The state's inquiry began after money seized in a May 2018 drug arrest couldn't be found when its owner went to claim it months later. Instead, the NFTA paid the claim – a little more than $2,000 – out of its general fund. That's when NFTA officials began an internal review.
It took about another year for the authority to notify the state inspector general of the mystery. It didn't take long for a team from that office to uncover another case, involving a traffic stop in October 2016.
In that matter, NFTA officers arrested two people after turning up narcotics. They took $1,105 from one of the men and $1,345 from the other, according to the state report. Federal agents, who had been tracking one of the men, joined the NFTA case. That man, Valentino Shine Sr. was later convicted in a case involving sex trafficking, but when the agents tried to collect the seized evidence from NFTA police headquarters, the evidence bag containing Shine's $1,105 could not be found.
Instead of owning up to the problem, a detective told the state inspectors that the chief, Gast, picked out an unmarked evidence bag containing slightly more money to give to the federal agents. The detective said he falsely told the agents that bag was correctly labeled when Gast gave it to him. Compounding the lies, the reports says that Gast then suggested the detective explain away an extra $81.25 in the bag as Shine's "pocket change."
Under oath, the report says, Gast "had little recollection of any part of the matter," though he denied being aware at the time of the discrepancy in his "mess" of a safe and also denied instructing the detective to describe the discrepancy as pocket change. That's a matter for further investigation. Someone is lying about contacts with federal agents in a serious criminal case.
Indeed, this is a moment to review the entire operation of the NFTA police, beginning with its mission. If it is duplicating work that could or should be done by other police agencies, that's worth rethinking. But matters of policy, oversight and personnel also need to be reviewed. If a police chief can maintain a "mess" of a safe for 11 years, what else are authority supervisors not seeing? And why aren't they seeing it?
Maybe there are acceptable explanations for those kinds of lapses, but without a public review, no one will know if that is the case. Going forward, that means putting in place leaders who can reliably institute policies on money and other issues and, who, when called to explain their actions, remember more than Gast does.
What's your opinion? Send it to us at lettertoeditor@buffnews.com. Letters should be a maximum of 300 words and must convey an opinion. The column does not print poetry, announcements of community events or thank-you letters. A writer or household may appear only once every 30 days. All letters are subject to fact-checking and editing.