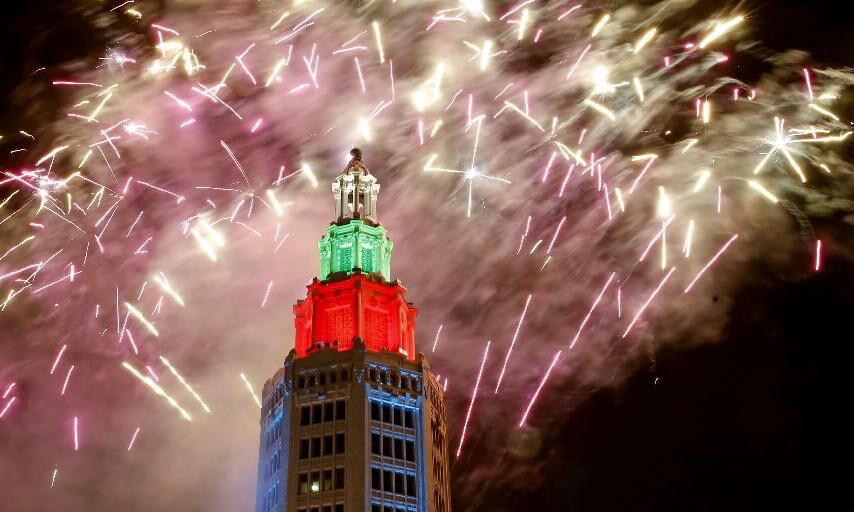 On this first day of 2022, we look ahead to the year in news, making our annual not-so-serious predictions for each month of the year.
January: Mayor Byron Brown offers Democratic rival India Walton a job as a community coordinator in City Hall. The position pays six figures and requires Walton to sign a contract full of non-compete clauses that runs longer than a CVS receipt.
February: The Bills get all the way to the Super Bowl, where they fall to the Dallas Cowboys, 31-24. Rep. Chris Jacobs declares the game was "stolen" by the officials and announces he won't certify the result. Bills fans show their appreciation by making hundreds of $27 donations – in honor of the 27th Congressional District – to Josh Allen's nursery school.
March: The Bills decide to build two new stadiums, one in Orchard Park and the other downtown. After a bidding war breaks out for naming rights the Pegulas announce that both facilities will be called DraftKings-Vidlers-Tim Hortons Coliseum.
April: A new military academy opens in Virginia, dedicated to the U.S. Space Force begun under former President Donald Trump. The first class of Space Cadets will be trained by a four-star general, a Wookiee and the actress Lisa Kudrow.
May: The new Dacron variant of Covid-19 strikes North America, causing Canada and the United States to seal their border. The Toronto Blue Jays announce plans to again play home games at Buffalo's Sahlen Field, with special guest vendors the Earl of Bud and the Prince of Poutine.
June: O.J. Simpson announces he will donate his wardrobe from the film "The Naked Gun" to the National Comedy Museum in Jamestown. Museum management balks after Simpson demands that Dave Chapelle and Louis CK headline a "Weekend With the Juice."
July: Former President Donald Trump continues his efforts to overturn the November election, but suffers a significant setback when his lawyers inadvertently write "2016" instead of "2020" in a court document. This time, the court agrees. Delighted, Hillary Clinton sends an email to former FBI Director James Comey who, with little else to do, reopens that investigation.
August: Erie County Health Commissioner Dr. Gale Burstein pulls out of a Starbucks drive-thru lane as a gust of wind blows the plastic stirrer off her drink and onto the ground. Former County Comptroller Stefan Mychajliw captures the incident on video and reports Burstein to the police for littering. A town judge dismisses the case "with extreme prejudice."
September: General Mills begins experimenting with new Cheerios flavors aimed at millennials. Downtown Buffalo at night is soon filled with the smell of avocado toast.
October: Retail cannabis shops open for business in Western New York. Coincidentally, Mighty Taco and Paula's Donuts both announce expansion plans.
November: Eleven months into its mission, the James Webb Space Telescope sends out an alert that says "software update required." No one at Mission Control can find the password, turning the $10 billion telescope into the world's most expensive space junk.
December: Tesla CEO Elon Musk tells reporters that the company's RiverBend plant will install an array of supercomputers for the mining of Dogecoin, the cryptocurrency named in honor of a Shiba Inu dog. Animal rights protesters picket the plant, telling Musk, "We don't need your Doge and pony show."
What's your opinion? Send it to us at lettertoeditor@buffnews.com. Letters should be a maximum of 300 words and must convey an opinion. The column does not print poetry, announcements of community events or thank you letters. A writer or household may appear only once every 30 days. All letters are subject to fact-checking and editing.