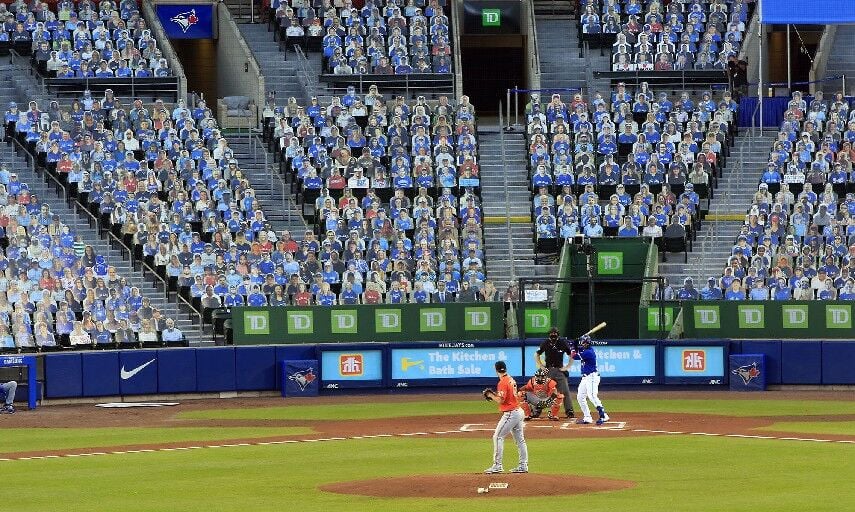 When the Toronto Blue Jays played their home games in Buffalo last year, the games would have been the hottest ticket in town – if there had been any tickets.
Cardboard cutouts were the closest thing to fans that Major League Baseball allowed in the stands in 2020, due to Covid-19 precautions. The Blue Jays this week said they are considering playing at least some of their 2021 home games at Sahlen Field this year.
Buffalo Niagara would roll out the red carpet, unless the Jays prefer blue, to have major league games here that fans could attend. New York State rules announced by Gov. Andrew M. Cuomo permit arenas and stadiums to sell tickets up to 10% of capacity. In Sahlen Field, that would be about 1,700 tickets per game.
The Blue Jays will open the regular season at their spring training home in Dunedin, Fla., playing their first two homestands there.
When they move north, Buffalo is their most likely destination, for part or all of the season.
Due to Covid-19, Canada does not yet allow teams from other countries inside its borders. Much of Ontario is still under lockdown. In Toronto and the Peel Region, health officials have requested that Premier Doug Ford extend their areas' stay-at-home orders – due to expire on Monday – for two more weeks, into March. All non-essential retail in the regions is closed.
The Blue Jays have not announced their plans yet, but team President Mark Shapiro made clear Thursday that a stint in Buffalo is likely. The Jays are the parent club of the Triple-A Buffalo Bisons and Toronto's nucleus of young stars – Vladimir Guerrero Jr., Bo Bichette, Cavan Biggo and Rowdy Tellez – is very familiar to Bisons followers.
The Blue Jays signed star outfielder George Springer, the former Houston Astro, to a $150 million contract in the offseason, raising fan excitement.
Then there are the visiting teams that Buffalo fans would be eager to see in person, including the New York Yankees, Boston Red Sox, Cleveland Indians and others.
Our loyal fans of minor league baseball deserve this taste of the big leagues.
What about our Bisons? A Jays takeover of Sahlen Field would be another reminder that the parent club is always in charge. The Bisons, playing in the new Triple-A East league this year, would likely find a new home for the year, perhaps sharing the ballparks in Rochester or Syracuse. The Bisons and Blue Jays have a good relationship, and the Triple-A club will reap the benefits of improvements to Sahlen Field paid for by their MLB overlords.
The Blue Jays have not finalized the locations of their home games for May 14 and beyond. Shapiro said Thursday they have spent the offseason studying every option, which points them back to where they played 26 home games last year.
"Buffalo does present both the most familiar and the best alternative for us playing in the AL East with the space we need," he said.
One of Toronto's series against the Yankees will take place in Dunedin, with the possibility of two more – six games – happening in Buffalo. The Red Sox could play up to nine games in Sahlen Field.
Buffalo made a bid for major league expansion franchises that in 1991 were awarded to Miami and Denver, an effort headed by Bisons owner Bob Rich Jr. Letting us borrow the Blue Jays again seems like the least MLB can do.
What's your opinion? Send it to us at lettertoeditor@buffnews.com. Letters should be a maximum of 300 words and must convey an opinion. The column does not print poetry, announcements of community events or thank you letters. A writer or household may appear only once every 30 days. All letters are subject to fact-checking and editing.