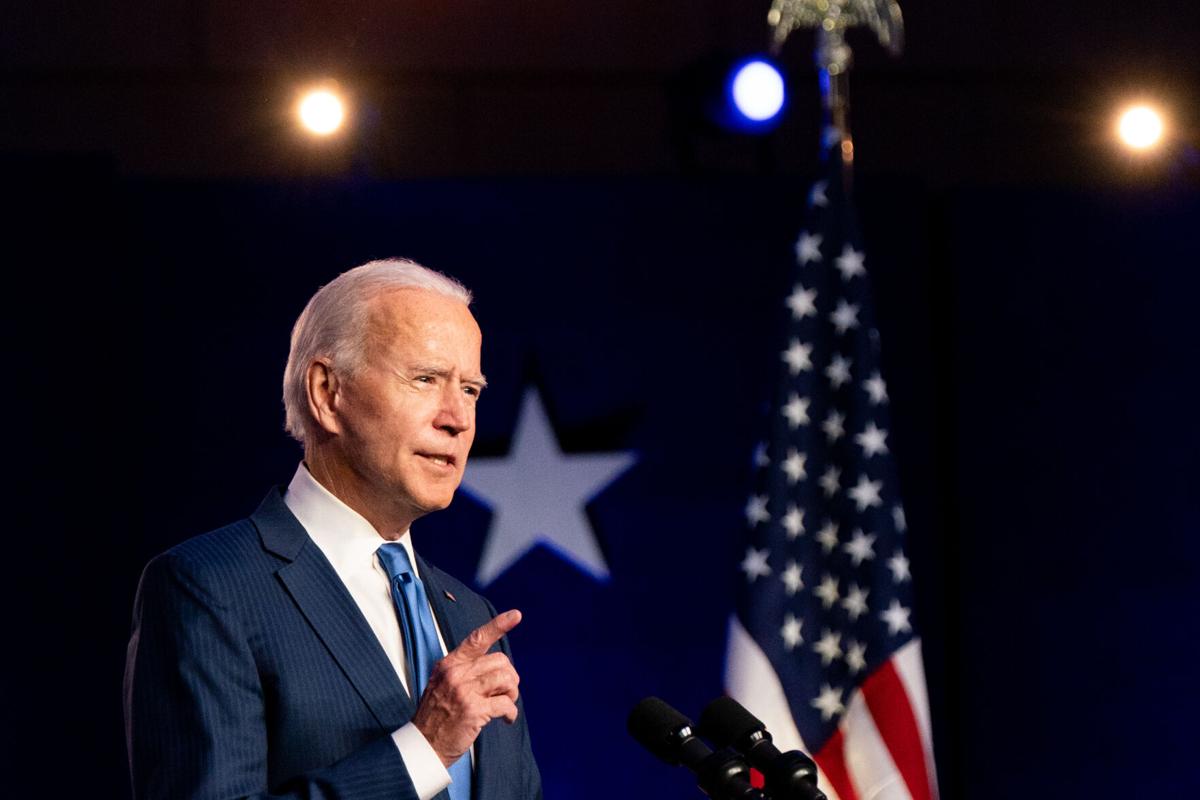 After Joe Biden takes the oath of office as president on Jan. 20, he will shoulder one of the heaviest burdens a new president has faced: taming an international pandemic and reviving an economy tumbling deeper into recession.
How Biden attacks those problems – and what he does beyond them – will shape the future for Buffalo and New York. An Empire State agenda for the new administration:
New York's biggest need is budget relief. It is by far the most important step the Biden administration can take to soften the Covid recession. The City of Buffalo's budget for Fiscal Year 2021 included $65 million in federal Covid aid that has yet to materialize. The State of New York's budget shortfall for this year is around $14.5 billion.
Without federal aid, teachers will be laid off. Class sizes will grow. Potholes will go unrepaired. Our grandfathers and grandmothers who depend on food delivery and community activities will go without. The pain will be felt by schools, colleges, hospitals, social services and more.
Just as important, the millions of New Yorkers not directly affected will suffer as well. A deeper and longer recession will be especially crippling for young adults just starting their careers and older workers who haven't yet saved enough to retire but are forced out of the workforce.
Senate Majority Leader Mitch McConnell holds most of the cards in deciding whether a relief bill will pass before the end of the year. If the Senate remains in McConnell's hands for the next two years, as seems likely, relief for states and localities will be a big test of Biden's ability to forge compromises.
Keeping the Great Lakes healthy is vital to our region's future. Lake Erie, the shallowest of the Great Lakes, is susceptible to toxic algal blooms. Homeowners living along Lake Ontario have seen the damage caused by rising water levels, partly attributable to global warming.
The federal Great Lakes Restoration Initiative needs to be maintained and strengthened.
A controversial tax credit that helps make solar affordable is scheduled to be phased out by 2022. Opponents argue that it gives solar an unfair advantage in the marketplace. That's wrong. Carbon fuels are heavily subsidized – by the pollution cleanup costs borne by taxpayers and the cost of ill health that we all subsidize. Incentives for solar place clean energy on a more level playing field.
The Biden administration's tax plan calls for expanding the tax credits that provide incentives to homeowners and businesses that buy rooftop solar installations.
The Tesla plant in South Buffalo, built by state taxpayers, is the largest solar factory in North America. Buffalo's future is brighter if solar energy booms. The Biden administration needs to provide every incentive practicable to encourage clean energy.
The Republican tax overhaul in 2017 removed the full state and local tax deductions allowed to New York taxpayers, a Trump administration policy aimed at "poorly run" blue states. It is well established that New Yorkers send more revenue to Washington than they get back. Curtailing the deductions on the high local taxes we already pay was an unfair punishment.
The new president should right that wrong.
In the next decade, momentous government decisions will shape how the United States adapts to climate change. The decisions may be little-noticed at the time, but they could reinvent Buffalo and upstate New York.
As sea levels rise and coastal areas are threatened, upstate New York should become a climate refuge. Our two Great Lakes offer abundant fresh water. Our cost of living is low. Our state has a well-educated workforce.
Will the federal government adopt policies that encourage relocation to regions less affected by climate change? Or will it flirt with bankrupting the nation to try to hold back the seas and, in effect, try to beat Mother Nature? New York needs President Biden to set the right course.
Refugees from other countries are one of the best hopes for growing the population of Buffalo Niagara, as well as honoring our past as a welcoming place.
The Trump White House for fiscal year 2021 said the U.S. will accept up to 15,000 refugees, the lowest number since the program began. Biden's goal is to increase the number to a record high: 125,000 annually.
"Increasing the arrivals nationwide is a first step," said Eva Hassett, executive director of the International Institute of Buffalo. "In addition, New York should develop a strategy to make upstate the best place in the U.S. for refugees and immigrants to live. Refugee and immigrant integration is economic development."
One of the pillars of Buffalo's future is health care and life sciences. In the past decade, the Buffalo Niagara Medical Campus has become a hotbed of cutting-edge care and innovative research. Roswell Park Comprehensive Cancer Center does groundbreaking work on cancer and the University at Buffalo is stocked with top researchers.
U.S. Rep. Brian Higgins, D-Buffalo, expects a Biden administration to invest more in medical research. As the Covid crisis passes and budgets tighten, the new administration must keep this a priority.
For years, Democrats have argued that the nation should invest hundreds of billions or even trillions of dollars in roads, rail, sewers, power grids, high-speed internet – all infrastructure that is crumbling or underbuilt. Higgins is hopeful that the time may be right.
An infrastructure investment might pay for tearing down the Buffalo Skyway, replacing the Scajaquada Expressway and rebuilding Humboldt Parkway. It might speed the cars on Main Street project. And Howard Zemsky, the Buffalo businessman who was head of Empire State Development, remains a firm advocate of extending light rail to the University at Buffalo's North Campus.
"It's hard to think past the Covid era," Zemsky said, "but the Covid era will end and we have to consider the region 30 years from now, 50 years from now."
What's your opinion? Send it to us at lettertoeditor@buffnews.com. Letters should be a maximum of 300 words and must convey an opinion. The column does not print poetry, announcements of community events or thank you letters. A writer or household may appear only once every 30 days. All letters are subject to fact-checking and editing.