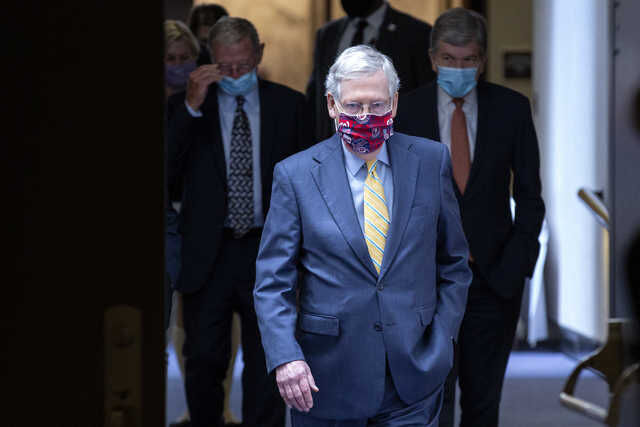 The latest proposal from Senate Republicans who are negotiating with Democrats on the next coronavirus stimulus bill contains no federal aid to state or local governments. There are clear political motives at play, but the bottom line is that denying further aid to cities, counties or states – even those led by Democratic office holders – will set off a chain reaction that may accelerate our country's spiral into a deep recession.
Treasury Secretary Steven Mnuchin made clear the Trump administration's intentions in how the debate over federal aid is framed. Appearing on CNBC last week, Mnuchin said the federal government's assistance will not be a rescue for Democratic-run states.
"On the state issue, the president is not going to bail out Chicago and New York and other states that prior to the coronavirus were mismanaged," he said on "Squawk Box," promoting Chicago to statehood presumably to remind TV viewers of the recent clashes there between police and protesters.
"There's a lot of Republicans who feel like, and I agree with this, that states have their own ability to tax. ... It's unfair for states like Florida to be bailing out states like New York," he said.
President Trump echoed those sentiments, but the critics conveniently ignore the fact that many red states are net takers from the federal government. Among them is Kentucky, home of Senate Majority Leader Mitch McConnell, whose state took from Washington $45.2 billion more than it contributed in fiscal year 2018, according to a January report by the nonpartisan Rockefeller Institute of Government. New York, by contrast, continued to be the nation's highest net-donor state, sending $22 billion more to Washington than it got back.
New York is not only generous, it has had a much greater degree of success in curbing the spread of Covid-19 than states such as Florida, where the Republican governor, Ron DeSantis, has pushed aggressively to reopen businesses and other institutions. In today's atmosphere of political polarization, no good deed goes unpunished. Gov. Andrew M. Cuomo's handling of the coronavirus pandemic has not been without missteps, but the economic "pause" mandated for the state enabled New York to get the virus relatively under control.
The state has a looming deficit estimated at $14 billion that is mostly due to a drop-off in tax revenue that happened due to Covid-19, and not because of an overreaction by a governor who is caricatured by his detractors as a power-hungry monarch. The contrast in coronavirus statistics these days between New York and many other states speaks for itself.
Recessions and economic chaos do not respect state borders. If New York's deficit causes massive layoffs among public workers – including first responders and many in health care, plus drastic cuts in services and a need to raise taxes there would be pain and suffering that would spiral outward from the state that includes the world's financial capital.
Republicans, promoting a $1 trillion aid package, will continue to negotiate with Democrats, who favor a $3 trillion package. Sticking points include how much of a federal bonus to add to state unemployment benefits, as the $600 federal payments expire this week.
Senate Minority Leader Charles E. Schumer is among Democrats pushing for local aid to be included in the package. Denying aid to New York would bring harm to Trump supporters in the state as much as to those who favor Democrats. Political payback is no way for a White House to respond to a public health crisis that threatens the U.S. economy.
What's your opinion? Send it to us at lettertoeditor@buffnews.com. Letters should be a maximum of 300 words and must convey an opinion. The column does not print poetry, announcements of community events or thank you letters. A writer or household may appear only once every 30 days. All letters are subject to fact-checking and editing.