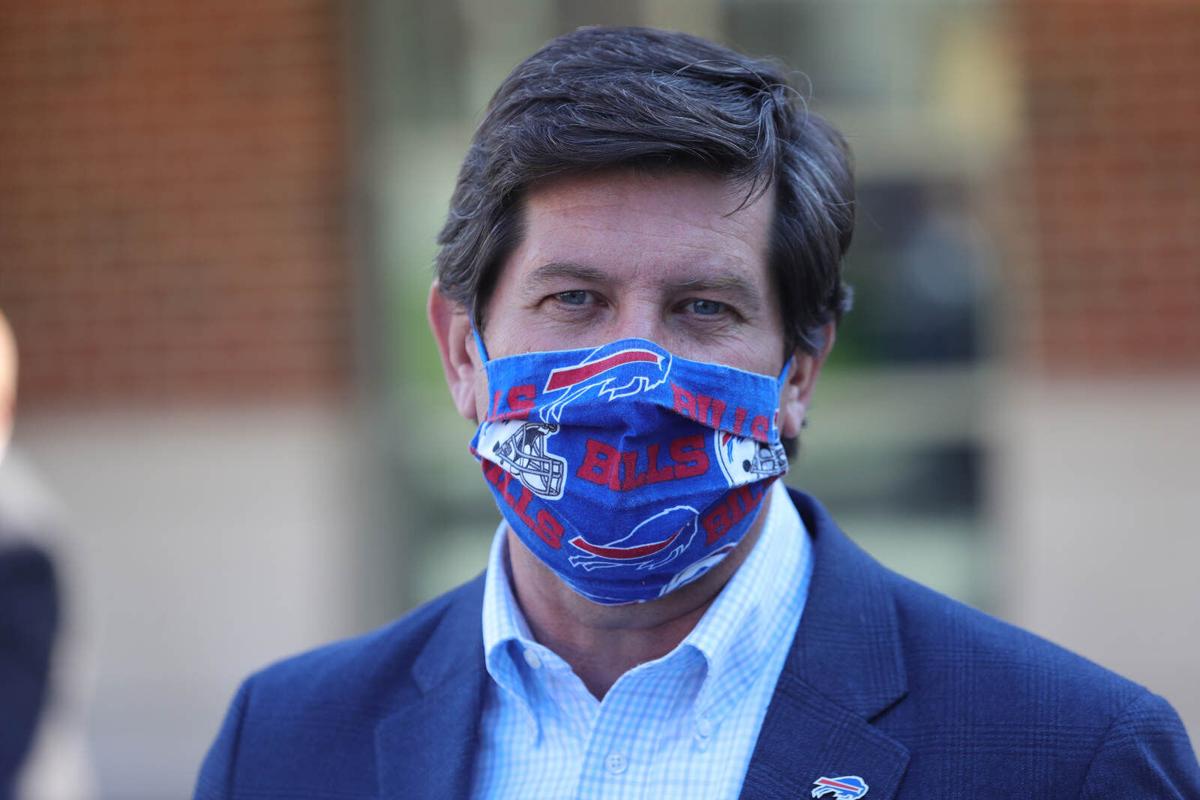 President Biden is pleading. The head of the Centers for Disease Control and Prevention is begging. Erie County Executive Mark Poloncarz is warning and the rising numbers of infections are confirming: We should still be wearing masks.
Poloncarz sounded that alarm on Tuesday following the funeral of a friend who had died from Covid-19. Infections and hospitalizations here are rising, he said. Students in particular are testing positive at a worrying rate which, among all residents, has risen to 8%.
"Folks, this is serious," he said. "This is not going away, and we need to be better."
Among the problems is that too many people, here and around the country, have decided the crisis is over. It isn't. Fast-spreading vaccines are powerful and effective but the risks today are higher for the unvaccinated as new, more infectious variants of the novel coronavirus circulate.
In some states, elected officials have wantonly ended public health measures, tacitly endorsing behavior that is likely to kill more people. In those places, politics continues to trump public health and common sense. They have elevated selfishness over community, despite the consequences.
Even strong leadership is no guarantee of permanent success. Gov. Andrew M. Cuomo followed the science in dealing with the contagion, but New York and New Jersey are now leading the nation in infection rates, even as optimism over vaccines rises. Poloncarz has been consistent in dealing with the facts of the virus, yet the county's infection rate is once again rising.
And that highlights the fundamental issue. Leadership is obviously important, but just as essential is the public's willingness to heed the experts and stay the course. While Americans are being vaccinated by the millions, most of us are still susceptible to this devastating disease.
Yet too many Covid-weary Americans have tired of wearing masks, maintaining distances and avoiding crowds. They're acting as though we've reached the finish line when all that has changed is that we know where the finish line is.
It's time for everyone to take a (masked) deep breath and recommit to prevention strategies that, by the estimate of Dr. Deborah Birx, could have saved hundreds of thousands of American lives had they been promoted from the top and heeded early in the pandemic.
Birx was former President Donald Trump's coronavirus response coordinator. She and other leaders of the former president's pandemic team this week made clear that a confused and inadequate federal response cost lives, possibly into the hundreds of thousands. The question now is how to prevent further unnecessary deaths and we all know the answers.
To that end, even vaccinated people should continue to wear masks indoors and around people who have not been inoculated. Not only does some uncertainty remain about whether immunized people can still be carriers of the virus, but at this fraught moment in the pandemic – when CDC Director Dr. Rochelle Walensky says she fears "impending doom" – the rising number of maskless people sends a dangerous message.
We truly are all in this together – vaccinated or not. Let's all help each other and ourselves by acknowledging that danger remains real and present. A few more months may make all the difference in lives either lost or saved.
What's your opinion? Send it to us at lettertoeditor@buffnews.com. Letters should be a maximum of 300 words and must convey an opinion. The column does not print poetry, announcements of community events or thank you letters. A writer or household may appear only once every 30 days. All letters are subject to fact-checking and editing.