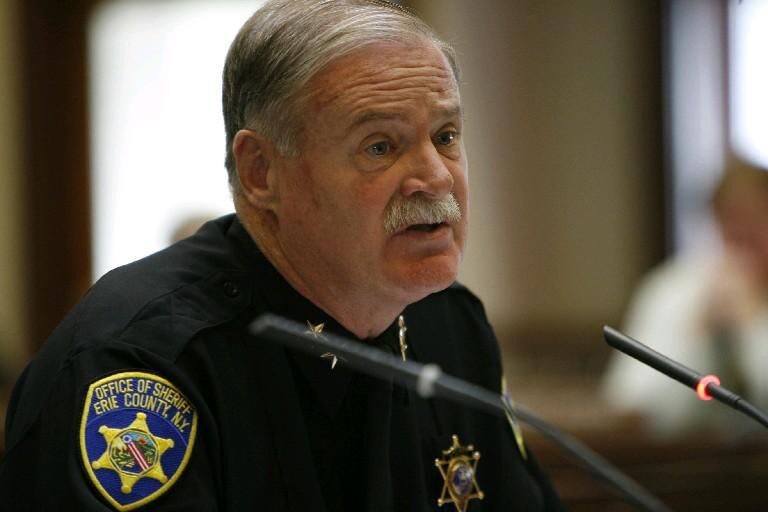 We can't definitively say that Timothy Howard is the worst sheriff in the history of the world – also in the running, after all, are Joe Arpaio, the former sheriff of Maricopa County, Ariz., at least one southern racist and the fictional sheriff of Nottingham. But this much is true: Howard's relationship with professional law enforcement is as Benedict Arnold's was to faithfulness: poorly acquainted.
Now, Howard has all but admitted it. Bowing to Attorney General Letitia James, the Erie County sheriff has acknowledged that he has failed to address what the AG's Office described as "rampant sexual misconduct" by jail workers and has agreed to a system of oversight that will force him to take steps that would have been second nature to an actual professional: Investigate. Act. Report.
It's late in the game, since Howard will not be disgracing his office for a fifth term and has just over six months to serve. But it's an important marker, anyway. It leaves a well-earned stain on Howard's stewardship of his office, puts the next sheriff on notice and sends a message to others who might be tempted to apply Howard's low standards to their own operations.
In a statement announcing the agreement, James' office noted conduct that will be familiar to those who have followed Howard's career of mismanagement. It notes, for example, that he refused to comply with directives to report allegations of sexual misconduct in jails to the state Commission of Correction in a timely manner. In many cases, it said, he did so only after the news media publicized them. That's the behavior of a con man.
It further says that investigations he did conduct into such allegations were shoddy. The office failed to interview witnesses, evaluate available evidence, or refer the matters for criminal investigation. The office's investigations of other crimes – those not involving sheriff's personnel – show that it knows how to do it. But this sheriff has brazenly ignored misconduct and even criminality within his office.
For example, Howard openly and publicly supported former Deputy Kenneth Achtyl, who had assaulted a fan after a Buffalo Bills game then filed a false report about it. To Howard's anger, Achtyl was convicted.
On his watch, jail personnel repeatedly filed misleading reports about attempted inmate suicides to the Commission of Correction, a subterfuge that allowed the Sheriff's Office to evade state oversight.
He did nothing after deputies' actions killed an inmate and did more nothing after the Commission of Correction labeled the death of Richard A. Metcalf Jr. as a homicide. Likewise, he failed to respond when the Commission determined that the death of another inmate, India Cummings, was a homicide due to medical neglect by sheriff's deputies. Like Metcalf, Cummings suffered from mental health issues.
Failure to respond to such horrors counts as tacit approval. Silence is consent.
The agreement must still be approved by a judge, but its requirements include stipulations that:
• Force the Sheriff's Office to uphold the Commission of Correction's regulations.
• Require the appointment of an independent monitor to conduct a retrospective audit of incident reporting, and provide an annual audit for the next three years.
• Direct the office to provide the Commission with proof of training for correction officers in New York's zero-tolerance policy regarding sexual misconduct in correctional facilities.
Howard has brought shame to his profession and embarrassment to the people of Erie County. And while this agreement covers only the problem of sexual misconduct in the jails, Howard's successor should understand it as a template for future interventions should the next sheriff perpetuate his indifference to the requirements of professionalism.
What's your opinion? Send it to us at lettertoeditor@buffnews.com. Letters should be a maximum of 300 words and must convey an opinion. The column does not print poetry, announcements of community events or thank-you letters. A writer or household may appear only once every 30 days. All letters are subject to fact-checking and editing.