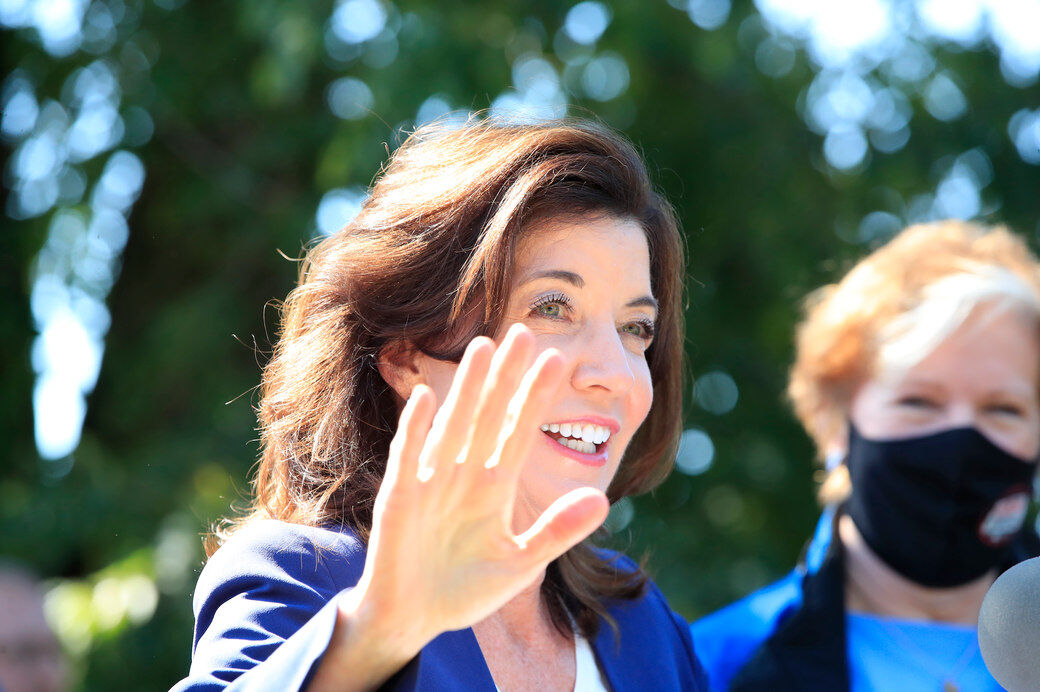 In New York, open government laws have often been perverted into ways to keep secrets. Gov. Kathy Hochul took office in August vowing to make transparency a hallmark of her administration. This week she started turning words into action.
Hochul's administration on Monday distributed a memo directing all state agency heads to submit plans for increasing the transparency of their work. Agency chiefs were given until Oct. 20 to detail their plans, reported News Albany Bureau Chief Tom Precious.
Among the memo's suggestions:
• Improve response time under the Freedom of Information Law.
• Reduce or eliminate fees charged for public records.
• Post documents related to public meetings when agendas are posted.
• Participate in Project Sunlight, a 10-year-old public database that was supposed to report activities involving executive branch officials and outsiders. The database mostly falls short.
The Freedom of Information Law is an example of how state and local agencies in New York have turned a law meant to open government into one that frustrates citizen access to information.
In many places across the country, access to police reports is routine. Walk into the police department and look through a stack of reports. Or sit at your desk and consult an online database.
But in many New York locales, law enforcement agencies require that a Freedom of Information Law request be filed to get arrest reports. Agencies then have five business days to simply acknowledge the request. They have even more time to fulfill or deny it.
Americans believe only foreign tyrants lock up people in secret. But it happens every day in New York, shielded by a law meant to ensure open government.
Under Gov. Andrew M. Cuomo, too many government agencies slow-walked their legal obligation to promptly answer Freedom of Information requests. One reason: a policy requiring the governor's office to approve responses to "politically sensitive" requests. That may have been behind the Cuomo administration's long stall on releasing figures on nursing home deaths related to Covid-19. A report from the Attorney General's Office finally forced the release of the numbers.
Foot-dragging on Freedom of Information requests brings few consequences, beyond possible public exposure or – in rare cases – having to pay the legal costs of anyone who had to go to court to force the state into action. Rules with few penalties attached are too easily flouted.
Some agencies say they don't have enough people or resources to keep up with Freedom of Information requests. That's a problem for the new executive team to focus on, but the solution shouldn't be limited to hiring more people or automating review procedures. One of the simplest answers: Make documents like arrest reports open, period. No need for a Freedom of Information request and no need to hire government employees to review the requests.
Hochul got a head start on openness her first day as governor when she publicly acknowledged nearly 12,000 more overall Covid deaths in the state than had been publicized under Cuomo.
This week's memo will not by itself usher in a new era of openness, but Hochul is starting down a promising path.
"Your tax dollars at work" should not apply only to road construction. Citizens are entitled to government that makes open meetings and freedom of information sacred. That is a birthright in our democracy.
What's your opinion? Send it to us at lettertoeditor@buffnews.com. Letters should be a maximum of 300 words and must convey an opinion. The column does not print poetry, announcements of community events or thank-you letters. A writer or household may appear only once every 30 days. All letters are subject to fact-checking and editing.