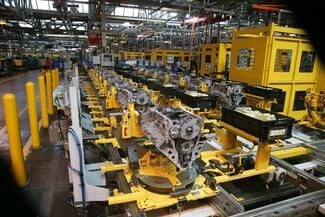 GM's decision to invest $70 million into its Town of Tonawanda engine plant is another bright spot in a pandemic-ravaged time. The company is making the investment in order to increase its capacity on its engine block machining line.
Such news would have been a blip in the cycle were it not for the fact that the automotive industry has undergone significant disruption resulting in plant closings across the country. Consider the well-documented job loss in Lordstown, Ohio, and the impact in what many have referred to – unflatteringly – as "flyover country" in Janesville, Wis.
The industry moved away from sedans to SUVs and trucks, thanks in large part to the gas-saving measures and efficiencies that have been widely implemented. It meant the last rollout of the Chevy Cruze in 2018, as an example. That translated into relocated jobs, at best, and lost jobs, at worst.
Generations of workers who raised families from well-paying jobs on the line found themselves at loose ends. Some recovered better than others but the loss of continuity for families and community will be long lasting.
Locally, GM workers have for the most part been able to avoid such dire outcomes. The company has invested in a productive workforce and, while this latest news does not come with new jobs, there is room for optimism.
The decision will allow the region's largest manufacturing employer to stay viable by reinforcing its operations. The GM Tonawanda plant has approximately 1,150 hourly and salaried employees.
GM officials said that the investment will support strong customer and dealer demand for the Chevrolet Silverado and GMC Sierra pickups. The Tonawanda plant makes engines for those and other vehicles.
It is important that the local factories attract new investments to remain viable within the automaker's plant networks. Maintaining the viability of new and popular vehicles requires a financial commitment. Plainly, GM believes that commitment here will translate into profits.
The Tonawanda plant experienced some mild disruption due to Covid-19 when it shut down for nearly two months early this year, an unsurprising circumstance given the economic pressures from the pandemic.
GM has maintained its commitment to the local factories and, in turn, to this area and to that of Parma, Ohio, where it is investing in four new metal assembly cells.
GM's Tonawanda plant, along with its Lockport plant and Ford Motor Co.'s Hamburg stamping plant, comprise a strong regional manufacturing centerpiece – a bright note during this pandemic-ravaged year.
What's your opinion? Send it to us at lettertoeditor@buffnews.com. Letters should be a maximum of 300 words and must convey an opinion. The column does not print poetry, announcements of community events or thank-you letters. A writer or household may appear only once every 30 days. All letters are subject to fact-checking and editing.