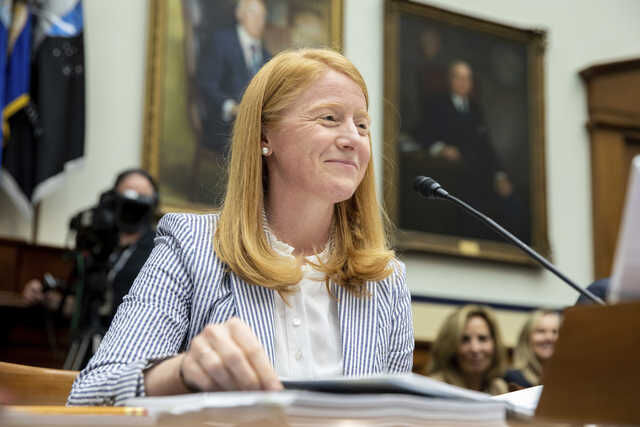 Hope seems to be growing that a long-needed measure to change how the military deals with sexual assaults may finally make it to the finish line. Most of the credit for that change goes to a lifelong New Yorker, Sen. Kirsten Gillibrand, but a new Buffalonian is also helping to clear the way to approving the Military Justice Improvement and Increasing Prevention Act.
That person is Assistant U.S. Attorney Meghan Tokash and while it's hard to determine exactly how much influence she is exerting, her background, intelligence and passion are plainly making a difference.
The problem is that commanding military officers, untrained and inherently conflicted, are now the arbiters of whether to try cases of sexual assault. It doesn't work. Those officers lack the legal knowledge to make an informed decision and their judgments may be colored by a desire to protect the institution or even the suspects, who may be professionally or personally close to them.
That problem should sound familiar in Buffalo and other areas that have had to deal with the problem of Catholic clergy accused of sexually assaulting minors. Rather than reporting those allegation to law enforcement, church leaders for years sought to manage the crisis as an internal matter, their judgments compromised by personal relationships and a desire for secrecy. That didn't work, either. The approach compounded the suffering of victims and eventually undermined the church's standing.
That's what Gillibrand has been fighting to change for 10 years and it's been an uphill battle. It's hardly surprising that sexual assault reforms are hard to come by, given the military's testosterone-fueled history and its command culture.
The problem extends even into military schools: A recent report by the law firm Barnes & Thornburg on conditions at the Virginia Military Institute found that "sexual assault is prevalent at VMI yet it is inadequately addressed by the Institute."
Gillibrand's bill would change that, removing prosecutorial decisions from military commanders and giving it to trained military prosecutors. Her patience and diligence is paying off, winning converts that include Republican Sens. Ted Cruz of Texas, Josh Hawley of Missouri and even Minority Leader Mitch McConnell of Kentucky.
Military leaders may not see it this way, but the existing system puts them in an impossible situation. Devoted to their institutions and without legal training, they respond as the Catholic Church did, with goals that include more than justice for victims. As the church demonstrated, that counts as tacit approval, encouraging future assaults, compromising the stature of commanders and threatening the vitality of the military services.
Now, despite lingering resistance, this crucial measure appears to be headed to approval. The Senate Armed Services Committee last week included it in its annual must-pass defense authorization bill, which the full Senate will soon consider. Tokash played an important role in accomplishing that.
The New Jersey native is a former victim witness liaison officer for the Department of the Army, former military defense counsel and a former Judge Advocate General. With that rich and relevant background, Tokash was asked to join President Biden's Independent Review Commission on Sexual Assault in the Military. Based on the panel's recommendations, Gillibrand made revisions to the legislation, leading to its adoption into the defense authorization bill.
The need is urgent, Tokash told News Washington Bureau Chief Jerry Zremski. "Members of the military, junior enlisted members, do not trust that commanders are making the right decisions when it comes to sexual harassment and sexual assaults."
That culture is no longer a secret, she said. It's having an effect on decisions of whether even to join the military. "It breaks my heart to know that there are parents who don't want their children to join the military because of the sexual assault problem," she said. "That should not be a conversation that anybody in America should be having."
This bill's time has come. It serves justice, deters misconduct and protects the military. It needs to pass.
What's your opinion? Send it to us at lettertoeditor@buffnews.com. Letters should be a maximum of 300 words and must convey an opinion. The column does not print poetry, announcements of community events or thank you letters. A writer or household may appear only once every 30 days. All letters are subject to fact-checking and editing.