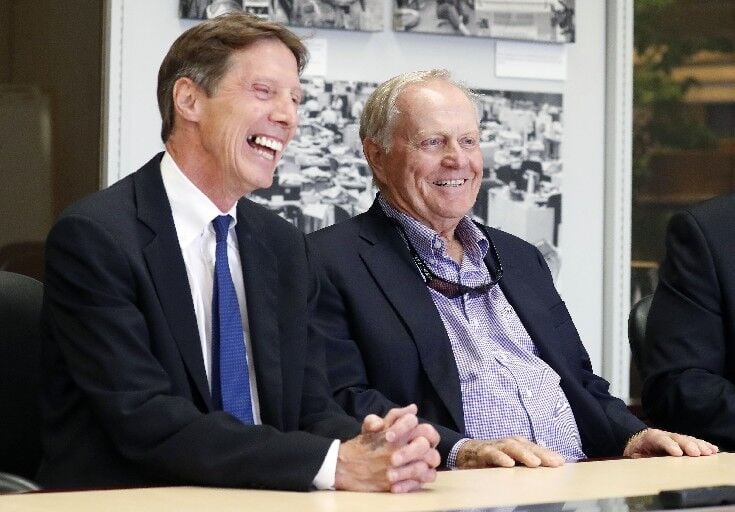 In high-pressure golf tournaments, the players who succeed are those who keep their mental focus on playing one hole at a time. That's the approach taken by civic activist Kevin Gaughan in his quest to bring a Jack Nicklaus signature public golf course to South Buffalo.
Gaughan accompanied a designer and others from Nicklaus Cos. to the South Buffalo parcel on Hopkins Road last month to begin preliminary work. Their goal is to start construction in May.
Gaughan and his friend John L. Thornton, a retired president at Goldman Sachs, are hard at work tilling the figurative soil for financial support. They are calling on leaders from Buffalo's business and philanthropic communities to get behind the effort, attaching their names to the project as well as their donations.
The cause is worth embracing. Nicklaus, golf's greatest champion and an accomplished course designer with projects all over the world, just turned 81 and has taken a personal interest in the Buffalo project, which the Nicklaus Cos. would do at cost. Nicklaus, who hosts regular meetings with Gaughan at his Florida home, has said he wants to get the project done "come hell or high water."
The Nicklaus Cos. plans to have a digital rendering of the South Buffalo course completed this month. The course would be built on land adjacent to South Park that was purchased in 2018 by Gaughan's not-for-profit company. The new course will allow the South Park golf course to be removed and Frederick Law Olmsted's arboretum to be restored. The plan's next stage would involve redesigning the Delaware Park golf course to use less space and permit restoration of a portion of Olmsted's original meadow. A vocational center for city youth for learning about land and water conservation, botany and agronomy is another part of the plan.
Valentino Dixon, the Buffalo artist who was exonerated after 27 years in prison for a crime he didn't commit, was hired to be the project's artist. Dixon developed his talent for golf drawings while behind bars.
"I come from a place of economic abandonment and hopelessness," Dixon said in a news release. "And this right here is something that we really need. And I dreamed about this when I was in a prison cell."
Gaughan has set himself fundraising goals in six-week chunks, an approach to keep him marching toward his Better Parks Buffalo organization's $32 million goal to make the project a reality.
Gaughan is a person who seldom takes no – or even maybe – for an answer. He calls his project "the chance for Buffalo to lead the nation out of the virus age and into our next phase of a stronger city."
Realizing more of Olmsted's original visions for his arboretum in South Park and meadow in Delaware Park give the Gaughan-Nicklaus project an appeal that goes far beyond the confines of a golf course.
What's your opinion? Send it to us at lettertoeditor@buffnews.com. Letters should be a maximum of 300 words and must convey an opinion. The column does not print poetry, announcements of community events or thank you letters. A writer or household may appear only once every 30 days. All letters are subject to fact-checking and editing.