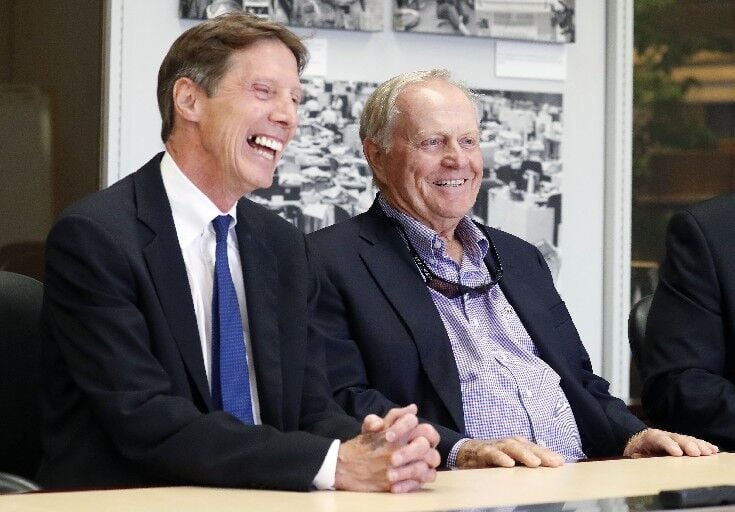 Western New York is on the cusp of forfeiting one of the most unexpected and unlikely opportunities that has come its way in years. Backers – which should include the entire region – need to find a way to rescue the plan for Jack Nicklaus to build two golf courses in Buffalo. The project is too promising to let go without a fight.
Community activist Kevin Gaughan has been working for seven years to bring his startling vision to fruition: Removing a golf course from South Park (where it doesn't belong) and replacing it with a Nicklaus-designed course on adjacent property. The plan would also feature an education component, while allowing creation of the arboretum envisioned by Frederick Law Olmsted, the park's famed designer.
The plan would also re-envision the golf course that puts much of Delaware Park off limits to nongolfers, with Nicklaus designing a higher-grade, nine-hole course.
It seemed to be going well. Nicklaus was enthusiastically on board, offering his services at cost and promoting the project on television commercials filmed with Gaughan, who formed an entity to purchase the necessary land.
But money problems have intruded. Three years ago, Gaughan made arrangements to buy property for the 18-hole course. Things seemed to be going well until they weren't: The Buffalo News reported this week that, with necessary fundraising lagging, Gaughan hadn't made payments on the purchase for two years.
Now, the mortgage-holder, Source Renewables, and the former property owner, Steelfields Ltd. of Pittsfield, have had enough. They want to take the land back and build a solar farm on the former landfill.
The question now is whether an opportunity exists to rescue a project that will do more for Buffalo than a single solar installation ever could. A partner in Steelfields indirectly suggested a possibility: "There are no circumstances under which Steelfields will work with Kevin Gaughan. None," said Rich Palumbo.
But would the company work with someone else? It's an alternative that needs to be explored.
It wouldn't be Gaughan's preference, we are sure. He has worked for seven years to bring the project to fruition, beginning with an introduction to Nicklaus, the greatest golfer the game has ever produced. He has rounded up prominent supporters, here and around the country. Among them are Olmsted devotees who want to see the completion of the famed landscape architect's vision.
Rarely has any private individual worked so long and so single-mindedly on a project that benefits an entire region while doing little for himself. For Gaughan, it's always been the vision.
And that is why he should be willing to explore any option that would allow this transformative project to continue. Reopening two Olmsted parks to nongolfers is a worthy cause on its own. But to have Nicklaus's name permanently associated with Buffalo would never have been imagined 10 years ago. The courses he envisions would benefit the region's golfers for generations to come and draw visitors from around the country.
And to provide an education center offering inner-city youth with certification programs in horticulture, landscape architecture and related fields is a benefit worthy of community support.
Everyone associated with this project should look for ways to rescue it. In addition to Gaughan, that includes Buffalo City Hall, the supporters who understood the benefits of Gaughan's idea and even the Olmsted Parks Conservancy which, sadly, has never fully committed to it.
This remains an exciting and enticing project for Buffalo. It's important to do everything possible to ensure its completion.
What's your opinion? Send it to us at lettertoeditor@buffnews.com. Letters should be a maximum of 300 words and must convey an opinion. The column does not print poetry, announcements of community events or thank you letters. A writer or household may appear only once every 30 days. All letters are subject to fact-checking and editing.