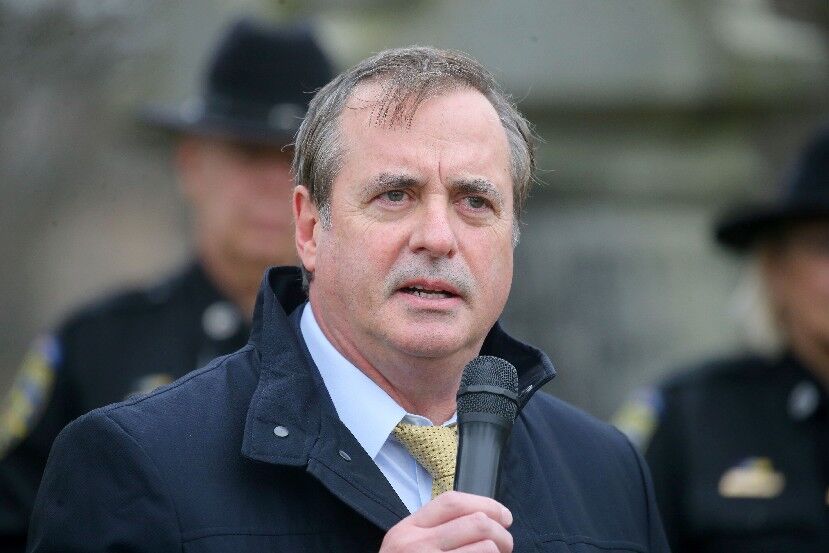 Sheriff John Garcia is beginning his administration with an unwise appointment that looks more like a poke in the eye than a reassuring nod.
The new sheriff, sworn into office on Thursday, named the former head of the deputies union to lead his office's internal affairs unit. With that, he sends an unfortunate message to voters who want to see professionalism restored after 16 years of Timothy Howard's mismanagement. However well intentioned, the appointment creates the appearance of a payoff to the union that supported his candidacy.
That doesn't mean Timothy Donovan can't do the job. We're aware of other circumstances in which union representatives became management leaders. It can work. But Garcia comes into office at a critical time, following Howard's wrecking-ball stewardship, in which deputies violated laws and regulations with impunity.
A spokesman for Garcia offered reassurance that Donovan is up to the job, having demonstrated "professionalism and integrity through his career." Assuming that pattern continues, the appointment may work out. But that doesn't make it smart, considering the condition of office the new sheriff is inheriting.
On the bright side, Garcia begins his term with a Christmas gift from Erie County government which, days before he took over, agreed to new labor contracts. Anything that offers him a smoother start is welcome, given the mess he faces and Garcia's own limited experience in leading a large organization.
The agreements with unions representing two groups of deputies will relieve the sheriff of a potential headache while potentially helping him induce more professional conduct than Howard ever seemed to care about.
The five-year contracts provide big raises to corrections officers at the Erie County Correctional Facility in Alden and to sheriff's deputies and higher ranking officers. The increases – which will total 17% or more over the life of the contracts – should help with recruiting and retention, especially at the correctional facility, while keeping pay on par with other New York correctional facilities. The additional cost to taxpayers will be $7.6 million over the life of the contract. That's not unreasonable.
More important, at least from the public's vantage point, is that the deal brings body camera policies at the jail in line with those affecting other sheriff's staffers. Under the new contract, correctional officers can be required to wear body cameras, and footage from those cameras can be used to discipline officers. Neither has been the case thus far.
We're sure many honorable men and women work in that division, but mismanagement of the jails topped the many defects of Howard's four terms. The cameras should help to produce more professional conduct and give an interested sheriff – as Garcia has pledged to be – an important tool to discipline those who continue to fall short of standards.
Under Howard, jail management was disastrous. Standards weren't even an afterthought. He might as well have issued a memo that said, in total: Do what you want. Anything goes.
Inmate suicides and suicide attempts were treated as annoyances. Jail personnel tried to hide them from the State Commission of Correction, which oversees jails in New York. At least tacitly, Howard approved the deception.
Jail personnel were complicit in what the Commission called the homicide of two inmates – India Cummings, who was denied medical care, and Richard Metcalf Jr., who died after a spit mask was tied tightly on his face. Both were troubled and difficult inmates, but deputies mishandled both situations then tried to cover them up. Howard did nothing.
Howard, himself, attended political rallies in full uniform and moonlighted, using his official car. He did nothing to discipline former Deputy Kenneth Achtyl, who assaulted a Bills fan then lied about it in an official report. Achtyl was convicted of misdemeanors and resigned, but not because of anything Howard did. Again in full uniform, he supported Achtyl during his trial, engaging in an obvious attempt to sway the jury.
It's been a disgraceful performance – an accumulation of scandals that Garcia and his two election opponents had to confront during their campaigns. Without criticizing Howard, a fellow Republican, Garcia pledged to work with the Commission of Correction, which had to sue Howard not once, but twice, to compel acceptable administration and which cited Howard's jails as among the worst run in all of New York. The U.S. Justice Department also sued over jail conditions overseen by Howard.
And while Garcia didn't specifically mention Cummings or Metcalf, he was clear that "individuals with mental health needs should be treated in a medical facility." Officers also need more training on recognizing people in distress and dealing with them, he said during the campaign.
Fixing those defects would be a big lift for any new sheriff. For Garcia, the challenge is compounded by the nature of his law enforcement experience. In the Buffalo Police Department, he commanded the crisis management unit – a far cry from leading an operation as large and diffuse as the Erie County Sheriff's Office. He had also been a narcotics detective and a homicide detective. He served for 25 years before retiring.
We trust that anyone with that kind of experience has the ability to come up to speed quickly, as county residents need him to do. He is inheriting an office that Howard left in shambles. We wish he'd made a better start, but we also wish him well as he takes on this important task.
What's your opinion? Send it to us at lettertoeditor@buffnews.com. Letters should be a maximum of 300 words and must convey an opinion. The column does not print poetry, announcements of community events or thank you letters. A writer or household may appear only once every 30 days. All letters are subject to fact-checking and editing.