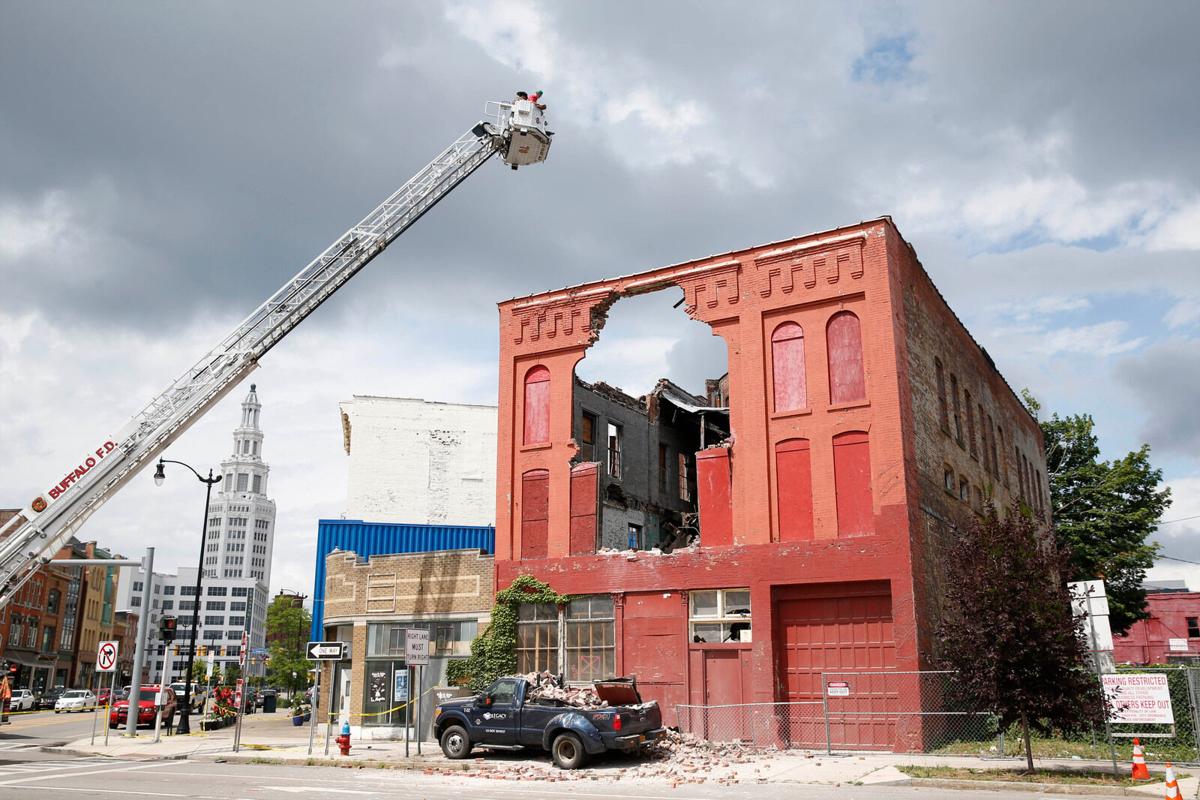 Part of Buffalo's charm – and part of what is driving our economic resurgence – is our architecture. Jonathan Sanger, the Hollywood producer currently filming the "Untitled Cabrini Movie" in Buffalo, put it this way: "The architectural splendor in Buffalo is amazing." Two recent developments bode well for preserving our city's special appeal.
It's a 21st century solution to protecting Buffalo's 19th century buildings: drones.
The Brown administration plans to use drones to help inspectors target problems in old buildings. Patrick Walsh, co-founder and CEO of Buffalo-based EagleHawk, says drones with high-resolution cameras, zoom cameras and thermal imaging capabilities can spot problems such as leaks in roofs, water intrusion and even slight movements.
Preservationists argue the issue runs much deeper. No drones were needed to see – with the naked eye and from ground level – that the building at North Oak and Genesee streets had been deteriorating for years. The building partially collapsed after neglect from a recalcitrant former owner with a raft of housing court violations.
James Comerford, commissioner of permit and inspection services, said drone technology could have "revealed a greater sense of urgency" to inspection reports at 435 Ellicott St., another demolition-by-neglect building that collapsed in December 2019. The deterioration resulted in the city ordering an emergency demolition. After the roof collapsed inside what should have been cared for – the 1860s-era, three-story Italianate brick building.
Drones may not be the whole solution, but if they help, they are worth using.
Meanwhile, Douglas Jemal, our adopted Washington, D.C., developer who seems to embrace every impossible Buffalo building project, has done it again: He has won over the Elmwood Village's notoriously unpleasable residents.
Jemal plans a four-story apartment building at Elmwood Avenue and Bidwell Parkway, only four years after another developer's proposal raised howls among residents who thought that it was too big and inappropriate for the site and neighborhood.
Jemal tried another approach. He retained and renovated the existing structures and streetscape. He included, encouraged and invited community input. Even those normally skeptical of new projects became supporters.
It is an approach worth emulating.
What's your opinion? Send it to us at lettertoeditor@buffnews.com. Letters should be a maximum of 300 words and must convey an opinion. The column does not print poetry, announcements of community events or thank-you letters. A writer or household may appear only once every 30 days. All letters are subject to fact-checking and editing.