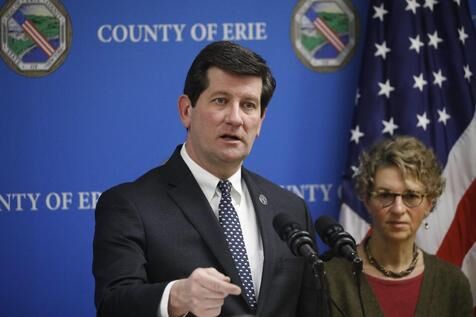 Members of the Erie County Legislature from both parties are raising a legitimate question: When should County Executive Mark Poloncarz's emergency spending authority be taken away?
Our answer is: Not just yet – it's not time to declare victory over the pandemic and spike the ball. There is value in the county's top official having the agility to respond to suddenly arising needs, such as opening new inoculation sites when a large influx of Covid-19 vaccine doses starts arriving soon in Western New York.
However, that doesn't mean Poloncarz should retain his spending authority until the day when herd immunity to coronavirus can be claimed in Erie County. For all the promise of the quickening pace of vaccinations, no one can reliably predict just how soon the virus will be brought under control.
Erie County is due to receive $178 million in federal money from the American Rescue Plan this year. Much of that is intended to fill budget gaps and rebuild from the ravages of the pandemic. It would be inappropriate for one person to have sole authority over how that gusher of money is spent.
There are, of course, some politics at play in the minority caucus' efforts to diminish the powers of the county executive. The county comptroller, Stefan Mychajliw, an independently elected Republican, has been governing by press release and expressing outrage that political appointees like county Health Commissioner Dr. Gale Burstein racked up more than $183,000 in overtime in 2020, which equals 91% of her base pay.
In addition to Burstein, 11 Sheriff's Office administrators collected more than $10,000 in overtime each. As we noted in February, those amounts seemed excessive, although no one can fault Burstein for all the time she puts in overseeing the county's Covid response as well as her other duties.
The county executive should have a major say in emergency spending, and in money spent getting vaccines into more arms.
We also agree with him on using $15 million to $20 million to lay 350 miles of fiberoptic cable across the county to bring high-speed broadband to underserved areas. The pandemic has underscored the fact that web access is now a mandatory utility, not a luxury.
Even after the county hires back employees laid off during the pandemic and plugs a $60 million budget hole, there will be millions of dollars from the federal relief package to account for.
In Thursday's discussion between legislators and the administration's budget and legal officials, Assistant County Attorney Gregory Kammer stated that federal money not related to the county's health and safety response falls outside of Poloncarz's emergency spending authority. That's a useful distinction worth monitoring under the old saying: "Trust but verify."
If democratic government is about checks and balances, then Poloncarz shouldn't be the only one writing the checks. Some legislative balance would ensure that all constituents throughout the county feel their concerns are being represented as the federal largesse is distributed. Under current emergency provisions, the Legislature must approve expenditures greater than $250,000. At some point, that emergency authority will be ended and the county can resume normal democratic processes in directing the use of public money, including the federal funds.
Questioning by some Democratic legislators about Poloncarz's spending authority was a healthy sign that the issue goes beyond partisanship. John Gilmour, a Buffalo Democrat, said last week he is open to examining the issue as "times are changing."
Kevin Hardwick, D-City of Tonawanda, acknowledged the issue is important and said he hopes in the future to vote on a resolution to trim the emergency spending powers.
Minority Leader Joseph Lorigo, a Conservative Party member who caucuses with the Republicans, summed up his position fairly: "We need to have a seat at the table and we need to deliberate about how that money's being spent."
What's your opinion? Send it to us at lettertoeditor@buffnews.com. Letters should be a maximum of 300 words and must convey an opinion. The column does not print poetry, announcements of community events or thank-you letters. A writer or household may appear only once every 30 days. All letters are subject to fact-checking and editing.