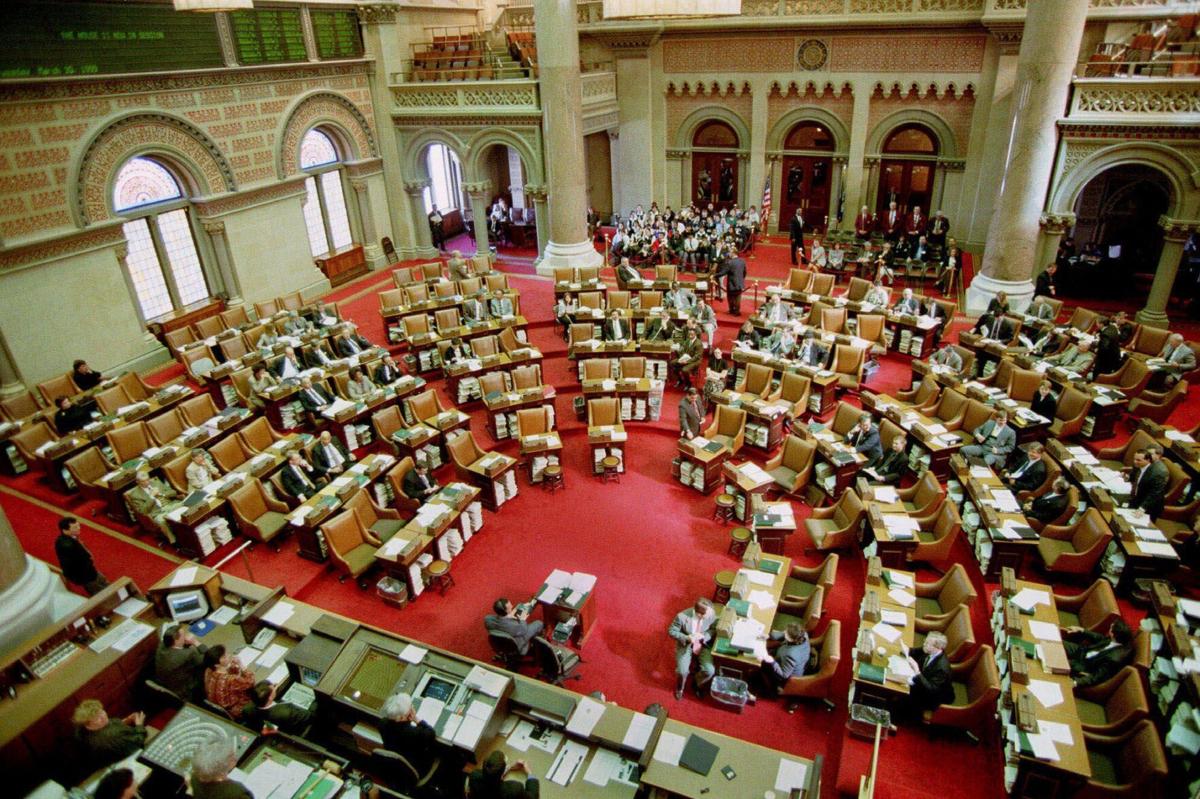 When someone is known as a tough negotiator, it's said that "you have to watch your wallet" when dealing with them. When New York's governor and Legislature negotiate the state budget, we all need to watch ours.
The one-house budget resolutions passed by the Assembly and Senate on Monday call for some $200 billion in spending, partly funded by $7 billion to $8 billion in tax increases on upper-income earners. The resolutions were announced just four days after President Biden signed into law the $1.9 trillion American Rescue Plan, which sends $12.5 billion to New York State.
The spending spree would benefit many New Yorkers, but ultimately would do more harm than good. Millionaires have the means to pack up and move to states with lower taxes; corporations can do the same, taking jobs with them.
Downstate Democrats tend to have the loudest voices in the Legislature, but now would be a perfect time for the members from upstate, particularly in the Western New York delegation, to assert themselves and talk their party back from the ledge of fiscal foolishness.
Pumping billions and billions more into the state treasury would create a sugar rush for those who benefit, followed by crashes later when federal bailouts disappear and New York has done little to control spending. At that point it would not just be millionaires asked to pay higher taxes.
Democrats in control of the Senate and Assembly are emboldened by three factors: They have two-thirds supermajorities in each chamber, enough to override vetoes by the governor; the pummeling of the economy by Covid-19 gives them cover to seek tax increases that progressive leaders wanted before the pandemic; and Gov. Andrew M. Cuomo is under great political pressures as investigations take place concerning nursing home deaths and accusations of sexual harassment.
However politically weakened Cuomo may appear, as governor he still holds the constitutional upper hand on budgeting. He has used his clout over the years to produce reasonable budgets, which before 2019 he had to negotiate with the Republican majority in the Senate. His own budget proposal calls for $178 billion in spending and tax increases that are more modest than those the Legislature endorses.
Assembly Majority Leader Crystal Peoples-Stokes, of Buffalo, has held firm in saying that Cuomo is entitled to due process before anyone decides whether he is guilty of anything. Other Western New York lawmakers have expressed various views, but loyalty to the governor has little to do with wanting responsible spending.
Veto overrides became almost commonplace back when Republican George Pataki was governor. With the Democrats holding their first-ever supermajority in the Senate, both chambers may be warming up to again flex those muscles.
In addition to Peoples-Stokes, the six other Western New York Democrats in the 150-member Assembly are: Pat Burke, William Conrad, Karen McMahon, Angelo Morinello, Jonathan Rivera and Monica Wallace. Those seven plus one more Democratic defection could deny their party a veto override, if it came to that.
The Buffalo area's two Democrats in the Senate, Tim Kennedy and Sean Ryan, could also prevent an override if they broke with their party.
We need our lawmakers to use their pulpits and their clout to preach fiscal responsibility as budget negotiations proceed toward the March 31 deadline.
Is there any good reason for a double-digit increase in school aid after the state's K-12 public schools just received $9 billion in the federal relief bill? New York's school taxes are heavily influenced by the political clout of the New York State United Teachers Union. It's more than likely that a large swath of new state aid would be put into contractual salary increases that will be baked into future budgets as permanent fixtures.
The one-house budget resolutions call for new business taxes worth an estimated $2.45 billion; new taxes from the transfer of stock and raising the estate tax from 16% to 20%.
New York's population has already been declining more than any other state in the nation. The population dropped by 126,355 people between July 2019 and July 2020, U.S. Census Bureau figures show. Low-tax states such as Florida lure away prosperous New Yorkers looking to keep more of what they earn. Cuomo on Monday warned that pushing taxes too high could "lose money for the state."
It's not easy for Cuomo or Democrats in the Legislature to swim against the progressive tide. We may find out in the next two weeks who is truly "New York tough."
What's your opinion? Send it to us at lettertoeditor@buffnews.com. Letters should be a maximum of 300 words and must convey an opinion. The column does not print poetry, announcements of community events or thank you letters. A writer or household may appear only once every 30 days. All letters are subject to fact-checking and editing.