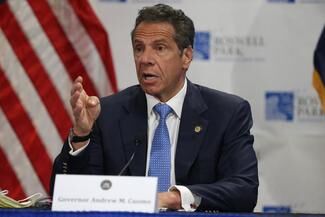 For those who wondered whether Gov. Andrew M. Cuomo's political difficulties would tempt him to empty the state's wallet in attempt to win legislators' hearts, an announcement on Tuesday provided an answer: There will be no effort to tax the rich if he can avoid it.
With Washington sending $12.6 billion to Albany as part of the American Recovery Plan, most of the state's Covid-related deficit will be covered. Some legislative Democrats want, nonetheless, to raise spending further and to pay for it with lawmakers' usual source: wealthy New Yorkers. Cuomo is resisting, and with good reason.
First of all, New York already imposes a "millionaires tax." Implemented in 2009 as a key part of the Albany's response to the Great Recession, the tax has been renewed through 2024 and is worth about $4.5 billion a year to state budgeters.
Secondly, that hit came on top of a state tax system that is already one of the nation's more burdensome, even with Cuomo's early moves to lower New York's income tax. And, finally, most of the state's great wealth is concentrated in New York City, whose tax payments help to support upstate and whose generators have the wherewithal to move to states that don't reach so deeply into their pockets.
This is a balancing act, and given New York's status as a high-tax state, the balance is easily disrupted. Cuomo is right to resist new increases.
The question is whether he can hold the line. Cuomo has been politically weakened by allegations of sexual harassment and his administration's mishandling of figures on Covid-related deaths of nursing home residents. The Legislature's Democrats, who are in no mood to humor the governor, hold supermajorities and can override vetoes in both chambers.
Raising taxes in this state should always be a last resort, a condition in which New York might have found itself without the federal government's decision to support states and municipalities. But Washington did come through and Cuomo believes the state can now manage without significant tax increases or budget cuts. That's what it should do.
What's your opinion? Send it to us at lettertoeditor@buffnews.com. Letters should be a maximum of 300 words and must convey an opinion. The column does not print poetry, announcements of community events or thank you letters. A writer or household may appear only once every 30 days. All letters are subject to fact-checking and editing.