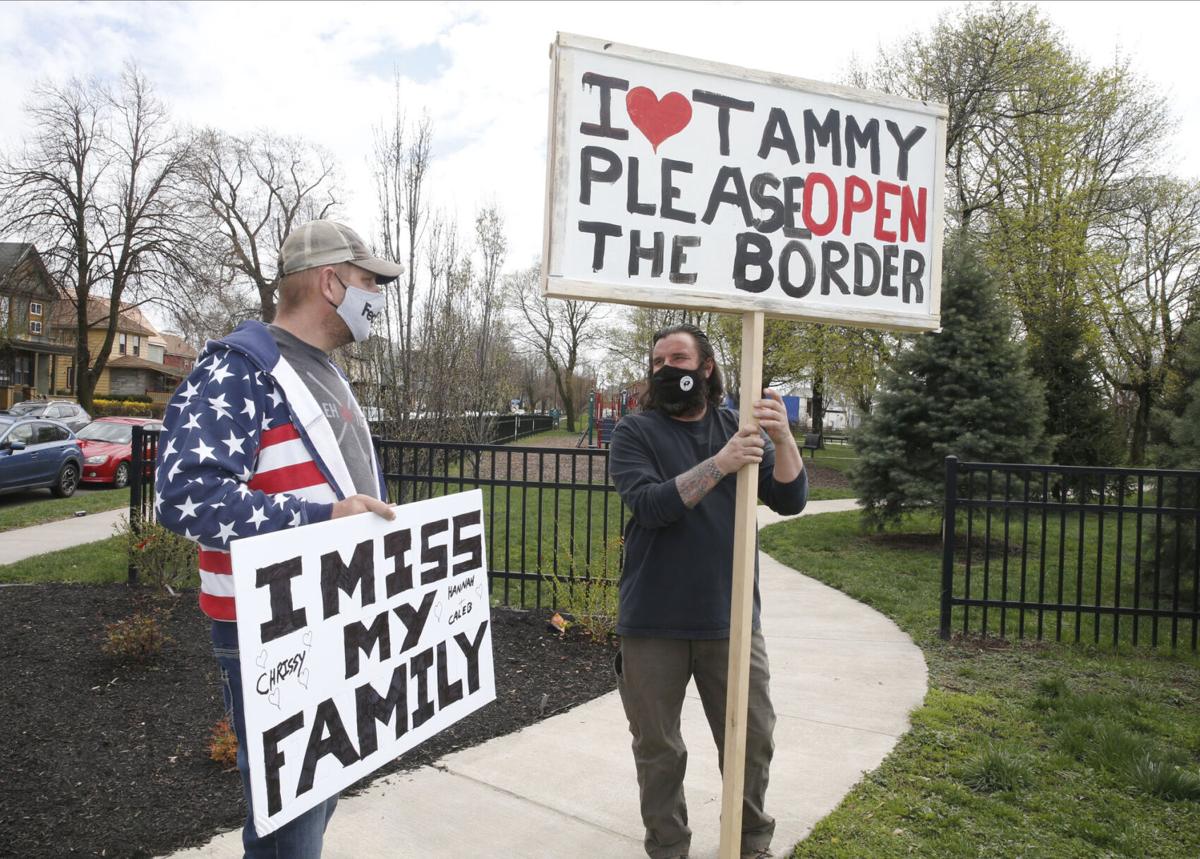 Hi. How are you doing? It's been a while. We have a question: What in the blessed name of Tim Horton are you thinking?
We understand the need for caution, even at what we all hope is the tail end of a deadly pandemic – but, come on. The vaccinations are here. They work. That means things can start to change. We're thinking about the border.
But you don't seem to get it. Your prime minister, Justin Trudeau, certainly doesn't seem to – even if he cracked the door open a bit last week. As a Buffalo congressman named Brian Higgins – you may have heard of him – acidly observed the other day, you keep "moving the goal posts."
It's true. Not long ago, you said wanted 75% of Canadians – lovely people, by the way – to have had at least one shot and for 20% to be fully vaccinated before loosening travel restrictions. Now you want 75% of your people to be fully vaccinated. What's up with that?
Let's think this through a little. You don't have to simply throw the border back open. That would be foolish, a word no one in the history of the world has ever applied to Canadians. And we mean that sincerely. We really like you (even if too many of us don't know a Medicine Hat from a medicine ball).
But here's what you can do: You can open up to people who are fully vaccinated because, in that, there is less risk than having only 75% of your own citizens immunized. If 100% of visitors are fully vaccinated and only 75% of Canadians are, there is less risk to you than there is to the visitors. We may not know a Moose Jaw from a horse's never mind, but we'll come with money. (Ours is green and still made from paper; we're old-fashioned that way.)
That's another thing. It's not just Americans who are becoming anxious over your dilly-dallying. Your own people are paying a price, too. It may be especially noticeable in your border communities, but any place that depends on visitors is taking a fearsome and unnecessary hit. It's certainly happening across the river from us in Fort Erie. Nick Dubanow, a town councillor there, was near apoplectic, at least by Canadian standards.
"They've already screwed us out of our summer tourist season, which is devastating for the Canadian side of the river, and likewise is devastating for you guys on the American side," he said. It's the second summer loss. As we're sure you know, some businesses may not survive that kind of economic blow.
It's not just Fort Erie and Buffalo, of course (though we do miss your people at our airport). How many visitors is Ontario's Niagara Falls missing because tourists on our side of the border can't cross the river to take in the spectacular view or throw their money away – sorry, play the games – at your casinos?
What's happening to the Shaw Festival in Niagara-on-the-Lake and all tourist-related businesses in that delightful place? Like our own Shea's theater (not theatre, please) and other enterprises, including the Bills and the Sabres, NOTL relies on cross-border business.
And we know people from this side of the line who miss attending the Stratford Festival, the Royal Ontario Museum, the Art Gallery of Ontario and even the Canadian ballet (OK, just kidding on that one). It's part of the colour and the flavour of life, especially here on Buffalo's Inner Harbour (those were for you).
Some of this, we think, may be due to yor – uh, your – politics. Before the 2019 election, liberals led a (small) majority. But with that vote, the party lost 20 seats and cobbled together a minority government. That must produce some level of hesitancy – especially if its actions are perceived as mollifying the gigantic, dominating neighbor to the south. (In addition to not knowing a Diefenbaker from a Studebaker, most of us don't think much about the real challenges of living next to a Gulliver that always threatens to overshadow, even if unintentionally.*) (*Except during the Trump years, when it was transparently intentional. Sorry about that. We hope things seem better now.)
There's another problem with setting your sights at having 75% of your population vaccinated before opening the border. What if some of your very nice people are nonetheless every bit as dopey as some of ours and won't take the jab?
Here, President Biden expects to miss his goal of getting at least one shot to just 70% of Americans by July 4. Maybe we have more conspiracy nuts and 'fraidy cats than you, but if we can't easily get to 70% partially protected from a virus known to be lethal – and how is that even possible? – how long will it take you to get three-quarters of your crowd fully vaccinated? What will your tourist economy look like at that point?
Maybe it will just be few more weeks, as Trudeau intimated last week. We hope so, but we are as skeptical as many of you must be. Those darn goal posts.
We've all had to make difficult decisions in this strange time. We see people in our country – in our own region – pushing to open up too quickly. But going too slowly isn't risk-free, either. If you're not worried about businesses, think of the families with loved ones across the border or who own property in the other country. They are suffering and it's increasingly needless.
But on the subject of risk, we know this much: There is none – virtually none – in opening the border to fully vaccinated visitors. That won't change when more of us or more of you are inoculated. The vaccines aren't perfect, but they're the best anyone can do. They're the world's passport to some kind of normalcy. We should use them.
So, please: Open the border. And pass the poutine.
What's your opinion? Send it to us at lettertoeditor@buffnews.com. Letters should be a maximum of 300 words and must convey an opinion. The column does not print poetry, announcements of community events or thank you letters. A writer or household may appear only once every 30 days. All letters are subject to fact-checking and editing.