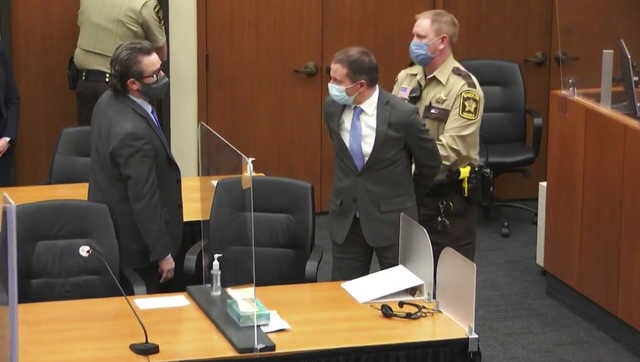 We want to hope that the righteous conviction of Derek Chauvin on Tuesday represents more than a singular confluence of incontrovertible evidence skillfully presented to a jury committed to justice. For that to be true, though, police leaders need to seize this moment.
In Western New York, we haven't seen anything that compares to Chauvin's infamy: Kneeling on a helpless man's neck for nine minutes, the former Minneapolis police officer morphed into a murderer as witnesses watched – and committed the act to video. He deserves every day of the 40-year prison term to which he could be sentenced.
But we have seen bad cops here abusing their power in full view of the public. Responding to verbal provocation, former Erie County Sheriff's Deputy Kenneth Achtyl attacked a fan leaving a Bills game in 2017, bloodying his face and breaking his nose.
In 2009, former Buffalo Police Lt. Gregory Kwiatkowski called four black teenagers "savage dogs," then grabbed one of the handcuffed teens by the neck and slammed him headfirst into a police car. Then he gave them all the same treatment.
In 2014, Officer John Cirulli was caught on cellphone video kicking and slapping a handcuffed man who was face down on the pavement.
We hope and believe these are the exception to the rule of honest cops – the kind of men and women every community needs. But they exist and they poison the well, especially when they treat Black Americans with brutality and disdain. They don't deserve the badge – or the weapons they carry.
One thing we know has changed: Millions of people today carry cellphones with which they can make video recordings of police activity. And, as former Buffalo Police Commissioner Daniel Derenda observed, they have every right to do so. Any police officer who didn't already know that surely learned it via a teenager's recording of Chauvin casually murdering George Floyd in broad daylight as traumatized citizens watched in horror.
In its aftermath, Buffalo Mayor Byron W. Brown instituted valuable police reforms, including training in de-escalation strategies and mandating police to step in when colleagues use excessive force. More will be needed to change a culture that too often is unnecessarily adversarial.
Here and across the country, Americans need police for safety and protection – a different mind-set from the one Chauvin was unafraid to exhibit. Tuesday's verdict gives police an opening not just to repudiate a murderer in uniform, but to persuade all members of the public that they are committed to the safety of the whole community.
What's your opinion? Send it to us at lettertoeditor@buffnews.com. Letters should be a maximum of 300 words and must convey an opinion. The column does not print poetry, announcements of community events or thank-you letters. A writer or household may appear only once every 30 days. All letters are subject to fact-checking and editing.