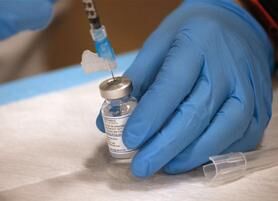 It's starting to feel sort of … kind of … something like, well … normal.
You remember normal. It's when you went to work and didn't have to wear a mask. It's when you could go for a cup of coffee or a glass of beer and not wonder if you were putting yourself or others at risk. It's when you looked forward to a concert or play for which you were actually able to buy tickets. It's when going to the movies didn't count as risky business.
It's when you could attend a baseball game, as Western New Yorkers were planning to do Tuesday, celebrating the return of the Toronto Blue Jays to Sahlen Field. That, of course, is a reminder that Covid-19 is still with us. Attendance was limited for a game that was held here only because the pandemic remains a force in Canada. Fans were grouped by vaccination status.
So, we're not done yet. But what a difference a Pfizer makes. Or a Moderna. Or a Johnson & Johnson. Those are the three main vaccines in use in this country and, with them, the country's health – physical and mental – is brightening.
Across the state, the virus is in retreat. Last week, the positive test rate was the lowest it's been since the start of the pandemic, nearly 15 months ago. The daily rate was 0.6%, the more reliable seven-day average, just 0.8%. In Western New York, as has often been the case, the rate is a little higher: 1.2%. There's room to do better, but the change is notable enough that masks are starting to come off, workers are returning to their offices and travel is regaining its allure.
Airlines report that Americans are again flying at pre-pandemic levels – with masks as a required accessory, for the moment, at least. In New York City – one of the places worst hit by the pandemic – Broadway is slowly reopening. The Metropolitan Museum of Art just had its busiest weekend since the pandemic began. Traffic helicopters are flying again. Why? Because there is traffic.
Not all signs are welcome. For one thing, Americans are still dying from Covid-19, at a pace of about 450 people a day. That's a far cry from last spring, when daily death in New York State, alone, topped 1,000. Over that time, Americans learned how to avoid infection and health professionals learned how better to treat it.
Today, those who are getting sick and those who are dying are largely those who are unvaccinated. Few of those holdouts have medical reasons to decline the shot. The others need encouragement from those who care about them to take the lifesaving leap.
There are also problems in the sky. On those newly flying airplanes, enough passengers are acting out that at least two airlines – American and Southwest – are delaying the day when they will again serve alcohol. Behavior ranging from unruly to violent makes that a sensible precaution. Last last month, video captured a woman punching a Southwest flight attendant in the face. The attendant lost two teeth.
In a possible sign of future problems, gun purchases have spiked around the country as the pandemic and last summer's protests raised fears, inducing many first-time buyers to arm themselves. That surge is continuing, even as the pandemic shrinks to endemic status and the protests sparked by the deaths of George Floyd and others have eased.
That doesn't automatically mean gun violence will rise even higher than it is, but it raises the risk. A gun that sits in a dealer's shop isn't going to hurt anyone. Once it's out in the public, though – in the hands of overly fearful people who may not know how to handle them – the calculation changes.
Economically, inflation is rising in some industries, particularly construction, as pent-up demand runs into restricted supply. Experts – some of them, anyway – see it as a problem that will work itself out, though it may take a year or so.
It is predictable that our local and national recoveries from this trial will be as uneven as our handling of it was. We are too contrary a people these days to expect conformity, even when conformity is in our personal and national interest.
Nevertheless, reasons for optimism abound. In New York State, restaurants and bars no longer operate under curfews. Masked faces remain common, either out of courtesy or lingering worries, but they are starting to come off. You don't have to imagine the covered smile, anymore. It's there for the world to see.
Perhaps most encouraging, given the continuing deaths from Covid-19, is that the country may reach a 70% vaccination rate this summer, possibly as soon as Independence Day. Whether that brings us into the territory of herd immunity is uncertain, but it represents significant movement that will allow the country to return more quickly to the normal all of us crave.
Finally, it doesn't hurt that all this is happening as June, the year's fairest month, makes its appearance, right on time. That's cause for cheer in anyone's book.
What's your opinion? Send it to us at lettertoeditor@buffnews.com. Letters should be a maximum of 300 words and must convey an opinion. The column does not print poetry, announcements of community events or thank you letters. A writer or household may appear only once every 30 days. All letters are subject to fact-checking and editing.