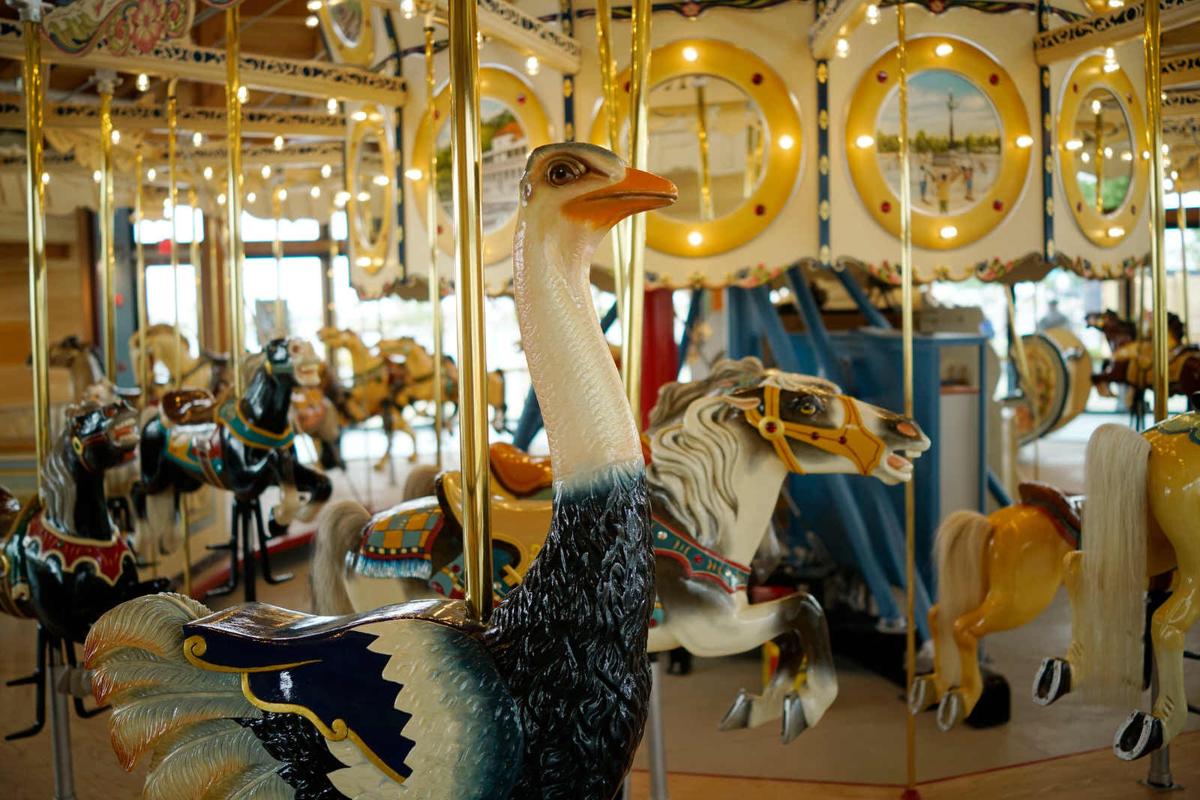 Downtown Buffalo became a brighter place on Saturday when, after years of planning and painstaking work, a historic carousel, manufactured in Western New York nearly a century ago, began offering rides to children of all ages. The city's waterfront will never be the same.
More than any other attraction, the 1924 carousel lends a touch of wonder to the patch of land at Canalside. It's magical that the structure survived 67 years of disuse, most of it in storage.
It's magical that the North Tonawanda-made treasure – a rare, three-row, park-style carousel – made its way back to its home turf after 30 years of use in Massachusetts and another 63 years of storage, most recently in Ohio.
It's magical that talented and interested artisans were available to restore the worn stable of wooden horses, lions and other creatures that populate the carousel.
It's magical that its evocative Wurlitzer organ, though not original to the carousel, was also made in North Tonawanda.
It's magical that it all came together at the right time and in the right place and just as the city, along with the rest of the world, is coming out of a lockdown that dulled the senses, lowered expectations and drained life of much of its enchantment.
At Canalside, at least, the enchantment is back, and with a bit of 21st century alchemy. The carousel is contained in a newly built roundhouse whose roofing tiles change sunlight into electricity. That's more science than magic, but it adds to the allure. The solar roof was a gift from the Tesla plant in South Buffalo.
The carousel was manufactured by the Spillman Engineering Corp. of North Tonawanda for Domenick De Angelis who operated it in several Massachusetts locations until 1954. It remained in the family until it was sold to the Buffalo Heritage Carousel and restoration began in 2017.
Now, it's open and running, with rides available at the bargain price of a buck. It will operate from 11 a.m. to 7 p.m. daily until Sept. 6, when it will switch to Fridays through Sundays. Covid-19 cleaning protocols will be in place.
It's been a long way back for Buffalo's once-neglected waterfront, but it if wasn't already clear, the arrival of the historic carousel should make it plain to everyone: It's one of the best places to be in all of Western New York.
What's your opinion? Send it to us at lettertoeditor@buffnews.com. Letters should be a maximum of 300 words and must convey an opinion. The column does not print poetry, announcements of community events or thank you letters. A writer or household may appear only once every 30 days. All letters are subject to fact-checking and editing.