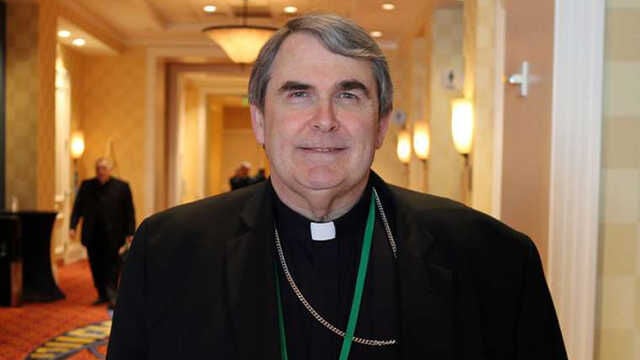 Friday is a day of hopefulness and renewal for the Buffalo Diocese as a new bishop takes charge. Bishop Michael W. Fisher will be installed as the spiritual leader of 600,000 Catholics. We join them in welcoming him.
After the Masses and welcoming ceremonies are concluded, Fisher will have to put aside his vestments, roll up his sleeves and begin cleaning up some of the messes in a diocese that is going through a bankruptcy while facing hundreds of claims from people seeking restitution for childhood sexual abuse they allege was committed by members of the clergy.
In a meeting with The News' Editorial Board this week, Fisher said he has been familiarizing himself with the issues facing Buffalo. He expressed the need to listen to and learn from the parish priests here, to reach out to lay people and ensure "we have no one left behind" and to focus on the church's essential mission, "the salvation of souls."
His words are well-aligned with the spiritual mission of the Catholic Church. We hope that in his actions, the bishop will show some boldness in breaking with the past and setting a new tone. In his first 100 days, Fisher could:
• Announce a new era of transparency in which the diocese's internal files on past sexual abuse cases are published online;
• Establish a public advocate in the chancery whose job it is to answer phone calls and emails from the public, making the diocese more accessible;
• Set up a structure in which members of the laity are given more input into policies and decisions affecting their churches, parishes and the diocese as a whole;
• Create an advisory group of abuse victims, to let them know they are heard and give them a role in shaping conduct policies for current clergy.
The "big tent" metaphor used in politics also applies to the church. Its disparate elements include social conservatives who are fierce opponents of abortion rights to progressives pushing for changes such as the ordination of women as priests. A bishop must minister to all and accommodate a diversity of viewpoints. He is also subject to policies of the church hierarchy that are set in Rome.
Fisher doesn't have the authority to welcome women into the priesthood or declare that all Masses will be celebrated in Latin, but neither is he powerless. As a leader in troubled times, he should look for ways to push beyond practices whose only reason for being is "that's the way we've always done it."
A recent story in The News told how more than 25,000 pages of internal Buffalo Diocese documents pertaining to clergy abuse and other topics were turned over to lawyers and survivors of sexual abuse. The handover was part of an agreement with abuse survivors, who agreed not to sue individual parishes and other Catholic entities, and to keep the documents private.
Fisher would do well to make as many of the records public as possible. Doing so would be a declaration of transparency and a break with the cover-up culture that existed here under previous bishops. It would also send a message to future transgressors that their names and misdeeds will become public and subject them to legal punishment.
Buffalo's Movement to Restore Trust, an organization formed by Canisius College President John Hurley and other prominent Catholics, was formed while Bishop Richard J. Malone was in charge here and was faltering in his handling of the clergy sex abuse crisis. Fisher would be wise to establish ties with the movement and to expand the input of lay people into parish and diocese operations, giving them a sense of ownership.
Before the abuse scandals became public here in 2018, the church was already challenged by a shrinking population of church-goers and potential priests and nuns. The Covid-19 pandemic, meanwhile, kept many churches closed or much below capacity, which meant a plunge in weekly donations to the collection plate.
Bishop Fisher has his work cut out. If he can bring more Catholics into the tent, it should make the road ahead less daunting.
What's your opinion? Send it to us at lettertoeditor@buffnews.com. Letters should be a maximum of 300 words and must convey an opinion. The column does not print poetry, announcements of community events or thank you letters. A writer or household may appear only once every 30 days. All letters are subject to fact-checking and editing.