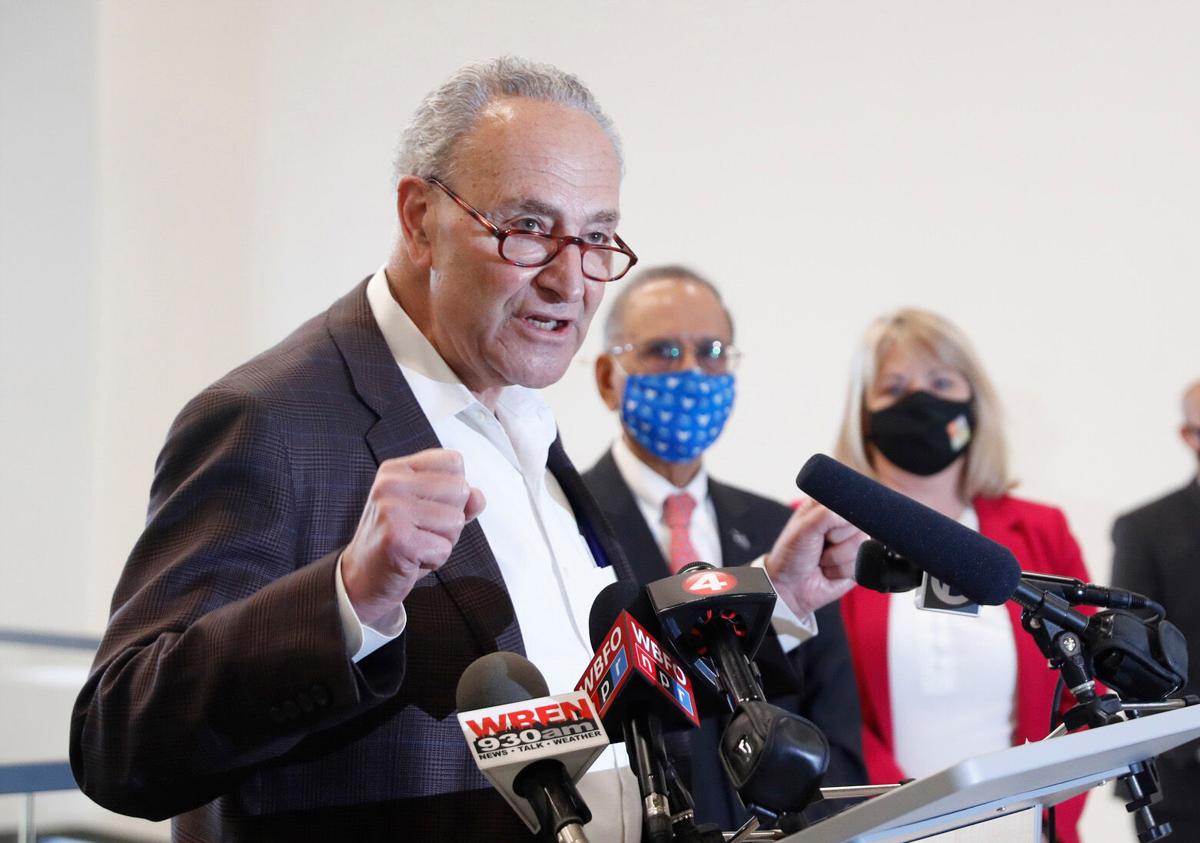 Buffalo was not the only stop on Senate Majority Leader Charles E. Schumer's upstate road trip on Wednesday. Schumer also made an appearance in Canandaigua to promote the potential of his legislation to provide $10 billion to fund the creation of 18 "tech hubs" throughout the U.S.
As the senator said here while appearing at M&T Bank's technology hub in Seneca One tower, combining the efforts of Buffalo Niagara with Rochester and the Finger Lakes makes the most persuasive case for our region getting picked as one of the beneficiaries of the U.S. Innovation and Competition Act, which Schumer expects the Senate will pass this week.
René Jones, M&T's chairman and CEO, also stressed the teamwork approach.
"When you look at the corridor between Buffalo and Rochester, we have more critical assets together than we have apart," Jones said. "And I think that's going to position us the best, if we have high amounts of collaboration in this space."
Satish Tripathi, the University at Buffalo's president, was on hand to show UB's support. Our region's colleges and the Buffalo Niagara Medical Corridor are sources of brainpower and innovation that will help us make the case.
There's a lot of higher learning happening in Rochester and the Finger Lakes, too.
"New jobs will be spun from our universities like" the University of Rochester and Rochester Institute of Technology, Schumer said in Canandaigua. "We have such a great bunch of universities, (including) schools like Nazareth and St. John Fisher and SUNY Geneseo and SUNY Brockport. ... That gives us a leg up."
That leg will kick higher if Buffalo Niagara and Rochester/Finger Lakes work in unison. They don't need to march in lockstep, but our chance to benefit from legislation championed by the Senate's most powerful member will go to waste if leaders in business, government, academics and nonprofits don't coalesce around a team approach.
The Thruway corridor from Buffalo to Rochester has much to offer technology companies, including an eager workforce, hydropower from Niagara Falls and freshwater from two Great Lakes.
North of Pembroke – between the two metropolitan areas – sits the Science Technology Advanced Manufacturing Park, or STAMP, in Genesee County. Schumer was been lobbying for Samsung to build its $17 billion semiconductor plant there, but even if Samsung goes elsewhere, STAMP shows great potential for new manufacturing and other businesses.
In addition to the $10 billion to develop 18 cities into destinations for technology companies, the legislation would provide an additional $9.5 billion to fund "innovation centers" at universities. If Western New York were to be chosen as a hub region and UB and the Rochester schools received university funding, our combined region could receive up to $1 billion from the Schumer-sponsored legislation.
"This proposal would not only usher in a new era of public-private partnership; it would bolster our region's – and our country's – leadership and impact in science and technology," UB's Tripathi said in a statement.
Dottie Gallagher, president and CEO of the Buffalo Niagara Partnership, attended Wednesday's news conference and said she has been in touch with her counterpart in Rochester, Chamber of Commerce President Bob Duffy. That's a good sign.
It may be tempting for either Buffalo or Rochester to want to go it alone for a chance to keep the money to itself. That would be a version of the "prisoners' dilemma," the game theory concept in which individuals, acting to protect their own interests, produce a worse outcome for everyone.
A teamwork approach is the best bet to ensure Western New York grasps this opportunity to take part in securing America's competitiveness in science and technology.
What's your opinion? Send it to us at lettertoeditor@buffnews.com. Letters should be a maximum of 300 words and must convey an opinion. The column does not print poetry, announcements of community events or thank you letters. A writer or household may appear only once every 30 days. All letters are subject to fact-checking and editing.