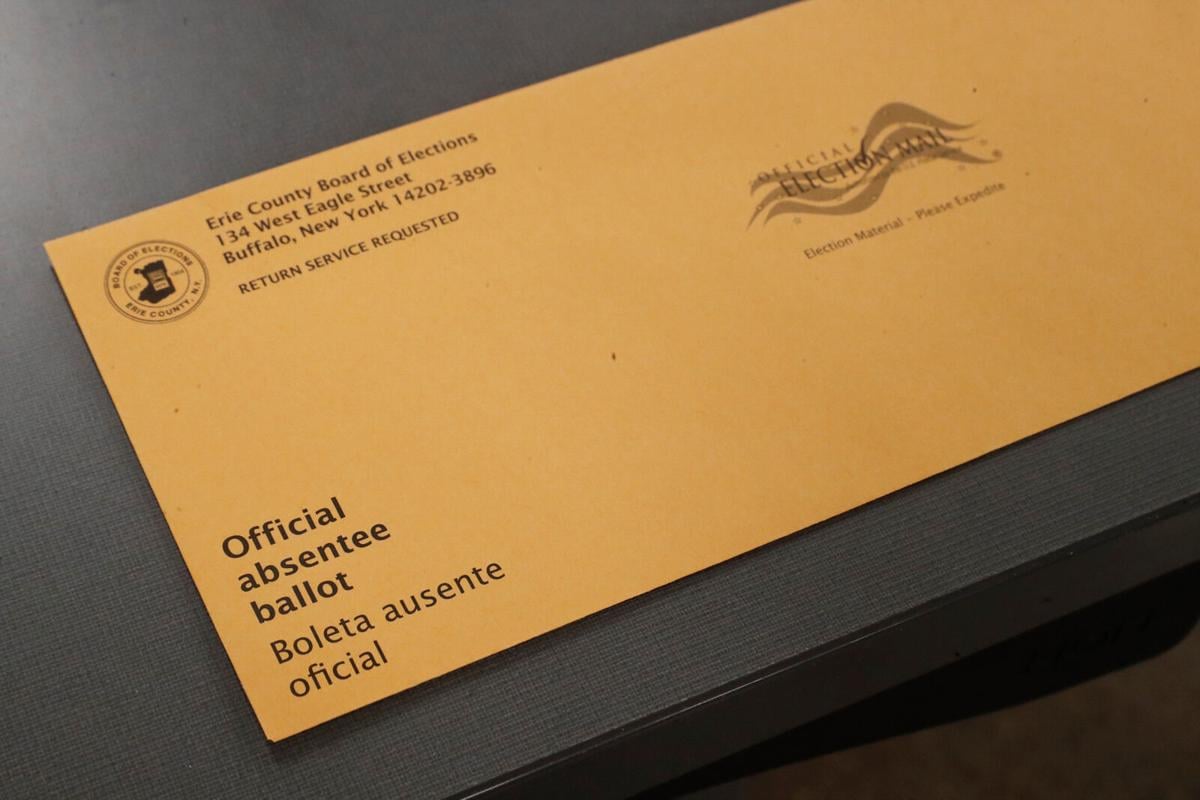 Imagine a Miss America competition in which the winner was not decided until a month after the pageant, so that absentee ballots from the judges could be tallied.
How about a World Series Game 7 in late October where the winner isn't known until after Thanksgiving because umpires have to study replays of every at-bat to determine if the game was properly officiated?
Those scenarios are not far off from the realities of vote counting in New York State. Buffalo Mayor Byron W. Brown is running a write-in campaign against Democratic nominee India B. Walton. The results almost surely will not be known by the end of Election Day, Nov. 2. The reason is that write-in votes – expected to be a substantial number – will not be tallied until after absentee votes are counted. The absentee count in Erie County does not even begin until 13 days after the general election.
That is problematical verging on disastrous, but our system does not have to be that way.
The State Senate and Assembly passed a bill in June written by Sen. Michael Gianaris, D-Queens, to speed up the count. Once the bill makes its way to Gov. Andrew M. Cuomo – and assuming he signs it into law – the changes would take effect in 2022. The governor should make this a high priority.
When election results take weeks to be tabulated, it creates confusion and uncertainty. What is worse, it opens the door to bad actors sowing doubts about the integrity of the results. We saw that with the 2020 presidential contest, as former President Donald Trump spread the Big Lie about a "stolen election." President Biden won the election handily and his lead grew as absentee ballots were counted after Election Day. Trump and many of his supporters still cling to the fantasy of a stolen election, in part because the counting took a while, as many states allowed mail-in voting during the pandemic.
County boards of elections are prohibited from counting mail-in votes until three days after the election, and many, including Erie, wait longer.
Under the bill passed by the Legislature, boards would start counting absentee, military and overseas ballots on a rolling basis as they are received. This can be done without compromising the integrity of our elections.
New York is a rare state that allows voters to mail in an absentee ballot, then cast a vote later in person. An in-person vote cancels out the person's absentee ballot, but cross-checking them can take a few days.
The Gianaris bill would change the law to count only the first ballot cast by a voter. Election boards could start processing absentee ballots before Election Day, then begin opening them one hour before the polls close that evening. Election workers would have four days to review all ballots for their validity.
The date for certifying results – which this year falls on Nov. 28 – could be moved up and counting of write-in votes could start earlier.
The bill includes other provisions, including one to eliminate state rules that lead to disqualifying voters' ballots for minor technical mistakes. That's a good way to promote small-d democracy in contrast to other states that are installing new rules that make it easier to toss out ballots.
As noted before in this space, earlier vote-counting works in other states. In Colorado – one of five states that conduct all of their elections by mail – there is no law limiting how early the processing of ballots can begin.
Their elections proceed smoothly. Last November, Colorado declared wins by Biden and Democratic Senate candidate John Hickenlooper on the night of the election.
New York holds itself up as a model of progressivism, yet each year we vie for the title of slowest vote-counting state with Alaska, where they joke that ballots are delivered by sled dogs. Improving our vote counting system is a way for New York to live up to the meaning of its motto, Excelsior: ever upward.
What's your opinion? Send it to us at lettertoeditor@buffnews.com. Letters should be a maximum of 300 words and must convey an opinion. The column does not print poetry, announcements of community events or thank you letters. A writer or household may appear only once every 30 days. All letters are subject to fact-checking and editing.