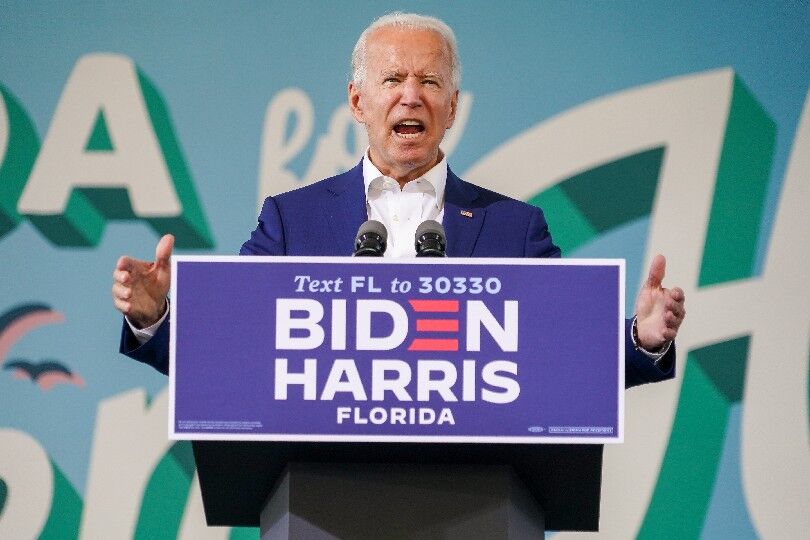 Today, The Buffalo News editorial page begins its 2020 candidate endorsements. Whomever you choose to support in next month's elections, we urge you to vote.
Like virtually all second-term elections, this year's presidential vote is largely a referendum on the incumbent. Unlike most previous second-term elections, this choice is straightforward. Joe Biden must be the country's next president.
This is partly because Donald Trump has been disastrous to the American idea of democracy and partly because Biden's experience, decency and judgment will not only serve the country well but, in fact, make him the antidote to four years of authoritarian delusions, juvenile insults and outright betrayal.
Trump, we know, has his core base – some 35% to 40% of Americans whose willful blindness requires them to tolerate the intolerable, including:
• His strategic decision to lie to Americans about a deadly pandemic. The dishonesty has continued, even after he was infected with the novel coronavirus.
• His denigration of the American military. (To the doubters: More than 200 retired generals and admirals – including some who served under this administration – have endorsed Biden. The count approaches 500 when national security experts are included.)
• His documented and impeachable effort to pressure another country to launch a phony investigation into Biden.
• His inability to distinguish between American Nazis and the protesters opposing them.
• His made-up claims that only electoral fraud can defeat him on Nov. 3.
• His un-American refusal to commit to an orderly transfer of power should he lose.
That leaves the remaining 60% to 65% of the country to drive us back onto the track laid by the Founding Fathers and restored by the nation's greatest Republican, Abraham Lincoln. Those are our democratic touchstones, the great American leaders who bequeathed us standards of honesty in government, of service to the nation, of sacrifice and forgiveness. Trump has kicked them all away; indeed, he seems not to understand that such noble concepts even exist.
Many Americans have seen the danger, including a growing group of Republicans who understand that a second Trump term would pose a metastasizing threat to the country. These are individuals – everyday Americans and public officials – who wave off the slander that they are somehow unfit for the party or betraying it. Unlike too many people today – on both the left and the right – they know that governance in a democracy isn't a game. In football, you can be a Bills fan come what may; in politics, we are called upon to be Americans first and party members second, or fourth, or tenth.
Biden, in fact, the conservative candidate in this election, understanding that fealty to the Constitution is a fundamental conservative value. His centrist record makes clear that the Constitution will be his guide, even as Trump has trampled both the Constitution and his oath of office.
To be sure, some of Biden's goals are somewhere to the left of center. He's not a Republican. He wants to solidify and improve the Affordable Care Act. He defends Social Security and Medicare. But he rejects defunding the police and supports hydraulic fracturing. He wants rioters punished.
Some issues are – or should be – beyond partisanship. He understands that a changing climate requires a federal response. Trump doesn't. Biden will work to counter the racism, xenophobia and misogyny that Trump champions. He has a chance, as Trump does not, to restore relations with our allies. And Biden will stand up to adversaries such as Russia and North Korea. Trump won't.
But Biden's long record of public service makes clear that his method of pursuing his goals will be rooted in the Constitution. His aims will be to serve the country – the red parts as well as the blue – and to begin mending the dangerous holes in our national fabric. Unlike Trump, he respects his adversaries. He knows they're Americans, too.
Not everyone will agree with all of his agenda, but that's all right. It's possible to argue with honor; indeed, our government was structured to focus such disputes. To Trump, disagreement – even on matters of science – is evidence of disloyalty or, worse, sedition. Just ask Attorney General William Barr or Michael Caputo, two enforcers of Trump's views.
The national fabric began unraveling long before Trump was elected, but never has this country been forced to tolerate a president who so delighted in widening our divisions. Richard Nixon may have created the "Southern strategy" that exploited the American strain of racism, but Trump has waved it as a flag. Just last month, he falsely claimed that Biden would overrun mostly white Minnesota with refugees from "Somalia and all over the planet."
Trump has surrounded himself with grifters like Paul Manafort, Michael Cohen and Steve Bannon, while pushing away honorable men such as Gen. James Mattis, Gen. John Kelly and John Bolton, as conservative a public servant as has ever set foot in the White House. Now, after four years of indifference and even hostility to both the law and the Constitution, eight Trump advisers or associates have been charged with or convicted of felonies. Additional investigations continue. Trump, himself, was appropriately impeached. And all of this from the man who promised four years ago to fill his administration "only with the best and most serious people."
It was a lie. Thousands more followed.
For anyone who cherishes the ideals of this country and believes that the person at the top sets the tone, it is impossible to vote for this man. Four years ago, it was possible to hope for better, but not now. He has made the case against himself, over and over.
One example: In purposefully lying to Americans about the lethality of the coronavirus pandemic – as he frankly admitted in a conversation recorded by Bob Woodward – Trump exposed his indifference to the deaths that would necessarily follow. Instead of providing leadership, he recklessly touted quack cures. As is his custom, Trump is now lying even about that episode.
How can so treacherous a man be allowed to maintain a place of honor and responsibility in American public life? Even if you support certain aspects of his presidency, he represents a clear and present danger to the continuation of the great American experiment.
In the 20th century, New York provided the nation with two of its most revered presidents, one from each party and both named Roosevelt. Now, we have sent the country a man of demonstrably low character, a carnival barker who will say anything – even easily disproved lies – if he thinks it benefits him. His deceptions opened the door to a historic economic collapse and a public health emergency more deadly than it should have been. He has pushed away our allies while cozying up to criminals and autocrats. Millions of good people have been taken in by the performance. As in any abusive relationship, the grip of its dysfunction isn't clear until you're free of it.
These stakes have not been true in our recent history. To have reelected George H.W. Bush instead of Bill Clinton in 1992 would have kept the country in steady hands. Similarly, to have put John Kerry into the White House instead of giving George W. Bush a second term would have counted as a safe and honorable decision.
Anyone who cares about the country must this year vote for Biden, a good and able man who can put America on a path back toward sanity. Not everyone will agree with him on all issues. But we are at a historic moment. The consequences of failure will incur the judgment of history and the disgust of our descendants. They will repudiate us.
Biden influence as president could be great, given the country's condition today and depending, to some extent, on how the election changes the makeup of Congress. Regardless, he is a man of character who has drawn praise from both Democrats and Republicans. More than any of his primary season opponents, he is the man for this moment – a known quantity who actually wants to serve the country he loves.
The country is crying out for honesty, for competency and, most of all, for normalcy. In any other year, that wouldn't even be an issue. In 2020, it's the price of entry. Biden has the key.
MONDAY: Candidates for Congress.
What's your opinion? Send it to us at lettertoeditor@buffnews.com. Letters should be a maximum of 300 words and must convey an opinion. The column does not print poetry, announcements of community events or thank you letters. A writer or household may appear only once every 30 days. All letters are subject to fact-checking and editing.