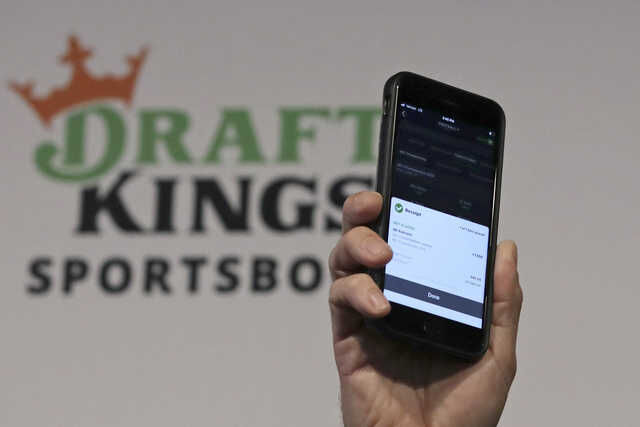 When mobile sports betting starts operating in New York State in 2022, the gambling companies will offer bets to new customers that seem too good to be true. One might be a wager that Josh Allen will have at least 1 passing yard in his next game, or that either the Bills or their opponent will score a single touchdown.
What's the catch? The bettors will get paid for these can't-lose wagers, but they are like fish swimming into a large underwater net that they can't yet see. To make a no-risk bet, customers must register an account with the betting company or download its app to their smartphones. Once the companies have access to a customer's phone or email account, the marketing deluge begins.
Whistleblower Frances Haugen last month testified before Congress about some of the ways Facebook and Instagram get users hooked by those companies' engagement algorithms. The more time users spend on social media platforms, the more advertising dollars pour into the tech companies. All that those platforms ask of us are time and attention. Sports betting apps ask for our money, too, so there's no doubt they are working on engagement strategies that will make Instagram programmers look like amateurs.
Dr. Timothy Fong, director of the Gambling Studies Program at the University of California, Los Angeles, told the New York Times that about 1% of American adults have a gambling disorder. The typical bettor is a single male, under 35. And the National Council on Problem Gambling says sports bettors show sharply higher levels of problem gambling than other gamblers. Sports wagering, like the consumption of alcohol, can be done responsibly by adults, but let the bettor beware when gambling by mobile phone takes hold.
A survey by Reviews.org concluded that Americans aged 18 and older check their phones an average of 262 times per day. If smartphones have turned adults into the equivalent of lab mice searching for dopamine hits, what chance do they have in resisting the charms of having "action" on a football or basketball game?
Since the U.S. Supreme Court in 2018 overturned a federal law prohibiting sports betting, 32 states and the District of Columbia have legalized sports betting, though mobile wagering is available in only 18 states and D.C.
New York State's Gaming Commission on Monday awarded sports betting licenses to two groups of companies representing nine firms in all. The News' Tom Precious reported that mobile wagering could be operational before the Super Bowl, in February.
The NFL's championship game attracts more gambling than any sports event, and NFL games in general are what lure in most new gamblers.
The odds of picking the winner of one NFL game against the point spread are much better than those of winning a state lottery, which the investor Naval Ravikant refers to as "a tax on people who can't do math." The Bills' loss to Jacksonville last week no doubt cost bookmakers some hefty payouts, but over the long run bettors are not going to come out ahead. The bookies spend more time analyzing NFL results than anyone on the planet. They are experts at setting point spreads that minimize their financial risk.
Sports gambling is a curious business. According to the American Gaming Association, operators keep only 5% to 7% of all the money bet at legal sportsbooks. That is before paying up to 51% in taxes, which is what New York State will charge when mobile sports betting starts here.
The betting companies spend vast sums on marketing. Fortune reported that industry giant DraftKings had third-quarter revenue of $133 million in 2020 but sales and marketing expenses of $203 million in the same period. DraftKings, which does not yet turn a profit, spends money to fuel growth and raise its share of the betting market.
The gambling revolution is being televised. Pro leagues and their TV partners for years disguised any references to point spreads or gambling, which were considered threats to the games' integrity. Now, the NFL has Caesars, DraftKings and FanDuel as its official sports-betting partners.
Fox operates a sportsbook, Fox Bet, that runs a weekly contest called "Win Terry Bradshaw's Money," referring to the Fox Sports broadcaster. NBA coverage on TNT lets viewers compete with Charles Barkley on proposition bets.
Compulsive gambling is a silent addiction. Unlike an alcoholic or drug addict, its victims may not appear intoxicated or have needle marks on their arms. However, it can destroy the lives of individuals and families.
"You now have a casino in your pocket," Cam Adair, founder of Game Quitters, told the Hartford Courant in a story on mobile wagering.
State officials project that New York will eventually reap $500 million in yearly tax revenue from sports betting, of which $6 million will be used to combat gambling addiction, or 1.2%. Lawmakers will need to make sure that's not just a drop in the bucket in trying to contain a rising tide of problem gambling.
What's your opinion? Send it to us at lettertoeditor@buffnews.com. Letters should be a maximum of 300 words and must convey an opinion. The column does not print poetry, announcements of community events or thank you letters. A writer or household may appear only once every 30 days. All letters are subject to fact-checking and editing.