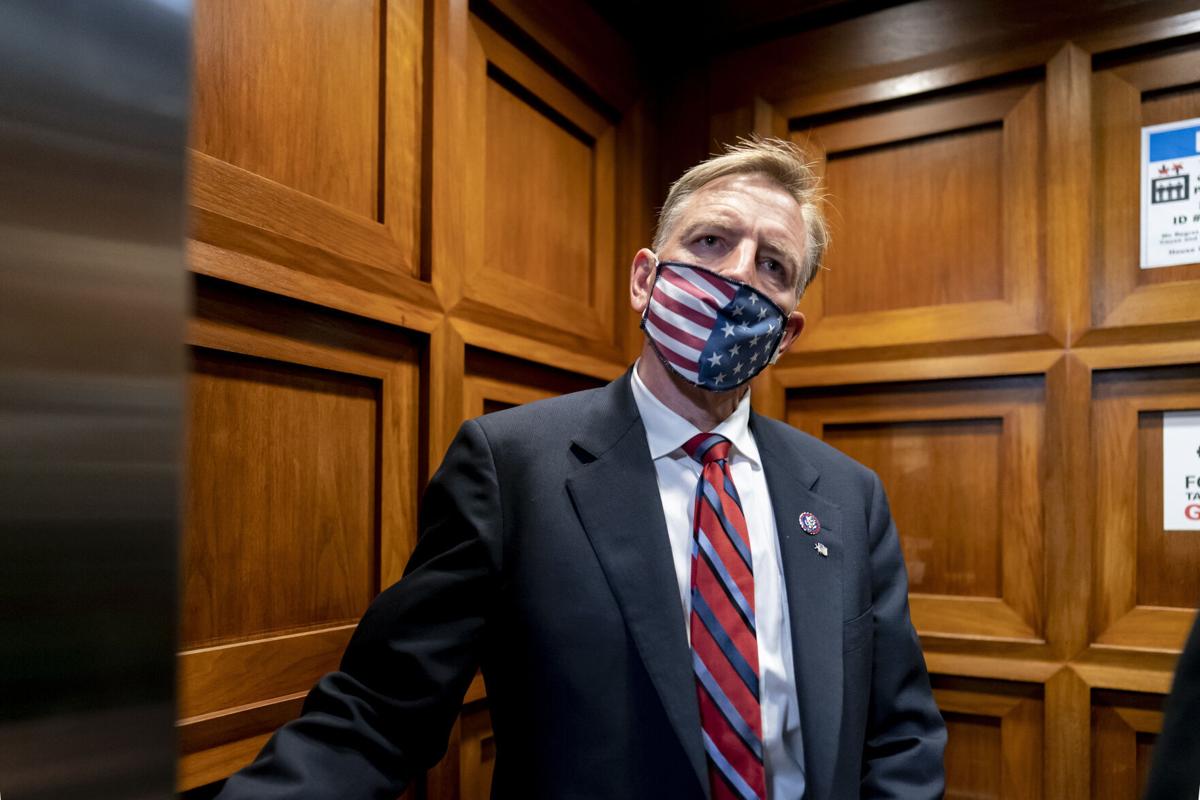 Just two Republicans joined Democrats in the House of Representatives on Wednesday in voting to censure Rep. Paul Gosar, R-Arizona. The congressman was disciplined for posting on Twitter an anime video that showed him killing Democratic Rep. Alexandria Ocasio-Cortez and attacking President Biden.
The 208 Republican members of Congress who voted against censure apparently decided the Gosar video was a case of no harm, no foul. That includes Reps. Chris Jacobs and Tom Reed. Jacobs is known for sticking to the party line, but Reed's vote is disappointing because he has experienced the threat of violence in the political arena.
Reed was one of 13 Republicans in the House who joined the Democratic majority in voting for the $1.2 trillion infrastructure bill, signed into law last week by President Biden. After the vote, Reed said he received numerous threats, some of which he reported to the Capitol Police. In October 2020, Reed said that someone threatened him by putting a dead animal in his Corning home, along with a brick bearing a family member's name.
The threats made against Reed and his colleagues who voted for the infrastructure bill, as well as the Gosar video, are symptoms of today's overheated political climate and the rising threat of violence from unhinged extremists. They demand the united voice of political leaders to shut it down, regardless of party. But the voices aren't united.
Instead, Gosar's defenders in Washington tried to play down the significance of a "silly cartoon." But if we learned anything from the attack on the Capitol last Jan. 6, it's that words and imagery promoting violence have consequences.
Then-President Donald Trump told the crowd at a "Stop the Steal" rally on Jan. 6 that his supporters needed to fight to help him overturn the election results.
"You have to show strength, and you have to be strong," Trump said to the group. "If you don't fight like hell, you're not going to have a country anymore."
The result was an orgy of violence that left one rioter and one police officer dead, with numerous officers injured. Four police officers died by suicide in the weeks and months after the riot.
It's unfathomable that the aftermath of that day did not reset the tone in Washington and the rest of the political world.
And it continues. At a political rally in Idaho last month, a man rose to ask, "How many elections are they going to steal before we kill these people?" The reference was to Trump's lies about a stolen election.
The example on how to confront hatred and violence was offered by a different Republican, the late Sen. John McCain. As his 2008 presidential campaign wound down, he defended his opponent, Barack Obama, against the slurs of a supporter. Where is that kind of decency today?
Thomas Sibick, the Amherst man who was charged after participating in the attack, later wrote to a federal judge that Jan. 6 "was a disgrace to our nation that left a scar Trump is ultimately responsible for, but we are strong and will heal from it."
That healing will not take place until violent rhetoric and imagery is wrung from our politics. As a recent New York Times story pointed out, threats of force against political opponents is on the rise among many who identify as Republican. And it's not just voters riled up by social media posts or TV shows adopting inflammatory language. Politicians themselves are taking part.
The Democratic-controlled house removed first-term Rep. Marjorie Taylor Greene, R-Georgia, from congressional committees earlier this year for social media posts she made before being elected. Greene's posts endorsed killing top Democrats, including House Speaker Nancy Pelosi, and repeated anti-Semitic and Islamophobic conspiracy theories. Only 11 Republicans voted in favor of Greene losing her committee seats.
The drift into violent imagery was promoted by Trump, who would tell audience members at his rallies to "knock the hell" out of protesters. There's also a cult of masculinity around the former president, a segment of his supporters who equate leadership with macho behavior. They buy souvenirs depicting Trump as a movie action hero; others populate online message boards with comments about males on the political left having low testosterone levels.
Threats or acts of violence have been seen on the left, also. Louisiana Republican Rep. Steve Scalise was shot in a 2017 congressional softball game by a man who had asked if the players on the field were Republicans or Democrats. When protests in Portland, Ore., after the murder of George Floyd turned into months of rioting, many of the activists involved identified as leftists.
However, the Democratic Party does not have a Marjorie Taylor Greene equivalent, or leadership that tries to change the subject after a violent attack on the institution in which they serve, or a president inciting violence to overturn an honest election.
In Trump's inauguration speech in 2017, he declared that "this American carnage stops right here and stops right now."
We saw on Jan. 6 what happens when his loyalists emerge from the fever swamps of the internet, put on military garb and take up arms against their own government.
What's your opinion? Send it to us at lettertoeditor@buffnews.com. Letters should be a maximum of 300 words and must convey an opinion. The column does not print poetry, announcements of community events or thank-you letters. A writer or household may appear only once every 30 days. All letters are subject to fact-checking and editing.